EVENTS
NEWCASTLE
Help the Sepik Dental Clinic
5 October 2022
Event for PNGAA members, Rotarians, wantoks and friends.
Time: 11.30 am.
Venue: Royal Motor Yacht Club, Toronto NSW.
Cost: Two-course menu $45; three-course menu $55.
RSVP (essential): 21 September 2022.
Contact: Suellen Holland, phone 0405 407 939;
email: info@suellenholland.com.au
Parking: Available on site.
Special Notes: Suellen Holland is hosting this special fundraising lunch for the Kenthurst Rotary Club International Sepik Dental Clinic Project. All proceeds from the lunch, raffles and lucky door prize will be donated to Rotary to aid the Dental Clinic. Guests will also be asked for a $5.00 donation to the PNGAA.
PERTH
PNGAA Christmas Lunch
Friday 25 November 2022
Venue: RAAF Memorial Estate,
2 Bull Creek Drive, Bull Creek
Time: 11.30 am for 12 noon
Contact: Linda Cavanaugh Manning (Mob.) 0429 099 053 or lindam121@bigpond.com
 ADELAIDE
Oceanic Art Society Forum: Australia in the Pacific—Cultures Past, Present & Future
Sat 26 – Sun 27 November 2022
Venue: South Australian Museum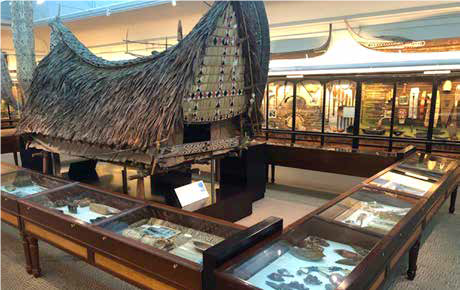 Program: The forum includes displays, discussions by experts of Art from PNG and Northern Australia and a Pacific Islands dance performance.
Special Notes: Full program details, including ticket prices and early-bird special rates will be available shortly and on the OAS website www.oceanicartsociety.org.au but prospective attendees are encouraged to make accommodation and travel bookings early as November is a busy time of year in Adelaide with major events scheduled. Suggested hotels are the Crowne Plaza, Majestic Roof Garden Hotel and the Pullman Hotel, which are all close to the Museum.
Further information: Jim Elmslie at jelmslie@ozemail.com.au
 CAIRNS
Ex-Kiaps & Friends Reunion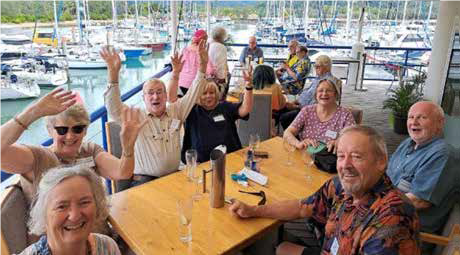 This year a smaller gathering, of about 25 people, held at the Cairns Colonial Club on 2 July 2022, included Chris Warrillow, Craig and Heather McConaghy, Col Middleton and Lyn MacDonald, and Graham Watts who all flew in for the occasion. The most senior member present was Hans Wetzel (and wife Paha) who joined in 1954 and later resigned but signed up again in 1965.
As usual, old memories were shared, a few good stories were re-told and a few new ones surfaced from the mists of time.
Those attending: Laurie Bragge, Warren Bartlett, Geoff Hartnett, George Ivanow, Martin Kerr, Dympna Leonard, Craig & Heather McConaghy, Lyn McDonald, Col Middleton, Hugh Miller, Paul & Marie van Staveren, Kim Strutynski, Deryck Thompson, Tess Wade, Chris Warrillow, Melanie Warrillow, Graham Watts, Ray Weber, Hans & Paha Wetzel and John Wilkinson.
CANBERRA
Preliminary Notice
PNGAA Canberra Lunch
December 2022
Contact: John Reeves, mobile: 0448 483 932 (after hours please) or email neradaq@gmail.com for further information and/or to register interest in attending. Also check our social media.
 SYDNEY
PNGAA Christmas Lunch
Sunday 4 December 2022
Venue: North Ryde Golf
Club, Twin Road, North Ryde
Time: 11:30 am to 3:30 pm
Cost: Meal $70 for two courses; attendees pay for their drinks.
Payment: Direct deposit to PNGAA CBA BSB 062-009 Account Number 00907724
(ref SYDX+ surname). Please advise treasurer@pngaa.net when payment completed including code SYDX and surname.
RSVP: 18 November 2022 to Cheryl Marvell 0438 635 132, email: collection@pngaa.net or Andrea Williams 0409 031 889
Special Notes: Please advise special dietary requirements at time of booking.
Guest Speaker: To be advised.
Commemorative Ceremony & Dinner, Canberra, 1 July 2022
The 80th Anniversary commemorative events were a remarkable tribute to the fall of the New Guinea Islands and the sinking of Montevideo Maru. The Rabaul & Montevideo Maru Group encompasses all those connected with this history. There are still many families connected with it who we have not yet reached and who can help to share this story. It would be a great help if you can contact your local secondary school and ask them to include the online education program on the new Rabaul and Montevideo Maru website at https://montevideo-maru.org/education/ in their history classes. It is a tremendous resource.
Several members managed to get articles about the 80th Anniversary into various media outlets and we thank them sincerely for their efforts to make this story more widely known and acknowledged.
Regional papers which have printed stories were the Narromine Star on 30 June, the Townsville Bulletin on 1 July 2022 and the Northern Star. A link to the ABC item is HERE:
https://www.abc.net.au/news/2022-07-01/act-montevideo-maru-maritime-disaster-80-year-anniversary/101201198
Please help continue to share this story by contacting your local newspapers, radios, TV stations, secondary schools, etc. and asking them to highlight anniversaries. In this way, what those involved went through will not be forgotten. It is a complex story involving the Australian Army, Air Force and Navy, a civilian militia group the NGVR, coastwatchers, many civilians, prisoners-of-war, the Tol Massacre, rugged escapes by a few over weeks and months, and then the sinking of Montevideo Maru, which remains Australia's largest maritime disaster.
It would be lovely if you share any photos of the event on our social media: HERE or HERE https://www.facebook.com/RabaulAndMontevideoMaruSociety or https://www.instagram.com/rabaul_montevideomaru_group/
or email us! ANDREA WILLIAMS
For a full report and photographs of the commemorative events, click HERE.