Dr Pearson, I presume?
Chris Borough
With heavy heart, I left the Territory of Papua and New Guinea (PNG) in late 1971. I had so many experiences in the seven years I lived in PNG and wrote a few short stories of my adventures for Richard McCarthy's series of magazines on Australian Foresters in Papua New Guinea. At age 79 I figured it would be quite an experience for my wife Robyn to re-visit PNG—this time as pidgin-speaking tourists. I booked on the French cruise ship, Le Soléil, as I worked out that the ship would at least visit one place where we had lived in 1966 (Rabaul and nearby Kerevat on New Britain). What I had not understood when I booked this cruise was that it was going to be much more than I could ever imagine.
Robyn and I thought it might be good to invite our daughter, Janet (who spent six years in PNG) and our son Tim (who was born in Port Moresby) to join us. In an instant both accepted the invitation.
Step one was to contact Richard (alias Dick) McCarthy about our trip, and he suggested I contact Michael Pearson from Buka on Bougainville.
The only thing I knew about Michael was his friendship with Dick and his interest in railways—in fact, he had no connection with forestry and co-authored End of the Line: a History of Railways in Papua
New Guinea. Michael Pearson was formerly Chair of the PNG Teaching Services Commission and is currently a board member of the University of Technology (UNITECH) Lae.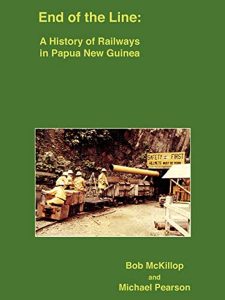 Michael's professional and personal background, specific knowledge, and extensive experience in Bougainville, in the Teaching Service, Teaching Service Commission, Department of Education and Department of Personnel, as well as consultancy work with the National Executive Council, Commission of Higher Education and private companies is recognised nationally. His knowledge and expertise, particularly relating to the problems associated with the power, ownership, and operation of PNG Government Departments, etc. as a longtime resident of Bougainville and Papua New Guinea has also contributed greatly to the PNG Australian Foresters till 1975 social history project.
We had to monitor the progress of COVID as cruise ships were not permitted until 2022. Finally, COVID restrictions were eased, and we were ready to undertake our adventure in PNG. Armed with Vaccination Certificates and a wealth of paperwork, we flew to Honiara to join the ship. We saw a very decrepit town with evidence of burnt-out buildings—the result of past riots. The dominant feature, however, was the huge stadium being built by the Chinese in preparation for the South Pacific Games.
We soon found out that travelling with Ponant Cruises is very 'French' and, with around 150 crew and 98 passengers, we were going to be well looked after. What we had not appreciated was the huge amount of effort that had gone into planning an itinerary that would showcase so many cultures and give us the opportunity to meet with such beautiful people. I started to teach my son and daughter some key words of pidgin and the pitfalls of using words such as Pok Pok (the first village we visited), puk puk (crocodile) and pek pek (use your imagination).
Pok Pok, the first village we visited on Bougainville, welcomed us in the traditional way—a humbling experience. Imagine all the tourists wearing masks (wearing face masks was a key part of Ponant's desire to keep the villagers free of COVID) and a huge number of welcoming villagers in traditional dress. We began to see that tourism was such an important part in providing income to these remote villages that still lived their traditional way of life.
After numerous email exchanges, I kept wondering how Michael would meet us at our next location Taiof Island only accessible after a speedboat ride of 20-minutes from Buka town. Yet again we were warmly welcomed at Taiof, in fact, this was the first cruise ship to have ever visited the island. As I could not see Michael in the crowd (not that I had ever seen a picture of him), I asked one of the villagers wearing a hazvest suit (he was one of a number of locals who were to act as guides) to take Janet and me for a tour of the village. It was only when Janet asked our guide about Michael that his eyes lit up: 'He is on the island, and I shall take you to him!'
Finally, we saw a white man talking to the last of the passengers boarding the Zodiac to return to the ship; the mysterious Michael Pearson was in sight. Meeting him, dressed in long pants, long-sleeved shirt, hat and black leather shoes was reminiscent of the event when African journalist/explorer Stanley met Dr Livingstone with 'Dr Livingstone I presume'. Michael proceeded to walk through the ankle-deep water (in his black leather shoes) together with the chap who had taken him to Taiof.
Michael reported that trying to meet the ship was a challenge but as they included Taiof as a stopover, it changed from nigh impossible to an hour-plus car trip and just under an hour dinghy (banana boat) ride from Buka to Taiof. Michael was accompanied by Anthony (Tony) Tsora, who also had a distinguished education career as a teacher, school inspector, Bougainville Education Secretary during the restoration period, National Education Board Chairman, TSC Regional Advisor, and now Chairman of Bougainville Technical College and Advisor on Bougainville Education
Michael and I hit it off immediately and he soon introduced me to some key people in Bougainville society. I found that he had been the Inspector of Schools for Bougainville and was very highly respected; in fact, the Taiof schoolteacher was concerned that Michael had come to inspect his school unannounced! Michael informed the teachers that they must apply for leave without pay or record it down as cultural activities. They opted to put it down as cultural activities.
My meeting with Michael has inspired authorities in Bougainville to try to arrange for their students in their College of Tourism and Hospitality to visit the next cruise ship and, in the future, get work on such ships.
Michael told me that he was a PNG citizen and had sons living in Australia. Finally, it was time to go and suddenly Michael presented me with a magnificent necklace made from local shells. Janet joined me and we got into the last Zodiac and bade farewell knowing that we were unlikely to ever meet again. With pride, I wore the necklace to dinner throughout the rest of this remarkable voyage. •