CULT By Maurice Meth. (Submitted by Maurice's wife, Mrs Elizabeth Meth)
PNG Trade Winds blew East West East and trade in sea cargo followed the same way in expansion through plantations and their trading stations or ports.
ECONOMIC HISTORY AND INFRASTRUCTURE
Preamble
This preamble is provided as a broad overview of the evolving trading patterns; the traders and shipping services, and the Hooligans (and shenanigans) that were the legends of commerce PNG-style.
It is fascinating to see global events being replayed via PNG events, for example, the First World War and its impact on PNG. By 1914 the PNG economy had developed commercial infrastructure of global interest through plantations operated by offshore trading groups like Burns Philp, WR Carpenter and German groups on the North Coast Mainland and Islands. Gold mining had also played a part around the Sepik and Milne Bay followed by the larger discoveries around Bulolo and Wau. All contributed infrastructure with local roads and small shipping routes to connect emerging coastal hubs.
Ports evolved at these hubs to suit available shipping connecting traders and suppliers. We soon had Port Moresby, Samarai, Rabaul, and Lae established as international ports. Samarai fell away as a freshwater port for vessels enroute to Asia as vessels became larger and more independent.
Rabaul, Lae, and Port Moresby however established permanent ports to meet their own demands as government centres. The First World War and the outcomes saw the copra giants expand rapidly through acquisitions and reparations covering countries across the Pacific, particularly the interests of Burns Philp (BP) and WR Carpenter (WRC) through their trading activities and plantations. WRC (Would Rob Christ) and BP (Bloody Pirates) competed heavily for shipping space; however, commercial realities often resulted in shared chartered vessels to meet European delivery schedules.
PNG benefited as global markets needed supply from across the Pacific to make trading in copra viable at that stage. Dominant importers at that stage where England, Germany, West Coast USA and Sydney, Australia. Copra quickly became a global food and fuel source turning global traders into major companies. Both BP and WRC invested heavily in PNG plantations to add to their Pacific volumes, and ability to dominate shipping markets.
Trading stations developed across all these markets including a large healthy Chinese sector complementing and competing with BP and WRC. PNG followed rapidly with the government administration encouraging settlers and PNG nationals to focus on cash crops such as cocoa, coffee, tea and others where the economy could evolve a cash base, including both small and large traders.
It has always been fascinating that the era of self–government, independence and the hugely important first decade of independent PNG had a rapidly growing private sector with expanding worldwide trades and shipping. The traders and shippers with great commercial discipline and flair created these platforms. It has been more fascinating being involved with the day-to-day operations of the Hooligans (and their shenanigans) through this growth without 'big Government'. What follows are tales—and some lies to protect the innocent or nearly innocent—during this time.
SHIPPING AND TRADING SHENANIGANS 1974 – 1984
Coffee and Ramadan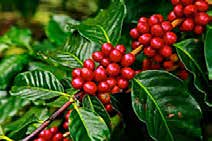 PNG's largest shipping agency at Lae during this period serviced large volumes of coffee and tea to Europe after loading other cash crops—cocoa, copra and copra meal, palm oil and coconut oil via a multi-purpose, monthly loading service covering mainly Kieta, Rabaul and Kimbe en route to Lae. A separate import service from Europe positioned vessels for the loading service. The main carrier was the Bank Line through this phase and they relied heavily on agents to centralise cargo and stevedoring to meet monthly commodity contracts to avoid penalties.
Ramadan, the Muslim month of fasting rarely intervened through the then Pakistani, Bangladeshi or Hindi crews. A vessel approaching to berth on the last day of the commodity month cannot divert and delay if there is a food problem. We (the agents) were advised late on the day before berthing that all Ramadan supplies of Halal-killed meat had to be jettisoned on that day after freezer compartment breakdowns.
The 'Brains Trust', 'Master', 'Mate', 'Chief Steward' and 'Local Agent' decided we needed 50 live chickens to be slaughtered Halal-style, enroute from Lae to Singapore, by crew who were amenable after appropriate fees negotiated. Unfortunately Lae at that time only had one small chicken farm operated by one 'Buster', an ex-Ansett employee who had 'inherited' a box of day old chicks to develop his enterprise.
The agent's request was met with "no deliveries" and "if you want 50 chickens send your own labour and transport". Without options, we agreed to a very messy task as all chooks were in two closed basketball courts in classic free-range configuration. Local talent within my office was limited however we were able through our stevedores to secure a truck with 1 x 40ft trailer and 2 x 20ft ships' containers with doors lashed open and cargo netting across doors.
Earlier that day I had sent my most talented agent 'Henry the Sepik' with best communication skills to the airport to meet and transport a ship's engineer joining the vessel. There was no sign of either until a hot, cranky engineer arrived at the office having navigated his own way via a couple of PMV's to the offices. I quickly transported engineer to an air conditioned hotel nearby and hopefully mollified him with a few ales.
Henry had since returned to the office with no explanation as to the missing engineer and a loud stage whisper… "savvy Boss they all look the same after a while". As an apology was not forthcoming, I had an immediate solution to the transport management problem of 50 chickens to the vessel the next day after berthing. I omitted to mention the labour and tallying problem, however a dawn start was arranged with transport. The next morning was a glorious dry day and the first panic-stricken call from Henry was met with the response from Buster as he wandered off to the RSL…"it does not matter they all look the same only the count of 50 is important".
Finally at 16:00 hrs, the truck and chooks arrived with our normally immaculate Henry covered in bird shit and feathers, enroute to the wharf to deliver chooks for direct loading to the after-hatch. I could not resist the comment "You have done well Henry…they all look the same!!!"
TO BE CONTINUED