Close Calls: Spanning Forty Years in PNG by Joe Gough (PNG KUNDU March 2021)
Former Assistant Patrol Officer, Aiome and Usino Patrol Posts, Madang District, 1968 to 1970
I'm sure many PNG Kundu readers can recall occasions in their lives that we would have no problem classing as close calls (or 'near-misses') being mostly physical, but possibly some romantic as well. I'm not going to delve into the latter but would like to recount a series of close calls for me that occurred in Papua New Guinea (PNG) over the main period of my involvement in that country between 1967 and 2007.
Three of the incidents occurred during my period of employment with the TPNG Administration and the remaining two were part of my subsequent geological career.
Within the context of the incidents described in the five parts of the story, my definition of 'close call' is an event I was involved in that caused serious injury and/or had the potential to be fatal.
1967: After a four-and-a-half-hour flight from Sydney, I arrived at Port Moresby's Jacksons Airport in July 1967 to begin a two-year contract as a clerk with the Administration of the (then) Territory of Papua and New Guinea. As a relatively untravelled nineteen-year-old bloke from country New South Wales, the climate and culture shock, from very cold to bloody hot and humid, was immense.
But in the company of several other 'newbies' we managed to settle into a reasonably carefree lifestyle in Port Moresby, pursuing different social interests outside work hours, but having a common base at the Administration's Ranuguri Hostel in Konedobu where there were more motorcycles than cars in the car park.
Sport was my main social interest and I joined a local basketball team in 1967, then progressed to rugby league for the 1968 season after I'd acclimatised well enough. At the time, I was physically fit and had a build more suited for basketball than league, but managed to secure a place in the reserve grade of Hawks Club, one of several taking part in the fiercely contested local competition played on Friday nights and Sunday afternoons.
This is where we start to get to the crux of the story, as in order to supplement my modest onfield performances, I volunteered to coach a Hawks side of PNG blokes in a parallel competition. Training for this PNG side was mid-week afternoon and as we used to finish work at 4.06 pm, there was ample time to ride the fifteen or twenty minutes out to the training ground, do a reasonable session then get back to the hostel before 6.00 pm in time to sample the culinary delights of the evening meal.
On one such afternoon in July, on my return from training on my pride and joy, a Honda CB175, at an intersection in Hohola I was struck by a yellow taxi that turned in front of me, sending me flying off the bike as I couldn't avoid a collision. Being the main point of impact, my right leg had made a decent depression in the fuel tank before I became airborne. Thank goodness, helmets were compulsory at that time as my head made abrupt contact with the bitumen and I lost consciousness for a short time and awoke to find an ambulance and crowd of onlookers at the accident scene, one of whom had helped himself to my watch!
Results from the prang could have been worse—some skin loss, bruises, a very painful (but not broken) right knee and two subsequent weeks in Port Moresby Hospital to nurse my wounded pride! Needless to say, the Honda didn't fare much better but we were both young and repairable!
1968: In the early stages of recovery from the knee injury, my application to transfer to the Department of District Administration as a cadet patrol officer was accepted in August 1968. Following an intensive four-week training course at Kwikila, south-east of Port Moresby, I was posted to Aiome Patrol Post in the Madang District. John Edwards (also known as 'nek paia', due to an old burn injury) was OIC at the time.
As with most remote posts in TPNG at the time, the main form of access was by light aircraft, although Aiome had the added advantage of a mile-long airstrip that could take a Douglas DC3 aircraft—remember those? Aiome was also relatively close to the mighty Ramu River, which was used extensively for transport by people in villages along the river. The patrol post had its own aluminium dinghy and outboard, but also available were large dugout canoes, probably eight- to ten-metres long, fitted with outboard engines—the latter were slower in the water, but could take more people and more cargo.
I was tasked by the OIC at Aiome to travel downriver to Annanberg Catholic Mission station to supervise work necessary to upgrade their airstrip—to allow commercial light aircraft to use the strip as well as mission aircraft (whose pilots had a well-earned reputation of flying on a wing and a prayer!) The bulk of the upgrading work comprised felling taller trees from the flyover area at the rainforest end of the strip—the other approach was the cleared bank of the Ramu.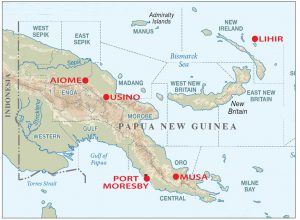 I had been on site about a week and work was progressing well when one day, Friday, 13 December 1968, I decided I'd have a go at cutting down a small tree along the edge of the runway. Despite being warned of its sharpness by the owner of the axe I had borrowed, I began my task in earnest, but one poorly aimed blow deflected the axe from the side of the offending tree and planted the axe blade in the front centre of my left foot, about ankle height. There was no immediate pain and no major outpouring of blood, but on removal of the axe head it was obvious the wound was serious—all very embarrassing for this young white masta who was supposed to be directing the work, to be suddenly out of action. Thankfully, though, one of the workers was big enough to put me on his shoulders to take me down to the riverbank where the dinghy was located. I was able to drive the dinghy across the river to the mission station where, again, my big mate gave me a shoulder ride up the bank to the small clinic in the haus sik (hospital). Unfortunately for me, both nursing sisters were out on patrol so I spent a very uncomfortable day until their return late afternoon when they were able to tend to the wound that required quite a few stitches and many subsequent weeks of slow healing. Could have been worse in that the injury could have been to the right leg as the knee wasn't fully recovered yet!
1969: The following year, 1969, was to have more variety for me as I enjoyed three months leave back in Australia after twenty-one months in TPNG. Whilst on leave, spent mostly in Orange with my family, I was informed I'd be posted to Usino Patrol Post on my return to duty. Usino is also in the Ramu Valley but further upstream than Aiome and closer to Madang. Terry Nixon who was OIC when I arrived was subsequently transferred. He was replaced by ADO Peter Ingram, whose wife Penny and two infant children joined him on the Patrol Post.
My specific role was to be supervisor of a team of about forty to fifty labourers engaged from the local area to clear larger vegetation from a surveyed road corridor that would link Usino with a large pastoral station at Dumpu, about sixty km to the southeast, in the upper Ramu, near the boundary with the Morobe District. Dumpu was an active Allied base and airstrip during World War II.
Road construction was being undertaken by Commonwealth Department of Works (CDW) under foreman Phil Devine (a Pom, but a nice bloke) ably assisted by Queenslander plant operator, Tony Moylem, who introduced me to the delights of XXXX lager! Despite the perceptions many had about public servant work ethics in those days, my team and I put in long days and six-day weeks.
Standard accommodation for all of us was bush-material huts, and standard tucker was bully beef or tinned fish, and brown rice supplemented with local green vegetables, bananas and pineapples. Evening entertainment was listening to Radio Australia or a local TPNG station on shortwave band on a National transistor radio—remember those? The highlight for all of us during this time, of course, was listening to the broadcast of Neil Armstrong walking on the moon—a feat most of the workers believed to be impossible.
So, within this cycle of work activity, the weekly break back to Usino Station was welcome but, even better, was permission to go into Madang to purchase some essential spare parts for our over-worked chainsaws. This was only a short trip and didn't present the chance to fraternise (i.e. have a few SP lagers) with other expats for a change but, being November, was a well-earned field break after almost four months in the bush. Whilst in Madang, I lashed out and bought a National radio cassette player and a few music cassettes in order to expand my limited entertainment options.
Time to return to Usino came early afternoon on 11 November. On board the single-engine Cessna 185, operated by Territory Airlines Limited (TAL), were the experienced pilot Darryl Brumby and a CDW surveyor in the front seats, with me and my spare parts and enough bags of rice and cases of tinned meat and fish to make up the load occupying the rear.
The weather was fine for the fifteen to twenty minutes usual flying time from Madang to Usino, but about halfway into the flight, just before descending into the Ramu Valley, things got interesting. There was a loud bang, a puff of grey smoke, black oil splattered the windscreen and we lost altitude. Thankfully, the pilot kept his cool, radioed 'Mayday' and turned back towards Madang.
We began considering a limited number of options that all included crash landing but, with some power remaining in the engine, we had choices of locations for ditching—the agreed option was to try for one of the larger sand and gravel bars near the mouth of the Gogol River, south of Madang.
The problem for me with any ditching option was no full seatbelt in the back, as one of the seatbelt halves was under the load of cargo, so the outlook was not looking good for the rear seat passenger! Once again, though, it wasn't my time, as Darryl assessed the Cessna's engine had enough grunt for us to limp back up the coastline to Madang, precariously close to many of the taller coconut palms. Escorted by emergency appliances on the runway, the landing at Madang was uneventful but we were all pretty shaky on exiting the aircraft. The engine problem was identified as a blown cylinder head, but obviously the little Cessna wasn't going to let that be its end and had battled on. Just to show how truly we believed we had dodged a bullet, the surveyor and I flew out to Usino later that same afternoon in a twin-engine Cessna 336 (a 'push-pull')—with a different pilot and without any pre-flight fortifiers!