Christy King receives Star of Courage
Christy King was presented with the Star of Courage bravery award by the Governor-General,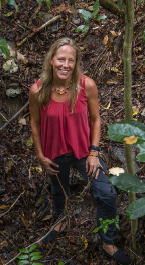 Peter Cosgrove, on 30 March 2015. She was cited for the award, one of the country's highest decorations, for displaying conspicuous courage in circumstances of great peril in leading trekkers to safety after the Black Cat Track attack in PNG.
A trekking party led by Christie was attacked by men armed with machetes and a shotgun. Three men were killed, seven wounded and the trekkers were beaten and robbed when ambushed at Banis Donki on September 10 2013.
Christy described the attack as a frenzied bloody massacre which made no sense. She immediately identified herself as the group leader and negotiated and pleaded with the attackers to stop their assault. Although she had been clubbed with a machete she organised
first aid, medical assistance and evacuation after the attacker ransacked the campsite and fled.
She led the trekkers who could walk down the mountain for five hours, mostly in darkness, taking the most vulnerable position herself.
Christie paid tribute to the 19 Papua New Guinea porters on the trek, the trekkers and the rescue team.