Books to PNG's Milne Bay Schools
The last article I sent to the PNGAA journal (see June 2019 p28) consisted of tragic conditions at all the schools and hospital in Alotau at Milne Bay. Since then PNG has a new Prime Minister, James Marape, and pray he will have the strength and blessings to start weeding out the corruption. He has huge problems to conquer however, with the support of all PNG people, he will eventually have Papua New Guinea where it needs to be.
In May my family and I were able to deliver 200 boxes of story books, teachers reference books, school supplies and soft toys for the new babies and children in the hospitals. It is a drop in the ocean, as there is nothing in the classrooms except blackboards, not even CHALK. As the teachers and children have no books it is the only method for the children to be educated.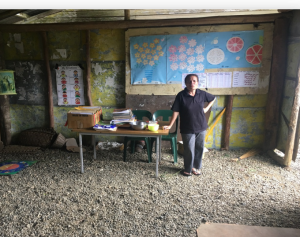 An initial ask for elementary and primary school books produced 63 boxes of high school books from two Brisbane high schools. We took them to the two high schools in Alotau. The first one was Cameron High School, with 916 students. We went to the school library and found many students in their lunch hour trying to get information from 50-year-old broken and aged books. The Librarian asked us to open a box. It was so rewarding to see the 17-year-old students quietly get up and, of their own volition, form a queue in front of the box. Each one took a book and, holding it up to their face, read it while returning to their seat. I asked one young girl as she walked past me what she had and she seemed excited that it was a French Dictionary.
The second high school was Hagita High School. It is a boarding school with 890 students. It had just reopened after being closed for a week with a gastric bug due to insufficient toilets, as is the case in every school. Even with all the problems the schools have, the children are happy and polite. Our society could learn a lot from them.
Naura Primary School is a happy school as the teacher has the children singing and dancing with displays. When we arrived at Ladava school, with 231 students, the parents were there with their spades to dig pit toilets. The Divinai school, with 375 students, has a grade 3 class being taught outside as 3 classrooms have been closed because of termites. Golinai School has 900 students and 3 female and 6 male toilets ie one toilet for 100 children!
The Wesley High school on Salamo was built for 550 students and now has 904 students. The Callen centre is taking care of 100 disabled children at scattered centres in the district. Their ages range from 7 to 26 years. We send donated used clothing to the centre to be sold at the market to have cash for food and other needs.
My son, Mike, and I have just visited 30 primary schools in Brisbane sharing photos and reports of the PNG schools. They are so thrilled their donations will go to the PNG schools This year Technology will be introduced into our Queensland primary schools and thousands of books etc will be thrown away. If only our Australian Defence Force could pick up a million books and fly them to PNG then I will know my prayers have been answered. We all know the children of PNG are the future of the country and without education there is no future. Many PNG people are donating funds to Australia for the tragic fires that have been decimating homes, people, stock, wildlife etc. I thought it would be a reciprocal idea to send books to the schools.
Colleen Neville