BOOKS & ART REVIEWS
Kevin Deutrom
When the War Came to Our Ples: Some stories from the Momase Region of PNG
When war zones are on the lands of indigenous subsistence farmers, the impact on the inhabitants is disastrous. Stories of this impact are revealed in a series of interviews collected between 1988 and 1990 mainly from men of the Madang, Morobe and East Sepik Provinces of Papua New Guinea (PNG), who could still remember the conditions in the villages and towns during and after the Japanese invasion of 1942. The author has done much research and he also lived in PNG during the 1970s and 80s.
Stories are headed by a photograph of the interviewee then an oral history of when they fled from the Japanese. They recount being forced into work gangs where some men were selected to work for the Japanese because of their local knowledge, language or usefulness to control the locals. Mention is made of British Indian Army POWs who were captured in Malaya and Singapore by the Japanese and used as forced labour.
The stories cover the period of departure of Australian expatriates, the bombing, invasion and occupation by the Japanese, the bombings by American/Australian forces and the complete destruction of villages and food gardens and their later restoration.
This unique and thought-provoking record of recollections from a PNG perspective complements the well-known publications concerning World War II and makes enthralling reading.
Editor's Note: Adapted from a review by Glen Woodward
Published by Kevin Deutrom, 2021; 428 pages; cost: $25.00 plus $10 postage in Australia; available from the author at vzeal17@gmail.com
Sue Bussell
Dad's Story
This book describes the author's father's time in the 2/22nd Infantry Battalion AIF—from Trawool to Rabaul and Zentsuji.
It covers the invasion of Rabaul, the Montevideo Maru tragedy and the experience of the officers and prisoners of war who went to Japan. It features her father's photo album from 1940 to late 1941, and has many wonderful photos of the men in the 2/22nd.
In putting the book together Sue put a call out for an editor and an illustrator. It transpired that the illustrator, Jannece McClelland, née Lega, had a close connection! Her mother, Jean Lega, was pregnant with Jannece when she was evacuated from Bulolo, PNG, on Christmas Day 1941. Her father, Chris, and his brother, Tom Lega, remained behind and joined the New Guinea Volunteer Rifles.
Self-published, 2021; Cost $30+p; 153 pp with maps and photographs, Limited numbers are available from the author suezb@iprimus.com.au or M: 0475 344 545
Suellen Holland
Blacksand and Betel Nut—Childhood Memories of Papua New Guinea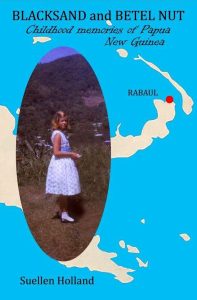 The second edition of this book is a delightful memoir of the author's young life in Rabaul, East New Britain, the place she considers to be her 'home' though she was born in India and had lived in Australia prior to her life in Rabaul. It is an easy read about her family, who fitted into the lifestyle and community of Rabaul with all its changes over the sixties through to the seventies.
The essence of the book is the life lived by the Holland family from an everyday perspective with the interjections of the major events that occur in a family and the community in which they live. Suellen touches on the familiar patterns of daily swims after her father's return home from work, to weekly jaunts round the Gazelle Peninsula to visit friends and places of interest over many years. Many of these friends were met through her father's work connections and became a part of her story.
People and places mentioned will be familiar to those of us who lived in Rabaul and make this an endearing story to read as we can relate to both. Father Franke, Collier Watsons, Pila Pila, Queen Elizabeth Park, Keravat and Court Street Primary 'A' School are just a few. The story of childhood friend, Ruth and Suellen's escapade in the Catholic church is quite amusing— and the friendship between these two young girls is palpable.
It's a typical memoir in that Suellen writes about the animals, homes and close people in her life. The poignant relationships she has with her mother and father are quite different and her reflections reveal Mr and Mrs Holland's personalities clearly. Suellen expresses the deep and steady interactions with her quiet, gentlemanly dad so beautifully. The times when they ganged up against her mother about something were quite funny and easily pictured. On the quiet mind you, as her mother was a formidable person.
Suellen's wonderful sea and shell relationship, which her mother encouraged over her life is so intrinsic to her life. This aspect of the book reveals the knowledge that Suellen has about shells from the Pacific. So much to learn from the descriptions shared about where, when and how these shells exist.
This could be also said about her descriptions of the Japanese tunnels, the Simpson Harbour, the earthquakes too—all casually interwoven into the parties, picnics and adventures of a young person enjoying life.
By including aspects of life such as dealing with house staff, the reliance on food from overseas, the earthquakes, indigenous markets and the Chinese community of Rabaul, Suellen remembers her life with great fondness.
The Glossary of Terms would be helpful for those that want to read a book of remembered happiness. There could be some discrepancies in some of the spelling of the Pisin words for some of us depending what era you were in PNG. I so enjoyed the photos included as they give that personal touch.
Don't let the few grammatical and spelling errors worry you as the story is too much of a treasure to read. An insight into the secure and appreciated childhood that has made Rabaul 'Home' to Suellen. Reading this memoir will bring back so many pictures of life and explain why so many of us have this connection with Rabaul.
Thank you Suellen.
Sara Turner
Published by Suellen Holland, 2021; 367 pages; soft cover; $30.00 (incl. postage within Australia); the author will donate $5.00 to PNGAA for each copy sold. Available from the author at www.suellenholland.com.au

Peter Comerford
A Survival Story of Michael and Natlik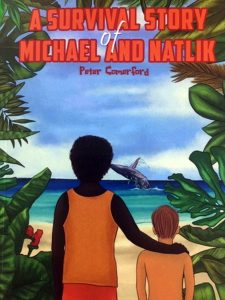 Michael's holiday on a tiny offshore island in Papua New Guinea, where his uncle owned a copra and cocoa plantation, was like an exciting dream. It was there that he became friends with Natlik, his uncle's house servant who taught him to spear fish, recognise poisonous plants and corals and to light a fire without matches.
However, an incredible boating and fishing trip with his uncle suddenly turned into a nightmare when disaster struck. Michael was left floundering in shark-infested waters off the coast of Southern New Ireland. When Michael failed to return home from the fishing trip, Natlik, using his sharp powers of observation and tracking skills is faced with a risky and dangerous trip across sea and through jungle to try and find his young friend.
Reviewed by Lou Ware
This richly layered and fast paced story will keep young readers on the edge of their seats. With adventure, survival, courage, and the power of friendship being its key themes, the book will fire the imagination of readers, keeping them invested in the fate of the main characters.
ISBN: 9781398457645; ISBN: 9781398457652/E book; Published in 2022 by Austin Macauley Publishers Ltd, UK; 148 pages— $24.75 plus shipping; Available from the publishers: HERE and online booksellers