BOOKS & ART REVIEWS
When the Garamuts Beat
Fr Franz Miltrup SM
Father Miltrup SM, who died in 1989, was a German national and a Marist priest who lived in Bougainville from early 1938 to 1986, mostly in remote south Bougainville. After arriving on the island in January 1938, Franz Miltrup soon learnt to speak Telei, the Buin language, fluently, as well as Tok Pisin.
Fr Miltrup's memoir deals with his adjustments to the Australian colonial administration and his role as a parish priest. Franz Miltrup's life was fully immersed in his parishioners, their culture and faith, and he wrote of his observations of their daily life in the villages, and the changes that colonisation brought.
The Second World War led to catastrophic change and hardship for the Bougainville people. Missionaries like Miltrup, who chose to stay behind after nearly all white civilians fled or were ordered to evacuate, experienced the same hardships. Twice he narrowly avoided execution by Japanese forces.
The memoir also deals with the tumultuous changes that affected Bougainvillean society after the war and post-independence. As subsequent generations loosened long-held ties with village traditions, Bougainvilleans were coming to terms with what self-determination meant and how it could be achieved.
Fr Harry Moore SM, who knew Franz Miltrup, translated the Tok Pisin memoir into English and approached Christine Leonard (née Wall), who grew up in Bougainville, to edit the story and put it into a book. Fr Franz Miltrup was a humble priest committed to the spiritual welfare of everyone around him.
You can read more about the book on https://www.leonardstories.com
Published by Christine Leonard, 2023
ISBN: 978 0 6453256 2 1
Available from Christine Leonard at (mob) 0422 002 667 or (email) leonardstories01@gmail.com or at this website: www.leonardstories.com
Cost: A$28 plus postage in Australia $10. A small pre-paid Australia Post satchel can fit up to two books, in which case only one postage fee applies.
When the garamuts beat … the people come
So, it was on a steamy tropical night in Brisbane, 18 March 2023, when more than forty people came to the 'sound of the drums' for the launch of the memoir by Fr Franz Miltrup SM, When The Garamuts Beat: a memoir of fifty years on Bougainville.
These five decades cover the catastrophic hardships of the Second World War, the closing years of Australian colonisation, and the ensuing years of the island's internal turmoil—all in the context of a man's faith and his commitment to the island and its people. But this story is more wide-reaching than one man's tale and its long-awaited launch. As Fr Harry Moore said, 'You all have a story and they are too valuable and unique to lose just because we haven't written them down. Miltrup is the inspiration for us to start.' He charged everyone present to capture their story for their families and friends, for prosperity and, ultimately, for the benefit of the Bougainville people.
There could not have been a more relevant venue for this event than the Brisbane home of Rudi and Pat Dreyer with its familiar tropical garden setting, high humidity, and traditional food (thanks to Veronica Kirin Henderson, Brisbane Bougainville Community Group) serving as reminders of the island we have all called home at some time.
This memoir represents not only the supreme personal effort by Fr Miltrup as he was sick and aging in far-off Germany, but the determination and deep knowledge of language held by Fr Moore to faithfully translate the 200-plus pages of typed Tok Pisin into English. It is also a tribute to the skills of Christine Leonard who edited these pages and completed this historical record. Christine adds other names in her acknowledgement of the team that persisted to bring to light this story of 'commitment and love for the people with whom he chose to spend his life'.
I commend this read to you. All monies go towards recovering the costs of this self-published book.
Belinda Macartney
Kilenge—West New Britain Papua New Guinea – A Pictorial Ethnography
Derk H van Groningen à Stuling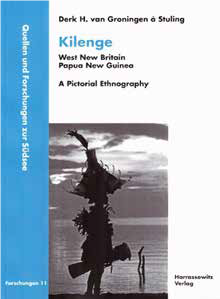 In 1977–78, shortly after Papua New Guinea had achieved its political independence, Derk van Groningen was living among the Kilenge people on the north-west coast of the island of New Britain. Originally, his ethnographic field research centred on the circular migration pattern in the Kilenge area. Being permitted to take photographs of their daily activities, his focus became much broader.
The author's work presents a photographic documentation of many aspects of Kilenge life during the transition period from colonial rule to self-determination and governance. His original observations and photographs are published in this book for the first time.
Dutch anthropologists and ethnographers played a major part in studying the culture and people of New Guinea. This research began in the then colony of Dutch New Guinea where government anthropologists, doctors and missionaries observed and recorded their experiences.
Later the interests of the Dutch expanded to include work in the eastern part of the island i.e., into Papua New Guinea. The work described in this book is an example of that expanded interest—an examination of the life and times of a society almost remote from the changes being wrought by Independence.
Derk van Groningen conducted the research as a student of Professor Adrianus Gerbands of the Leiden University in the Netherlands. While working in New Britain he was guided by Professor Sheldon Weeks of the University of Papua New Guinea and Professor David Lancy of the University of Utah.
JOHN EGERTON
The contents of the book can be found at this site:
https://www.harrassowitz-verlag.de/Kilenge/titel_7242.ahtml
ISBN 978-3-447-12007-4
eISBN: 978-3-447-39377-5
Published by Harrassowitz Publishing House, Wiesbaden, Germany (2023)
201 pages, 214 pictures
Cost: € 48,00
The Nakanai Ranges of East New Britain, Papua New Guinea, Version 2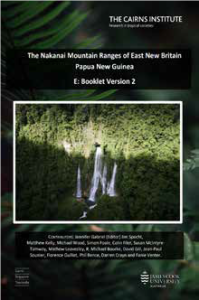 The Nakanai Range in Papua New Guinea (PNG) is a major karst area on the island of New Britain, with numerous deep and long caves, some of the largest dolines in the world (requiring an abseil of up to 300-400 m to enter the dark zone of some caves) and some extremely large underground rivers.
The first exploration of caves in the Nakanai Range by outsiders was undertaken in 1968 by Chris Borough and Kevin Reid of the Port Moresby Speleological Society who sought to explore Minye doline near Tuke Village.
The first dedicated speleological expedition to PNG went to Ora Cave in the Nakanai Mountains in 1972-73. The party consisted of six Australian cavers, four men and two women, led by myself. Harold Gallasch and I were based at the Lowlands Agricultural Experiment Station at Keravat on New Britain and the others were members of the University of Queensland Speleological Society.
The next caving expedition to the Nakanai Range was a reconnaissance trip, guided by me, by six French cavers in 1978. Since the Australian and French expeditions in the 1970s, there have been fifteen French expeditions, a Swiss one (in which a caver drowned underground), three British ones, a Japanese one and a French-Japanese one.
There are many significant caves in the Nakanai Range, some of which have huge rivers in them. The deepest is Muruk (cassowary), which is 1178 m deep and contains 17 km of surveyed passage. Muruk is the deepest cave in the Southern Hemisphere. In 2007, the Nakanai mountains was nominated to the PNG World Heritage Tentative List.
The book's contributors include cave explorers, biologists, archaeologists and anthropologists—many of us having been engaged in PNG over the decades.
The book's contents include an introduction to the Nakanai Mountains; sections on the karst and caves, including a short history of caving and information on the mega-dolines; a brief history of European activity in the region from the naming of Nova-Britannia by William Dampier in 1700 to the late 1940s; archaeology of the pre-colonial period; unique fauna and flora; and justification for listing by UNESCO as a World Heritage area.
Mike Bourke
A free eBook on the Nakanai Range, East New Britain
ISBN: 978-0-6454198-4-9
Editor: Jennifer Gabriel
Authors: Gabriel, J, Specht, J, Kelly, M, Wood, M, Foale, S, Filer, C, McIntyre-Tamwoy, S, Leavesley, M, Bourke, RM, Gill, D, Sounier, J-P, Guillot, F, Bence, P, Crayn, D and Venter, F.
Published by James Cook University, Cairns, 2022
Pages: 46—Cost: Free access
Available from:
https://researchonline.jcu.edu.au/74406/1/Nakanai_Mountains_ENB_FINAL_V.2_June%202022.pdf