Books and Reviews
GREG GROWDEN
The Wallabies at War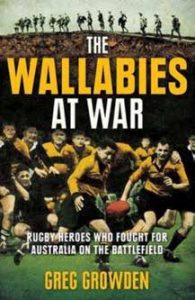 Aussie heroes have proved themselves on the battlefield as well as on the sporting field. Members of the Wallabies, the national rugby union team, have fought in virtually every major conflict Australia has been involved in, including the Sudan, Boer War, Boxer Rebellion, both World Wars, Korea, Vietnam and East Timor. Among them are some of Australia's most illustrious footballers. In this book, a veteran sports journalist tells their extraordinary stories of bravery, hardship, courage and human endeavour.
The strengths that made these young men sporting heroes are as important on the battlefield as on the sports field: teamwork, athleticism, tenacity, humour and courage.
The Wallabies at War includes untold stories from Aussie military and sporting history—not just on the battlefield but from POW camps and even the Burma Railway—and a wealth of experiences from humour to tragedy, and from the depths of torture, injury and deprivation to achieving stunning post-war sporting comebacks.
For anyone who loves their sport and their military history.
(HarperCollins website)
ISBN: 978-07-333387-9-3
ABC Books–AU, 29018; 320 pages. Available online and from good bookstores. RRP $32.99
GAVIN MILLER
The Last of Adachi's Army: 20 Years After the War a Rumour Surfaced, Like a Myth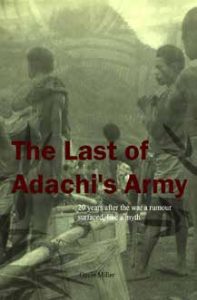 This e-book is set in the Madang Province of Papua New Guinea in the 1960s. It is a work of fiction that skilfully presents what life was like for the Australian and Papua New Guinean people living there at the time.
The author's description of the book accurately captures both its contents, and its tone:
1965, the war has been over for 20 years. The Australian colonial period was coming to an end as Papua New Guinea moved towards independence. Incredible New Guinea with its villages and old plantations, heat, craziness and hard drinking. And in Madang, along the coast, a trail of old scarred trees, bomb holes, fox holes now filling in, burnt and twisted vehicles, helmets, crashed and blasted planes; the bewildering wreckage of the Pacific war.
'Harry Blain was becoming increasingly immersed in the great conflict, in the books and on the ground. Then a rumour surfaced, like a myth. It drew Harry into a strange, perilous odyssey tangled in history, poetry, beauty and dismay. It took him to the Rai Coast, to Ellie in distress. It led to the patrol into the Yupna Gorge, to the mists and the events that would tear at his heart—what was hidden in the deepest shadows of the war?
I found it wonderfully evocative of the time and place—and, indeed, of when I lived and worked in the then Madang District in the early 1970s. Miller paints word pictures of the challenging tropical mountain country, the local inhabitants, and the expatriate people moving through it. Twenty years after WWII ended, and Major-General Adachi surrendered the remaining Japanese forces, war-time debris serves as a reminder of the terrible battles between the allies and the Japanese in the Saidor area and the Finisterre Range.
The tensions rise, as one reads the book, as relationships between the people in that world, between them and the physical environment, and between the past and the present, merge towards the book's climax, set high in the Yupna Gorge area near the Madang/Morobe border—an area familiar to the book's author from having patrolled there.
Although a work of fiction, Miller has gone to considerable lengths to portray authoritatively the settings, the cultures and the area's history. This is evidenced, in part, by the comprehensive set of notes that end the book.
I very much enjoyed reading it and recommend it wholeheartedly, both for its insights into the lives and times portrayed, and as a fine piece of New Guinea-based fictional writing by someone who was there.
(Disclosure: I have known the author since the 1970s when we both lived and worked in the area in which the story is based.)
David McDonald, 2019
Amazon Kindle edition, 2019; 170 pages;
ASIN: B07NH85F9B; RRP $7.04
BARRY J CONN & KIPIRO Q DAMAS
Trees of Papua New Guinea Volumes 1–3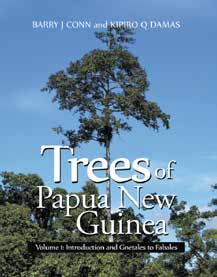 A new three-volume publication of the Trees of Papua New Guinea by Barry Conn (former Principal Research Scientist, Royal Botanic Gardens, Sydney) and Kipiro Damas (Senior Botanist, Papua New Guinea Forest Research Institute, Lae) provides a comprehensive account of 668 tree species.
These books, the first of their kind for Papua New Guinea, are a valuable resource for botanists, foresters, resource managers, environmentalists, non-government agencies and the extractive industries. They will assist with the identification of the major trees of these extensive and biologically diverse forests, and give an appreciation of the richness of the majestic PNG forests that range from the coastal and lowland plains to the highest mountains.
For further information see www.pngtrees.com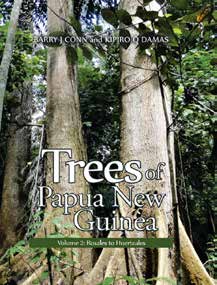 The island of New Guinea has a high diversity of species and a high level of endemism, containing more than five per cent of earth's biodiversity in just over one half of a percent of the land on the earth. New Guinea supports the largest area of mature tropical moist forest in the Asia/Pacific region. Papua New Guinea—consisting of the eastern part of the island of New Guinea, plus the islands of the Bismarck Archipelago, Admiralty Islands, Buka and Bougainville—has between fifteen thousand and twenty thousand species of vascular plants, with at least two thousand species of trees.
The most important challenge is the protection of biological diversity against the pressures resulting from global climate change, inappropriate destructive conversion of natural communities, unsustainable exploitation of forests, national economic development and societal demands, including a fair sharing of the nation's wealth, and law and order issues.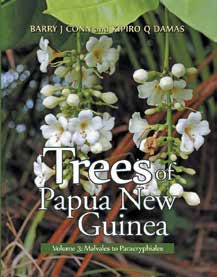 The project which resulted in the development of these volumes was a major initiative of the Papua New Guinea National Herbarium, together with the Forestry Research Institute, Lae, and the National Herbarium of New South Wales, Royal Botanic Gardens and Domain Trust, NSW, Australia. See the following link for more information on the project: http://www.pngplants.org/PNGtrees/proj_details.html
Trees of Papua New Guinea provides a comprehensive treatment of species of trees (Volume 1: 257 species; Vol. 2: 246 species; Vol. 3: 165 species). The books are published by Xlibris, 2019, and are available in casebound hardcover and softcover, with an eBook version also available from Xlibris, Amazon, Barnes & Noble and www.pngtrees.com.
THE AUTHORS
Barry J Conn: Prior to 2016, Barry was a Principal Research Scientist at the National Herbarium of New South Wales, and Associate Professor at the University of Sydney. He specialised in the floras of Malesia, Australasia and Pacific Islands, with special focus on the systematics of the trees of New Guinea and several other plant families. He was employed as a botanist at the PNG National Herbarium (LAE) and as a lecturer at the Bulolo Forestry College (1974–1979). Since 1982, he has regularly visited PNG to continue his botanical research and to document and describe trees for the PNGtrees project.
Kipiro Q Damas: Kipiro graduated with a Diploma in Forestry from the PNG Forestry College, Bulolo in 1978. He was employed as an Assistant Botanist at the PNG National Herbarium (LAE) while completing a Bachelor of Forestry Science, PNG University of Technology, in 1992. He continued as a botanist at the Lae Herbarium. In 2009 he graduated with a Bachelor of Honours from the University of PNG and continued to work as the Senior Botanist at Lae. Kipiro is currently completing a Master of Science degree at the University of PNG.
UV: Based on information provided by Barry Conn and from the relevant websites