Book Reviews – March Kundu 2020
Books Reviewed:
Small steps along the Way – by Paul Oates
A Short History of the Pacific Islands Monthly Magazine – by Bob Lawrence
Up the Creek – by James Sinclair
Right Man, Right Place, Worst Time – by Betty Lee
Farewell White Man – by Ken Fairweather
Small steps along the Way by Paul Oates
Phil Fitzpatrick recently had the pleasure of editing a new book by Paul Oates about his experiences as a kiap in the formative and crucial years just before independence: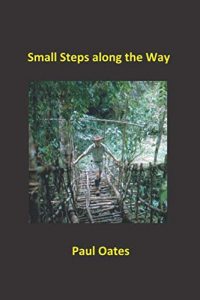 What struck me about Paul's account are the similarities with my own experiences as a kiap. I don't doubt that other old kiaps will make the same observation.
This commonality of experience is important to record, both in it mundanity and in its exceptionalism.
The simple day-to-day activities of a kiap in Morobe can speak volumes, not only about how and why things were done but also about the overriding motives of the Australian administration and the ordinary Papua New Guineans who were affected. The detailed descriptions Paul offers are unique to that period and will never be repeated. They range from building his own house and garden to the construction of bridges, roads and airfields.
In every account there is a palpable sense of innovation and making do under an austere and ignorant hierarchy in Canberra. There is also a profound sense of two disparate groups, expatriates and locals, working together hand-in- hand for a common cause.
Paul's easy-going relationships with the people he's working among shines through his writing in a way that every old kiap and PNG lapun will recognise. There is also drama and tragedy in the book. The loss of a good friend in an aeroplane crash is particularly heart rending.
So too are the last days of his wife and family in Port Moresby when their house was broken into and all their possessions stolen, followed by the stoning of their car by a bunch of drunken raskols. Then there is the inevitable problem of fitting back into Australian society. Not many old kiaps managed that transition well, myself included.
Despite all this, Paul's account, in all its manifestations, is related with a sense of humour and a firm appreciation of the ridiculous. PHIL FITZPATRICK
ISBN 978-1707077939
Amazon.com AU$22.03; 241 pages eBook AU$2.91; Self-published.
A Short History of the Pacific Islands Monthly Magazine by Bob Lawrence
The Pacific Islands Monthly Magazine (PIM) was a brave publication started in The Great Depression that over the following seventy years became the 'Pacific Bible'.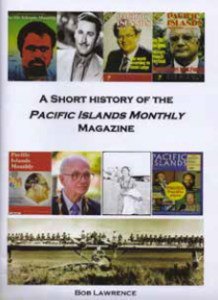 Now Bob Lawrence, an ABC news journalist who was among a group of ABC staff seconded to the National Broadcasting Commission of PNG in the 1970s, has written a history of the magazine which closed in June 2000.
PIM informed colonies and nations that span a third of the globe from Torres Strait and PNG through Micronesia to Hawaii, the Samoas and Norfolk and Cook Islands, Nauru, Fiji, Vanuatu and New Caledonia.
PIM told all the great stories of the Pacific, from the desperate people who fled the Depression to find gold in New Guinea, to the horrors of WWII, the searches for the missing Americans Amelia Earhart and Michael Rockefeller, to the Pacific's con-men and carpet baggers, the people searching for lost 16th-century Spanish galleons, and the growth of the major Pacific trading houses and shipping and airlines that connected the remote countries as they grew to independent nations, plus the supportive stories of new nations as they achieved independence.
It also told of average people: planters, public servants and others, plus governments and their edict, plus such international notables as Errol Flynn, James A Michener, Margaret Mead and Raymond Burr.
The New Zealand founder/editor, RW (Robbie) Robson, in 1914 saw the lack of cross information between Pacific settlements. In his own words Robson said that in 1930 he 'decided that a career in metropolitan daily newspaper journalism held no future for people after middle age. I was forty-five. It was a gamble.'
Robson and his later long-term editors, Judy Tudor, Stuart Inder and Gus Smales and dedicated staff and contributors championed, through PIM, the Pacific and its emerging nations and the creation of bodies such as the South Pacific Forum.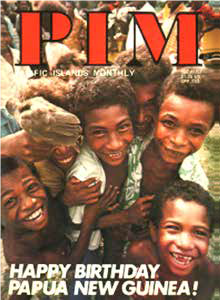 In the mid-1950s, Robson bought the The Fiji Times (Suva) newspaper. This and PIM were attractive to the Herald and Weekly Times Group. When the Murdoch empire swallowed HWT there was no place for PIM. PIM operations were sent to Suva and under a trail of short term, under-resourced editors it wilted and was suddenly closed in June 2000, one month before its seventieth anniversary!
What remained was the PIM Lunch started in the 1960s because expatriate Australians employed in the Pacific were always keen to share food and drink with the Sydney-based PIM reporters they had met when those reporters travelled the Pacific, often on Burns Philp or WR Carpenter ships. To maintain productivity, a weekly lunch time and place was set and published in PIM. Pacific parliamentarians, planters and the general Pacific public regularly broke bread with the PIM crew.
That lunch survives.* In 2017, the book's Sydney-based author, Bob Lawrence, delivered a eulogy to his friend, the recently buried former PIM editor, Gus Smales. Afterwards, a luncher said she never realised the 'Pacific Islands Monthly Lunch' she enjoyed so much was linked to a magazine called the Pacific Islands Monthly. Bob figured someone should inform the world of this brave magazine and its devoted staff!
Bob first met PIM in November 1974 soon after arriving in Port Moresby. Sean Dorney, his colleague, gave him a copy of the latest PIM. Bob was hooked. In July 1975, Bob became journalist-in-charge at Rabaul. He found hundreds of back copies stacked in the news room which became his night time reading. On leaving to work in Parliament House, Canberra, Bob became a long-time subscriber.
A Short History of the Pacific Islands Monthly Magazine is for sale for $25.00, a further $5.50 post and handling charge is added for mailed copies.
There are only 100 copies. Available from Bob Lawrence at boblaw@bigpond.net.au.
*PIM lunches are held at the Law Society Dining Room, 170 Phillip St, Sydney NSW on the first Friday of each month, February to December. All welcome. Contact Tony Gentile 0412 303 757.
Up the Creek by James Sinclair
Edie Creek and the Morobe Goldfields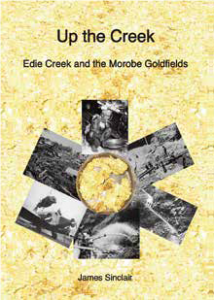 Reading books is no longer a regular habit of mine. However, there was no hesitation when asked to review James Sinclair's recent work, Up the Creek—Edie Creek and the Morobe Goldfields. My thoroughly enjoyable years in Papua New Guinea (1986-1998) were greatly enriched by reading a collection of James Sinclair earlier books. James Sinclair was a respected kiap who became better known as an author describing the unbridled adventurism and romance of colonial European incursions and efforts to unearth and exploit the riches hidden in the heartland of Melanesia. The 1978 classic, Wings of Gold, was my favourite, and along with the three volumes (1986–1991), Balus: The Aeroplane in Papua New Guinea, adorned my coffee table from the time when I was employed as a geologist based in Wau, Morobe Province, for New Guinea Goldfields.
Since the 1927 construction of a sloping grass airstrip, Wau town has been the service centre for gold mining operations at Edie Creek. Whether it was the 1930s, the 50s or the 1980s, the trials and tribulations described in Up the Creek of travelling the Wau to Edie Creek road up Mt Kaindi were remarkably similar. I too have travelled from Wau to Edie Creek, most memorably with world renowned geologists, Hal Bonham and Dr Richard 'Dick' Sillitoe. This road has inadvertently bonded us all through the decades. Travelling to Edie Creek from Wau was always an exciting experience, especially as one neared this mystical place of fabulous riches and history. Up the Creek certainly captures that excitement in the narratives of the numerous operators that have toiled in The Creek.
Sinclair, as per his previous books, has conducted meticulous research with sources mainly from colonial records, both official and private. He acknowledges that the pioneering phase of the Edie Creek story is told in the words and reflections of whites. Sinclair was dismissive of native recollections in order to chronicle the past. Whilst stating that native recollections were not ignored, they certainly weren't incorporated as he viewed illiterate people's recollections as prone to distortions, exaggerations and wishful thinking. Which is a pity for the book. The Biangai people of the upper Bulolo valley near Wau certainly can recall the 1927 'Kaisenik Affair' as that of a massacre with the additional punitive destruction of villages and food gardens by miners from Edie Creek sparking generational mistrust in the often-well-intentioned colonialists.
In the year when Arthur Darling first discovered gold in the Bulolo River near Koranga Creek, the district was still German New Guinea. Well before swarms of gold prospectors were on the scene, documented German expeditions into the Wau valley which the Biangai people also recall include, famed geographic explorer and adventure writer Otto von Ehlers in 1895 and the 1913 Pilhofer and Flierl expedition which laid the foundation of Lutheran mission influence in the district. These widely known, prewar German achievements exploring the Wau valley were not mentioned in the book.
Despite being illiterate at the time, the local Biangai people had recorded their encounters with these German explorers through the handing down of stories. The Biangai people vividly recall the first outsiders into the upper Bulolo valley as being from the fateful Otto Ehlers expedition of 1895 walking in from Salamaua. The influential 1913 Pilhofer Lutheran Missionary expedition came in via the Bulolo river headwaters from the Garaina direction.
Famed Hollywood actor Errol Flynn made it up to Edie Creek during the early 1930s. Like many others he failed to find his fortune. But perhaps his presence on The Creek was worthy of more than a passing comment about his teeth.
Personally, I enjoyed reference in the book to characters that I had encountered during my time in PNG, including Ian Fraser, Tony and Keryn Flynn, Trevor Neale, Lubo Todarov, Jack Da Costa, Dick Cooper, John McLeod, Kaias Paro, John Reid, Peter Hollingsworth and Stuart Mayfield. Other readers of Up the Creek, particularly those who've done time in Morobe Province, will no doubt enjoy similar flashbacks to the many characters mentioned throughout the book.
Up the Creek is a valuable source of information describing the life and times of colonialists and entrepreneurs who were drawn to the Morobe Goldfields, in particular Edie Creek, throughout the 20th Century. The book is slightly Anglocentric in overlooking the renowned German expeditions into the Wau district prior to the arrival of prospectors in the 1920s. Likewise, the extent of the intelligence Cecil Levien gleaned from German official records to position himself to ultimately create Bulolo Gold Dredging was similarly ignored. Bulolo Gold Dredging remained listed on the ASX until 1966, thirty-four years after Levien's death. Whilst the recollection of many of the 1920s' prospectors makes riveting reading, to dismiss the indigenous stories of contact with the early miners handed down to the present day Watut and Biangai people of the area is akin to telling only half the pioneering story. The Biangai people were in particular impacted in the early days of Edie Creek as the miners and their carriers brought all supplies from Salamaua through the Biangai territories which escalated into Edie Creek miners massacring civilians at Kaisenik in 1927.
Michael Thirnbeck
Published by Pictorial Press Australia, 2019, in association with Arthur Jones, OBE
ISBN: 978-1-876561-15-4
Hardback, 324pp, limited numbered edition of 650 copies; RRP: A$45.00 + $15.00 p&h within Australia.
Includes maps, B/W and colour photos; index, bibliography, etc.
Available from Pictorial Press Aust—
E: robert@pictorialpress.com.au
(07) 3716 0104
ED: The author, James Sinclair, accepted a commission to write a history of Edie Creek from the beginnings to the present, with the emphasis on the individual miners involved, not the large companies. Readers who are interested in compre-hensive coverage of early German and Indigenous roles, related to the goldfields, are referred in particular to the author's seminal work, Golden Gateway (1998) and Not a Poor Man's Field (2010) by Michael Waterhouse.
Right Man, Right Place, Worst Time by Betty Lee
Commander Eric Feldt – His Life and His Coastwatchers
Boolarong Press, 38/1631 Wynnum Road, Tingalpa, Qld, 2019,
ISBN: 9781925877267 (paperback), 330 pages. Available from Boolarong Press ($32.99 plus postage), Amazon Books ($36.80 free shipping).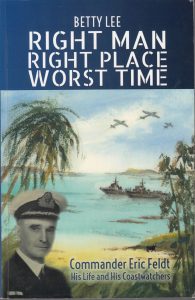 The title of the book sums up the extraordinary contribution that Commander Eric Feldt made to the early war effort in New Guinea and Australia. He was the man on the ground responsible for organising the coast-watching network of experienced island people in mostly remote locations who waited, watched and reported enemy movements. Australia owes a significant debt of gratitude to Eric Feldt and his Coastwatchers for their exploits, as recorded in Eric Feldt's famous book 'The Coastwatchers', originally published in 1946.
How did the story unfold? A great niece who had never met her uncle and who virtually knew nothing of his New Guinea experiences, courageously set out to write his biography.
The Prologue sets the scene for the unfolding 12 chapters. The book introduces the ancestors who emigrated from Sweden in the 1870's and traces their lives until 1913. A family diary recorded the pioneering life inland from Ingham (North Queensland). Eric, the last of eight children, was born in 1899 and not only learnt English but also Melanesian Pidgin English from Islander cane farm workers.
In 1913, after winning a scholarship, Eric entered the newly established 'Australian Naval College'. It was at this college that two other cadets, namely Rupert Long and Hugh Mackenzie, would later become pivotal to his life in New Guinea. In fact, the list of that pioneer naval class reads of a 'Who's Who' in Australian naval history. After graduation, his naval experiences at the end of WW1 are highlighted in Chapter 3.
After WW1 and completing an Intelligence course, Feldt was posted to HMAS Melbourne with subsequent cruises of the Pacific introducing him to New Guinea. In 1923, his New Guinea life began. Chapters 4 and 5 describe life as a Patrol Officer (Kiap) and his experiences in the Sepik, New Ireland, Bougainville, Madang and Morobe Districts culminating in his appointment as the Mining Warden for the Morobe Goldfields in 1935 residing in Wau. It is in the Sepik, that he further develops his fluency in Melanesian Pidgin and the reader is introduced to the general situation at the time of supply and communication issues, tribal fighting, patrol organisation, tropical diseases and treatments. The indicators of beginning health problems that dogged him throughout his later life are also described. The 10-year period of his life, from 1928 to 1939 is a veritable encyclopaedia of early settlers, pilots, patrol officers, missionaries and miners. Key players in WW2 events, such as J K (Keith) McCarthy, Hugh Mackenzie and Jack Reid are introduced.
Beginning with Chapter 6, this describes the early restructure of Naval Intelligence – Rupert Long (pioneer Naval College graduate) being a key person in this process. Late September 1939, Eric Feldt was again in Naval Intelligence as a Staff Officer. He then began the process of recruiting Coastwatchers. However, the story that evolves is concerned with coast-watching during 1942–43, including escapes after the fall of Rabaul (of which many accounts have been written) and the mini-Dunkirk organised by J K (Keith) McCarthy and sanctioned by Feldt. Also included, is the escape of Hugh Mackenzie, the then Intelligence Officer in Rabaul (pioneer Naval College graduate) who then played a prominent role coast-watching in Guadalcanal (as well as in the re-occupation of Rabaul in September 1945). The following chapters are mainly centered on Bougainville and Guadalcanal with descriptions of how problems of supply and the demise of several key coast-watching personnel added to the strain on the organisation during 1941-43. Included is the controversial account of the evacuation from Kieta (this was subsequently amended by persons actually present at the time). The strategic importance of the Guadalcanal campaign with details of the effective reporting by Coastwatchers of Japanese enemy movements, ultimately led to their defeat, in the main, by American forces.
The key roles of the main players, Jack Read, Paul Mason, Hugh Mackenzie, and Martin Clemens are highlighted. The significant contribution made by Sgt. Yauwika and his bravery in these events is acknowledged. A mention is also made of the role played by Commandos of the No. 1 Independent Company, referred to as 'AIF'.
Whilst on a visit to Guadalcanal in March 1943, Eric Feldt suffered a heart attack and was relieved of his duties. Eventually he was invalided out of the Service. The final chapter describes Eric's retirement life and his participation at the dedication of the Coastwatcher's Memorial Lighthouse in Madang. The idea for a Lighthouse memorial for Coastwatchers was conceived by Rupert Long and the story of its conception to fruition is contained in this chapter with a detailed account of its dedication, significantly on August 15, 1959.
The author is commended for adding to family history, a biography of her great uncle, Eric Feldt. Sourcing of information requires detective work, especially when it involves intelligence organisations and especially with research being undertaken many, many years after the events described. To this end, the author relies heavily on the original 1946 edition of 'The Coastwatchers'.
The major strengths of the book are in the early family history of pioneering life in North Queensland. Add to this, Eric's early naval history, patrolling in the Sepik and the early WW2 structure of the Coast-watching organisation. The author's descriptions of tropical diseases, for example, Scrub Typhus, and treatments prior to modern drug usage are detailed. Due recognition is also given to Keith McCarthy, Hugh Mackenzie, Rupert Long and Sgt. Yauwika.
The book however, is somewhat marred by inconsistent recording and incorrect spelling of people's names (some significant), place names and some geographical features. There is a 'looseness' in the recording of dates and additionally there are some errors in the citing of references. The Index is also incomplete. The bibliography, whilst adequate, has several omissions that would have given a more comprehensive insight into the character of Eric Feldt as well as clarifying some events. Unfortunately, the recordings of Pidgin English in the book are disappointingly amateurish. These cast doubt on Eric's reputed Pidgin fluency as recorded in the biography. It would have been far better to have used the proper 'Pidgin' syntax followed by an English translation. These comments indicate that proof reading by a person knowledgeable of New Guinea, was not undertaken.
Overall, this is not a book for the serious researcher but for those interested in family history in general and as an introduction to New Guinea following World War 1.
Pat Johnson (Mrs)
Note: Pat Johnson is the daughter of a pre-war Kiap and WW2 Coastwatcher. She has a life-long interest in coast-watching history.
Farewell White Man by Ken Fairweather
A great read with lessons galore for those who care about Australia's nearest neighbour …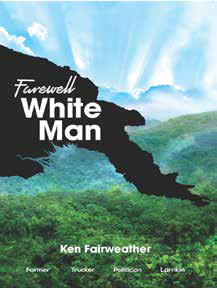 There is one unfortunate early flaw in Ken Fairweather's rollicking tale about his exceptionally full and interesting life in Papua New Guinea. He is far too modest in describing himself as a 'B-grade larrikin'. When I started out as a cadet journalist with the Australian Broadcasting Corporation in the early 1970s—about the same time that Ken arrived in PNG—journalists were graded. After finishing a cadetship, you became a D-grade. Then could work your way up through C, B, A and, if you were any good, right at the top were the 'Super A's'. Without doubt, Fairweather is a 'Super A-grade larrikin!' And I say that fondly.
Ken's book, Farewell White Man, is dedicated to 'all those expatriates who supported and participated in the growth of Papua New Guinea as a nation, especially those whose adult life began in the ten years leading up to independence'. I arrived in Papua New Guinea as a young man in 1974, the year before independence, to work on secondment for the then newly created National Broadcasting Commission of Papua New Guinea. I ended up spending twenty years in PNG and got to know Ken and many of the characters he writes about.
My life has been pretty interesting. But if you want to read about a life lived to the maximum, pushing the boundaries at every turn, making fortunes in boom times and going bust in bad, getting elected to the PNG parliament as a white man—not once but twice—and definitely making a difference in an adopted country that has flummoxed so many, then this book is for you.
What I particularly like is Ken's honesty and his sense of humour. He writes that, and I agree with him, Australia's retreat from Papua New Guinea at the time of independence was done very badly with almost no planning whatsoever. At the time, he was working with the government's Transport Department and he makes the wry comment that Dunkirk was better organised! A lot of good people who Papua New Guinea could not afford to lose were offered golden handshakes to return to Australia.
There was a lot of uncertainty and Ken writes that: Port Moresby during this time reminded me of an Australian cattle sale-yard: dusty, windy and with everybody waiting to be sent home to a new place or the slaughterhouse. It was heavy air for a lot of people. Fairweather is one of those who stayed, went into the trucking business and took up PNG citizenship.
He is withering in his condemnation of recent Australian policy towards Papua New Guinea. Australia has its post-independence relations with Papua New Guinea all mixed up. Billions of dollars have been wasted. Firstly, Australia was a poor colonial power, a reluctant one; a lazy one, too. It didn't even build a brick building … Secondly, they refuse to listen to Australians who live in Papua New Guinea; it's like they are ashamed of us. Thirdly, they continue to send young women or inexperienced men to represent Australia in a paternalistic society. It is not sensible to do this.
Fairweather is more than happy to share his forthright views: The public servants today are soft, molly-coddled, aircon seeking, government–car–driving sooks—and overpaid, too. Bank lending policy?—This is bullshit! The asylum seekers on Manus? Economic refugees!
But the best lines in the whole book, I think, are these: You walk around with a hand grenade up your arse and just when things are going well, you pull out the pin. Papua New Guinea and I have this in common.
Sean Dorney,
AM, MBE, CSM, FAIIA
ABC's Foreign Correspondent (Pacific and PNG) and a Non-Resident Fellow with the Lowy Institute for International Policy
Published by author, Cairns, 2019;
Paperback, 323 pages, colour illustrations; Price: $39.99;
Postage in Australia: free
Website Photo Gallery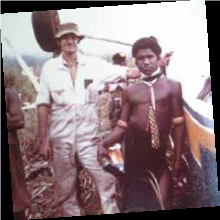 PNGAA member, former aircraft engineer and now author, Robert (Bob) Shaw spent sixteen years in Papua New Guinea. Back in Australia, he flew thousands of kilometres on jetliners crewing as a 'flying spanner' and rescuing numerous stranded airliners from outlying Pacific islands.
This, plus his travel through sixty-eight countries, has inspired his writing. Many of his experiences are fictionalised in his books including Island in the Sky, Fire Cult and Cross of Goa.
His website now has a photo gallery with many rare photos of PNG plane crash retrievals and the Smoked Corpses of Aseki. Browse it at: www.tropicanapress.com.au