Book Reviews
Book Reviews: Courage In the Skies by Jim Eames; The Northumbrian Kiap
by Robert Forster; Solomon Islanders in World War II by Anna Annie Kwai; LIGHT by
Anne McCosker; The Volcano's Wife by Amalia Cowley & Pamela Virtue.
Courage In the Skies – The untold story of Qantas, its brave men and women and their extraordinary role in World War II by Jim Eames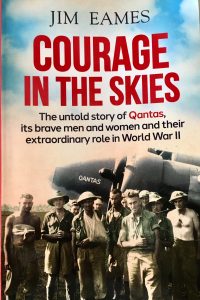 ISBN 9781760293932 Published by Allen & Unwin 2017 336pp Foreword by Air Chief Marshal Sir Angus Houston AK, AFC (Ret'd), maps, 16 pages black and white photos, Acknowledgements, Appendix, Bibliography, Index. Available through https://www.allenandunwin.com/browse/books/general-books/history/Courage-in-the-Skies-Jim-Eames-9781760293932 or your local book supplier.
The pioneering role of Qantas in Australian history is truly remarkable. What commenced trading as a domestic mail and passenger run became a successful international airline. What we didn't know is what author, and PNGAA member, Jim Eames unravels in this book.
Against a backdrop of war clouds gathering in Europe and Asia/Pacific, Courage in the Skies reveals the extraordinary role of Qantas, an Australian airline, which with the foresight of its Chairman, Fergus McMaster, and Managing Director, Hudson Fysh, played a vital role through the war years to survive into the post-war years. Their vision was enabled by a loyal, skilled, adventurous, and courageous team of pilots and support staff, which included engineers, mechanics, stewards, radio operators (even providing news services in flight!) and weather forecasters.
In March 1938, with the introduction of the new Empire C Class flying boats, crews had to take a course in seamanship! Over the vast Indian Ocean, the sweeping Pacific Ocean, and with brave flight crews, endurance was tested and aircraft were pushed, whilst still adhering to safety standards expected and respected by all.
In September 1939 the RAAF's largest aircraft was the Avro Anson, little more than a communications aircraft used for training. Its front line fighter, the Wirraway, was no match for the Japanese Zero. With the RAAF having nothing to match the size and versatility of Qantas' Empire Class flying boat, four of the five Qantas flying boats were handed over to the RAAF.Qantas was at the forefront of negotiations with the UK but realised it soon needed to look to America. The first Catalina delivered into Sydney from America was only the third in aviation history to make a direct flight across the Pacific!
Current day Timor and Indonesia (then Java and Sumatra) were important points en route to the UK, with the changeover at Singapore. The strategic significance of the trade routes between Australia and the UK in aviation terms meant both countries were anxious to thwart attempts by non-allies to gain a foothold across links with its colonial empire. As England became more engrossed with the war in Europe, and Churchill insisting Singapore was impregnable, Qantas took up the slack left by BOAC, extending their services to Thailand and India. As war became more imminent, Qantas, with its experienced long-range pilots, was forced to quickly adapt to an escalation in hostilities and to rapidly changing wartime circumstances.
There are gems describing Qantas crews in unarmed aircraft dodging and being attacked by the Japanese Zeros, having to land in tight estuaries, supplying front lines, evacuating the wounded, and undertaking surprising escapes–not only personal but including carrying more than forty anxious civilians on the last aircraft from Singapore. There are powerful descriptions of the fall of Singapore and the attacks on Timor, Darwin and Broome. Broome had then become a clearing station for military and civilians out of Java.
Whilst evacuations in Papua New Guinea generally fell to ANA, Guinea Airways and to a smaller extent the RAAF, the description of Fr John Glover's attempt to reach Australia and get help for the stranded soldiers and civilians in Mt Hagen, and the successful but dangerous Qantas mission that resulted, leaves nothing to the imagination. With the Kokoda campaign and Milne Bay following, Port Moresby's Ward Strip became one of the busiest in the world. Qantas's unarmed aircraft were again running considerable risks taking part in rescue missions, evacuating the wounded and sick and providing invaluable support through the Bully Beef Bombers.
Author, Jim Eames, graphically describes these early days of pioneering aviation and the wider regional issues imposed on a new international airline. These included: potential threats, fragile alliances, bureaucratic sensitivities, negotiations with the Dutch to ensure continuing support of the route through the Netherlands East Indies, and then the everyday issues of selection of location for flying boat bases and land planes, the importance of meteorological reports, radio transmission issues, inadequate charts, and limited navigational aids.
Interspersed in this international footprint are entertaining anecdotes, commercial, political and historical stories and the challenges of an Australian airline at war. Jim Eames's easy-to-read style is compelling and enjoyable.
Peppered with names like 'Scotty' Allan, Lester Brain, Russell Tapp, Orm Denny, Lew Ambrose, Bill Crowther, Bob Gurney, Aub Koch, Bert Hussey, Eric Donaldson, Bill Purton, Eric Simms, Gordon Steege, Arthur Baird, Norm Roberts and many, many others Courage in the Skies is a tribute to the men and women of a great Australian airline which will celebrate its 100th birthday in 2020.
Andrea Williams
The Northumbrian Kiap
Author: Robert Forster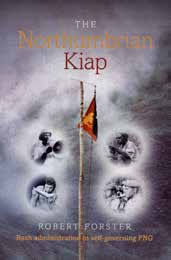 Publisher: UK Book Publishing. Year: 2018 ISBN: 9781912183364 Pages: 306. Soft or Hardback: Softback. Additional info: 24 black and white photographs, six maps and index covering all people and places named. Category: First hand historical account of bush administration in self-governing PNG. Available from: Amazon; Foyles; Book Depository; UK Book Publishing; Blackwells and Kindle. Cost: $23.25 plus postage. Description: Revealing descriptions of bush work, bush living, and bush administration within PNG between 1968 and 1975.
Author's Notes
The Northumbrian Kiap: An unusually angled tale of culture, isolation, identity and confusion. Fellow Northumbrians, British students of 1960s' vintage, travel enthusiasts, former VSOs, many Papua New Guineans and also Australians are among those who will enjoy this vivid first-hand account of never-to-be-repeated postings in pre-independence PNG.
It is written by a British-born Kiap (bush administrator) who went on to be a career journalist and underlines the universal problems triggered by tumultuous cultural change and the everstrengthening quest for national and individual identity. The narrative confirms the European model for colonial administration was active well beyond the emergence of The Beatles, mini-skirts and Mini cars in the swinging 1960s.
Its candid text includes eyewitness observations covering the country's uniquely formidable mountain interior, arrow and spear fuelled traditional fighting, cyclical pay back murder, and villagers who hoped to become wealthy after building a lure to trap passing planes. But it also outlines the profound political stresses provoked by the country's determination to reject Kiap government directed through Australia. These include the installation of an illiterate Minister of Communications, an Assistant District Commissioner who was blind to the implications of a seismic general election, how just three coconut palms underlined a catastrophic collapse in administrative will, and a group of Europeans skulking behind an arsenal of firearms on Self-Government Day.
The history of PNG's exploration by Kiaps working up to the end of the 1950s has been comprehensively covered but "The Northumbrian Kiap" offers valuable insight into problems faced by both village people and their civil service during the much less well documented approach to Independence in 1975. Within its closely constructed and perceptive script is confirmation that structural strains which plague PNG's current leaders were already bedding in during the early 1970s. A surprising, and sympathetic, undertext is the unmistakable similarity between adjustments to accommodate mid-20th Century lifestyle changes forced on village people in rural Northumberland and contemporary reaction among Papua New Guineans as they too confronted tensions created by unrelenting global economic and educational advancement.
In late 1974, just months before Independence, a Kiap walks into one of PNG's many isolated mountain villages where the new national flag will be hoisted, and formally saluted, for the first time.
Solomon Islanders in World War II An Indigenous Perspective
Authored by: Anna Annie Kwai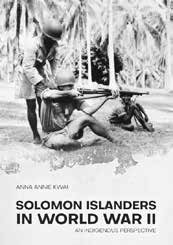 ISBN (print): 9781760461652 ISBN (online): 9781760461669
Publication date: December 2017 Imprint: ANU Press
DOI:
http://dx.doi.org/10.22459/SIWWII.12.2017
Series: State, Society and Governance in Melanesia
Disciplines: Asia and the Pacific
The Solomon Islands Campaign of World War II has been the subject of many published historical accounts. Most of these accounts present an 'outsider' perspective with limited reference to the contribution of indigenous Solomon Islanders as coastwatchers, scouts, carriers and labourers under the Royal Australian Navy and other Allied military units. Where islanders are mentioned, they are represented as 'loyal' helpers. The nature of local contributions in the war and their impact on islander perceptions are more complex than has been represented in these outsiders' perspectives. Islander encounters with white American troops enabled self-awareness of racial relationships and inequality under the colonial administration, which sparked struggles towards recognition and political autonomy that emerged in parts of the British Solomon Islands Protectorate in the postwar period. Exploitation of postwar military infrastructure by the colonial administration laid the foundation for later sociopolitical upheaval experienced by the country. In the aftermath of the 1998 crisis, the supposed unity and pride that prevailed among islanders during the war has been seen as an avenue whereby different ethnic identities can be unified. This national unification process entailed the construction of the 'Pride of our Nation' monument that aims to restore the pride and identity of Solomon Islanders.
LIGHT
Anne McCosker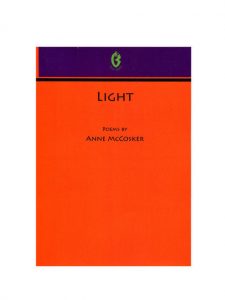 University of Papua New Guinea Press and Bookshop, Port Moresby. upngbooks@gmail.com
www.pngbuai.com/buybooks
2017 ISBN 978-9980-89-185-3. 68pp. Soft back
Author details, web-site, photograph (colour). See attached.
POETRY
Available from Amazon (UK, and USA), or www.annemccosker.com
£14.95 sterling + postage. Changes frequently online.
LIGHT, Anne McCosker's latest book of poetry has in the central position of the book the 21-page cycle of poems Easter Time Rabaul. In these the poet weaves into the Christian Easter story the close relationship strengthened in tragedy, between the pre-WWII European – mostly Australian – Beforers, and the local New Guinean population.
Palm Sunday describes a joyous journey through a lovely palm tree country side and villages bright with waving locals. Maundy Thursday is set on Namanula Hill where the poet was born and she remembers how Nobby Clark hurrying from his look-out post on Namanula Hill to warn civilians of the invading Japanese. Good Friday and Easter Sunday are set in St Georges Church, Rabaul where to the local Papuan New Guineans and European congregations, the Book of Common Prayer Easter Services gave comfort to those aware of all the suffering the "Fall of Rabaul" caused and still causes. Holy Saturday is set in Bita Paka Commonwealth War Graves cemetery.
New Guinea is mentioned in several other poems, Tavurvur, Living Christmas. World Wars are commemorated in Dedication Service, Australian War Memorial, London and The Anzac Memorial, Weymouth amongst others.
Poetry is also there to be read set in other countries; Australia, Europe, Scotland. Poems such as Lion Man, Your Kin, Child is Father to the Man give insight into some of the poet's very human experiences.
The Volcano's Wife: The Great Untold Story
By Amalia Cowley & Pamela Virtue
Personal little-known public tragedy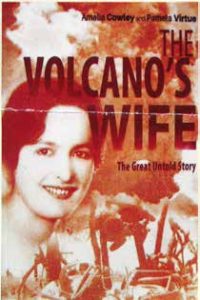 2015, Inspiring Publishers PO Box 159, Calwell, ACT Australia 2095, 208pp.
This is a personal story revealed by Amalia Cowley and her daughter Pamela Virtue. Both survived the Mount Lamington Eruption in Oro area of Papua in early 1951.
Erl, Pamela's brother, 16 and Cecil her father, were killedalong with 28 European and probably 13,000 local people. Children were not included in the original head count.
There's history, romance, fun, loss, grieving and regeneration. This is personal stuff, written by two feisty women of Italian heritage. Amalia was a doctor's daughter from Lismore. A talented violinist performing on the MV Macdhui she was raced off by a young patrol officer and married in Port Moresby five days later. Their first posting was Kokoda in 1933, a perfect station for its climate and attention by local people. Life was tough and Amelia was left to look after herself with the help of servants while Cecil was away on patrol. Two children were born in Port Moresby and Samarai. The family were on a number of stations including the Trobriand Islands and Misima.
While Cecil was away at the War, Erl, Pamela and their mother were refugees in NSW and Canberra, the children attending boarding schools.
Their final posting was Higaturu in the shadow of Mount Lamington near Popondetta. There was no history of eruptions in the area, but District Commissioner Cecil Cowley advised locals to evacuate. Knowing the dangers he and his son stayed put after evacuating the European women and children. From nearby Sangara Pamela and her mother escaped certain death by about a 100 metres as the blast of super-heated pyro elastic debris stopped short in front of them.
The two women never got over their losses. Amalia became a financially desperate widowed alcoholic in Sydney. Pamela suffered at boarding schools.
Finally in 2003, married with children, Pamela, her husband Gerry and son Mark visited the area to be greeted by the locals, some who remembered her and especially her father, who had put in roads, schools and health facilities. He had special relationship with the Orokaiva. Cecil first went to Port Moresby with his family aged 7 and trained as an engineer in Sydney. He grew up with the Champion and Hides' boys and was part of the country.
The memorial for the survivors was not regularly maintained. Appeals to the Australian Government fell on deaf ears. But the people celebrated anyway, and also on subsequent visits in 2004 and 2013 (a special Eruption Day).
Personal doubts and anguish are not lacking in this account of a disaster. Pamela mines her memory of the past. The good and the bad come out. She writes of her parents on page 119.
They seemed to have a schizophrenic relationship, the nights developing into rows and often full- blown brawls. I would put myself in the bed between them so they wouldn't hurt each other, but they would get out of bed and continue. They weren't going to let me spoilt it for them. The fights were usually over interfering in-laws or the amount to time Dad spent working.
The days, in contrast, were a perpetual honeymoon. In the mornings they were newlyweds, and that went on till 5pm each day. The days were truly wonderful. I couldn't figure it out. It was incomprehensible to that child. It was simply that nights were bad, days were fantastic. Maybe they both needed the drama. There wasn't much else happening. I will never know.
A wife lost a son and husband and lived till she was nearly 93. Pamela Virtue lost a father and brother and also many friends among the Orokaiva. This story is personal. It's alive with insightful memories and photographs. In Pamela's poetic finale: 'No mountain can kill their souls.'
Review by Martin Kerr
Although previously reviewed, this review by Martin Kerr offers a different perspective, reflecting on the emotions of the Authors. The Volcano's Wife is excellent – and important historically as it also gives a positive impression of modern PNG – in particular the village peoples' reactions to us 'old-timers' when we return.
Andrea Williams.
Martin Kerr's New Guinea Patrol was first published in 1973. His cult memoir, short stories and seven novels are available on Kindle.