Beyond the Kubo BOB HOAD
In 1963 I was fortunate to lead a patrol from my base camp, Nomad River in the Western District, safely through 'restricted areas' into the Southern Highlands District and return. Most of this area was very remote. It had little or no contact with the outside world. This was a community in a Stone Age.
A couple of other kiaps and I had spent the previous two years at Nomad building up a base camp with an airfield. Workers from a different area (Awin, North Fly) had been brought to Nomad because the local people were not settled and were not offering assistance. In a Stone Age culture, there is not much surplus labour. Only steel could drastically reduce the enormous time and labour required for subsistence farming.
The whole area was a vast forest on the Great Papuan Plateau surrounding Mount Bosavi, an extinct volcano. Knowing that it would be difficult to recruit carriers from place to place I had a permanent 'line' of fifty-five porters, recruited from Awin and Pare speakers, from the west side of the Strickland River. With nine members of the Royal Papua New Guinea Constabulary accompanying, we left Nomad on 13 November 1963. My patrol travelled up the Nomad River—making contact with local communities—then travelled around the eastern side of Mt Sisa into the Southern Highlands. Assistant Resident Magistrate Jack Hides had done much the same in 1937.
Language barriers and communicating with people were among the difficulties we faced. Our official interpreter was from the Pare. He could communicate with people he called the Supei (or Samo) but not the group further to the east, the Biami (or Bedamuni). Even simple questions got lost in translation. I recall a very lengthy discussion once, through three languages, and the reply was, 'why?'
We cajoled a more adventurous Bedamuni man to join with us going to the Highlands. But he was soon lost for words when we left the plateau. There was no evidence of any trade going north. Indeed, there was no evidence of any foreign goods (shell, steel, utensils) amongst the Bedamuni.
Our first contact with the Huri (approaching Komo Patrol Post) was extraordinary. Villagers ran down and took the boxes from our porters. Vibrant, laughing, singing, they made the tired party very welcome. But our Bedamuni guide looked very uneasy. We were all strangers here—there was no claim to kinship, recognition, trade or previous contact. Here they were a different people, but very friendly.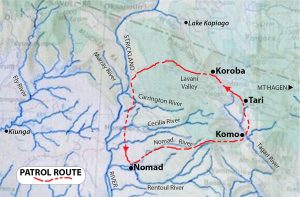 The patrol officer from Komo sent his tractor down, as far as the road went, to assist with our stores. The Bedamuni was stunned, jaw-dropping, unable to comprehend what kind of monster this could this be. He was invited to ride on the tractor, but soon became too anxious and got off.
So we passed through Tari and Koroba, taking a short sojourn at each, and then walked west to the Lavani Valley and two more small (Huri) communities. I had hoped to continue on in this direction to the Strickland River but the country became a nightmare. Beyond these small settlements of Hanoi and Geroro there were, according to the local people, just bad, bad spirits. 'No one went there. No one.'
Nothing we offered could cajole a guide (Huri) to take us further. They reiterated that it was indeed bad country. Who lived there? Just bad, bad spirits.
I had a hand-held compass and we attempted to go west. First encounter was high-altitude moss forest, as usual; then cane; then honey-combed limestone fissures. I became aware of a strange phenomenon—silence. No one was making a noise. The porters were terrified. I tried a bit of bravado—scoffing, speaking loudly, and banging trees, apparently in control, apparently unnerved. But I admit now I was somewhat profoundly scared. We had come a long way. This was not looking good. We proceeded thus for another two to three hours before I acknowledged that it was hopeless. We turned south and down through what I believed to be the Muller Range.
We stumbled on a narrow foot-track on the back of a ridge going south. I had a glimpse, for the first time, of the Papuan Plateau—a pattern of forest-covered ranges broken by tributaries flowing west. We could hear the sound of a river in the distance. The porters were happy again. It was a miracle!
We moved quickly down the track. As we did so, the noise of the river was becoming louder—like a locomotive out of control. An hour later we came to a screaming torrent. We couldn't shout above the noise. Clearly, we could not cross this. It was terrifying, again. We retreated, away from the noise, to discuss the situation. Some police would go upstream, some would scout downstream. What would we do? It had been a long day.
In the morning we found the river had not changed at all. It was still a raging torrent. But our scouts did find a large boulder. My hopes were 'maybe we can fell a tree to this boulder, then bridge to the other side'. The river was ferocious, the noise relentless. Anyone falling in would not be getting out. The river was finally bridged. It took several anxious hours. It took a great deal of harmony to lift and shove and grunt the long poles, shaped from felled trees, across to the first boulder thence onto a couple of others and to the opposite bank. The police and porters were fantastic. It was a great relief when everyone had crossed safely.
Thus far we did not have any map to cover this area. We had descended the Muller Range and possibly crossed the Burnett River. It would be a little further before we could identify, correctly, our positions on the APC maps we had. I was so happy. In the next few days we crossed the Liddle, Carrington and Cecilia rivers, and returned to Nomad station.
After we had left Huri country we found few cane bridges and few houses. Initial contact with the inhabitants was a disaster when they fled, and the porters gave chase. We could not find houses or cultivations. Was this the Febi or the Kubo? Later, further down, we did find a small settlement with a few men and boys. But we could not talk with them. They were not what our interpreter called the Supei (Samo).
Naming features and communities can be controversial. With so many languages there is the likelihood for different names. Our interpreter was from Pare, on the western side of the Strickland. He reported on what he heard from his associates, and that may have been different from what other groups had to say. It was not surprising.
What is surprising (or perhaps not, when money is changing hands) is when mythology is changed. In 2007 I was manager in an oil-company camp on the edge of the Highlands overlooking the plateau towards Mount Bosavi. In the camp there were some well-trained and sophisticated employees from Huli country, and even as far away as Enga Province. Juha on the lowlands had been drilled and defined as a potential future gas field. These gentlemen were seriously proclaiming proprietary rights to this territory. This is our land, these are our kinsmen. So they said. How things can change. Years before, when I made first contact, it was the bad lands down there with very bad spirits (I can attest to that); to be avoided at all costs.
When I went to PNG in 1957 we were some very brash baby kiaps. I recall a colleague saying how troublesome and potentially misguided the missionaries could be. Umm … we shall see. A few years later after Independence, most kiaps left whilst most missionaries stayed on, for a few years. Nevertheless, many former kiaps did remain long after independence. Whilst some found work in the private sector, quite a number were given senior positions in other government departments after the demise of the old system. In the late 1990s-early 2000s quite a number, like me, returned to work as contractors for mining and petroleum companies.
My own opinion is that everyone contributed. And they usually did it with the very best intentions—even the missionaries with a motivation that was difficult to fathom. Also, the planters, the pilots, the storekeepers, the academics, the linguists, the NGOs all contributed in some way. The Catholic missionaries in the Goilala, whom I count as my very best friends (though some still talked about the 'wars' between the government and the church), did excellent work.
Finally, I would like to compliment Peter Dwyer and his partner, Maureen Minnegal, anthropologists, for their many years work in the Kubo—in my time a godforsaken, wretched community. They suffered from disease and disadvantage, living in the forlorn shadow of the Muller Range, and the wild streams that flow from it. I will also give tribute to Henry. Henry was the patrol dog, which accompanied us on our walk through the Highlands to the Kubo. Henry disappeared on Australia Day, eighteen days before we arrived back in Nomad on 12 February 1964, probably the victim of a cassowary or a crocodile. He did not quite make it back.