Bert Kienzle: The Architect of Kokoda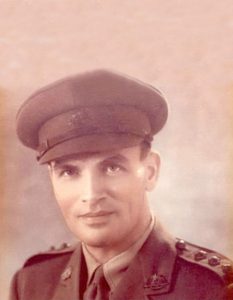 Captain Herbert Thomson 'Bert' Kienzle was born in Fiji in 1905 of Samoan, English, German descent. In WWI he and his family were all imprisoned in internment camps at Bourke and Molonglo because of their German names but in WWII, Bert would play a vital part in the success of the Kokoda Campaign.
In 1927, Bert had moved to Papua and by 1942 he had establishing his own rubber plantation in the Yodda Valley, near Kokoda. Bert was already fluent in Motu, the lingua franca of Papua at the time, and was well-liked and respected by the local people, so he was the obvious man to put in charge of the carrier and labour lines being assembled at Sogeri for preparations being made along the Kokoda Trail.

Over the period of the ensuing battles, Bert earned accolades including 'The Architect of the Kokoda Trail' and 'The King of the Angels' and historians would say of him that without his presence the outcome of the whole operation may have been very different.
It was Bert who located and named the Myola Lakes, whose use as a drop zone for supplies proved a logistical turning point in the campaign. He also named Templeton's Crossing after Captain Sam Templeton, whom he had led across the Trail in July.
Bert's local knowledge and ability to communicate with the Fuzzy Wuzzy Angels was put to constant use by his superiors in planning military and logistical strategies, and it was he who helped reduce the number of desertions of Papuan carriers.
Bert and Captain 'Doc' Vernon had known each other before the war and supported each other throughout the Kokoda Campaign. Together they made a commitment to be sure the Papuans were honoured after the war, and although Doc died in 1946, Bert went ahead and arranged the construction of the Kokoda Memorial at Isurava, which is the most recognised and symbolic of all the monuments on the plateau today.
Bert returned to Kokoda after the war and developed a magnificent rubber and cattle property which he called Mamba Estates. He was awarded both the MBE for his military service and the CBE for this civil service to Papua. As a result of reforms following independence in 1975, his plantation estate was compulsorily acquired in 1979, and he retired to Queensland. He died on 7 January 1988 while on a visit to Sydney.
In 1995, Australian Prime Minister, Paul Keating, opened the Herbert Kienzle Memorial Museum at Kokoda, as part of a set of facilities jointly funded by the government and Rotary International.
© Robyn Kienzle and Kokoda Historical website