Be Prepared for the Unexpected
When you get off the plane at the airport in Port Moresby, you're met with a large sign welcoming you to the 'land of the unexpected'. It's a phrase used often in relation to PNG but I was reminded of it first-hand when I revisited the city after a long absence.
As past editor of the PNGAA's journal, I can reflect on many happy moments, but the following experience proved to be particularly rewarding. How it all came about is another story but essentially it was a chance meeting in 2017 with Don Wotton, a Brisbane-based philanthropic benefactor and curator of Papua New Guinea contemporary art. Eighteen months after that meeting, I found myself travelling to Port Moresby to assist with his 2019 exhibition; I had last seen this town as a young twenty-year old and I was very keen to see my childhood haunts one more time.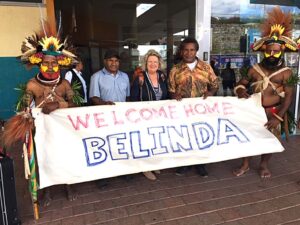 On arrival at Port Moresby airport I was surprised by the sight of two Huli Warriors in full ceremonial dress holding a three-metre-long handwritten sign saying 'Welcome home Belinda'. The unexpected 'meet and greet' caught me totally by surprise, but I soon realised Don's hand must have been involved in arranging the welcoming party. My hosts graciously agreed to show me the places of my childhood and the first afternoon Gima Segore took me on a tour around the suburb of Boroko—to the street where my family had lived, the primary school I had attended, and the hospital where my mother had worked.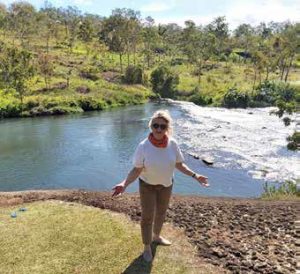 The neat, well-cared for 'public service' house that had been our home was not recognisable and the street seemed so much shorter than the long, dusty stretch I would ride on my push bike visiting neighbourhood friends. The Boroko Shopping Centre hosts Port Moresby's main handicrafts market in the centre of the old square. However, many companies which once operated grocery supermarkets, furniture stores, restaurants and other social centres have moved away from Boroko in recent years, and many buildings in the old commercial centre are now empty and abandoned.
Surprisingly, the park was still there as was the kindergarten at the end of the road! Arriving at Coronation Elementary School after hours, I found there were a few students still around and I thought I should explain myself. I was quickly shown to the Administration Office and introduced to the principal. He and I sat in a small room, crammed with the messy paraphernalia of any hard-working school principal, discussing the changes in curriculum and resources since I had been there. On leaving I proudly signed the visitors' book as 'ex-student', sweetly acknowledged by shy giggles emanating from a few curious onlookers, who had gathered to see what the fuss was about.
Then on to the hospital where my mother had worked in the pathology laboratory as a biochemist; I had spent many hours there after school while I waited for her to finish work. Once the Port Moresby General Hospital, the old wooden buildings were now the Division of Obstetrics and Gynaecology, University of Papua New Guinea. Trusting my instincts, I asked a passer-by 'Can you tell me where the old 'path lab' might have been?' 'Yes. You're right here!' he explained and shook my hand warmly. He was one of the resident gynaecologists and I thought how much my mother would have supported these developments.
Days later I was taken to Konedobu where my father worked in the Lands Office as PNG's Senior Surveyor and to the Koki markets and Hanuabada village. Again, all these places were changed out of any recognition. In particular, I was alarmed at the amount of plastic debris floating around the stilt houses over the water, but impressed by the re-located Koki Fish Market and its amazing choice of seafood.
At no point during my visit was I disappointed to find things so different from the past … rather I had a great urgency to find out about the present. Since coming back, I have often been asked 'Did I feel safe?'. Absolutely!
For one week I was looked after like an APEC VIP guest. There was no chauffeured Maserati for me but by day I was with Albert Ipu at the wheel of his parish people-mover or with Don on a PMV local bus, and by night I shared stories at cocktail hour with my host at the Holiday Inn, Robert Coates and over dinner with PNGAA colleague Roy Ranney as we caught Phil Gia's final moments for the Australian Wallabies rugby team on a large television screen in a busy night spot (certainly unexpected!). However, I suspect it was the large pewter crucifix superglued to the dashboard of the parish van that gave me the faith to believe I would be safe. And I was!
The other place I was keen to see was out of town at Sogeri, but that would come later. First there was the matter of meeting the artists.
As luck would have it, the Holiday Inn was the perfect place to stay as the artists we had come to meet would set up daily in the street adjacent to the hotel entrance. Seeing Don negotiate with artists on the streets, patiently helping them to understand the nature of a gallery exhibition space as different from the dusty tourist markets, and the trust they showed by handing over their canvasses for him to take 'south' on consignment were all part of this extraordinary adventure.
As my time came to an end, I was glad to be taken to visit Albert's family in their home at Nine Mile. It was all smiles at the settlement SP Beer Shop where I was asked to pose behind the security grill as barmaid; given social media I'm not even thinking about where that image could end up!
One last place I was keen to see was Crystal Rapids—now a well-patronised picnic spot but for me the site of a family weekender that my father had built away from the heat and humidity of Port Moresby. I still recall the wide-eyed look of the traditional landowner, Bobby, when I arrived with my surveyor father's old title deeds to the property. Fortunately, I also had the paperwork passing the deed to another 'owner' and was keen to assure Bobby I held no claim over his rightful ownership of this lovely spot!
On our return to Brisbane, we were assisted through customs by a helpful officer enquiring about our rolls of painted canvasses and suitcases bulging with string bilums. Thankfully the dopey beagles were not at all interested! The 2019 exhibition was a success for Don and his artists. For me, what more can I say but that I was certainly not prepared for the unexpected joy of this visit— to a place I will forever remember so fondly. Thank you, PNG!
Post Script
My grateful thanks to PNGAA member, Ally Martell, who put me in touch with Robert Coates, Holiday Inn and InterContinental Hotels Group (IHG) PNG Area general manager, and to his caring staff at the Holiday Inn Express for their hospitality during my visit. Note, this stay was personally funded.