Australia's new Consul-General to Houston, USA, has PNG heritage
Benson Saulo couldn't be prouder of his Dad.
The father of Australia's next Consul-General to the USA is a Papua New Guinean, born on a remote beach in New Ireland, who came to Australia with little more than the clothes he was wearing and married an Indigenous woman.
Now, their son Benson has just been appointed Australia's first indigenous consul-general anywhere in the world, and will take up the post in Houston in the USA.
One of the country's most outstanding young achievers, Benson is only 32 years old.
The young man who has set up youth support programs in both Australian and PNG says he was inspired in life by his remarkable parents.
'My father always instilled in us – never think the world's not yours,' Benson told SBS TV.
'He was born on a beach …so we don't actually know how old he is …from a very remote village. He came to Australia with T-shirts , shorts and a pair of shoes and a small backpack in the middle of winter.'
Benson Saulo was born in Bordertown, South Australia, but raised in Tamworth, New South Wales. His mother was from Bordertown and lived in a tin shed on the outskirts of town in her early years. Through her, Benson is of the Wemba Wemba, Jardwadjali and Gunditjmara nations of western Victoria.
He proudly outlined his parents' backgrounds to the Lowy Institute: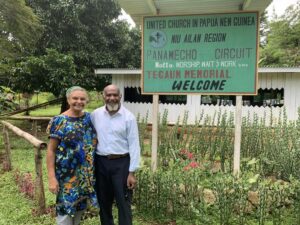 'My father is from New Ireland Province, Papua New Guinea. We don't know how old he really is because he was born on a beach in New Hanover, so he got to pick a date for his birthday. Each year it changes depending on when he wants presents from us. His father was from Neikonomon, which is located in the mountains of West Lavongai, and his mother was from Lafu on the west coast of New Ireland. From an early age, my father always had a curious mind. He fondly recalls leaving school at a very young age and following his father around New Ireland, who was a medical practitioner. He speaks five dialects and would often disappear for weeks, sometimes months, walking and exploring different villages across the Province. I think this is why he is such a people person.
Their stories and individual journeys still amaze and inspire me. They met in a very small rural town called Cootamundra, in New South Wales, where they both attended Bible College. The story of how they both came to Bible College is a novel in itself; filled with courage, faith and determination.'
Growing up in Tamworth, New South Wales, where the Indigenous population is about three times higher than the national average, Benson says he can't remember seeing an Aboriginal person working in any of the businesses in the main street. That changed when he took on a school-based traineeship with the ANZ Bank at the age of 15.
'I knew I had a window of five minutes when I was serving a customer to leave them with something that might make them think differently about Aboriginal people,' he says.
Benson stayed on with ANZ for seven years, working his way up the ranks in business banking until, in 2011, he was appointed Australia's youth representative to the 66th general assembly of the United Nations. He was the first Indigenous Australian selected for the position.
'I remember calling my mum to tell her and she just started crying,' he says.
'The thing is, she was 11 years old [at the time of the 1967 referendum for Aboriginal rights] before she was even classed as a citizen in Australia.'
'She said to me: 'When I was young, they didn't even want to know us, and now they've got my son representing them' – and that was pretty powerful.'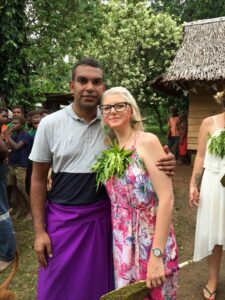 Benson met his now wife, Kate O'Brien, in Sydney and they married in Melbourne in 2016.
'I describe her as one of the most courageous people I know; she's unbelievable,' Benson said.
'She's a doctor of clinical and forensic psychology, and for the past four years has been working as a torture and trauma specialist for refugees and asylum seekers.'
From the Northern Daily Leader:
'In March 2013, Benson founded the National Indigenous Youth Leadership Academy, which aimed to empower young Indigenous people to lead positive change on issues they are passionate about.
'Borne out of that national tour I undertook was the realisation that young Aboriginal and Islander voices were missing from the national conversation on issues impacting young people,' he said.
'In the space of those two years, we developed and launched 10 youth-led social action campaigns. The top three were climate change, mental health and suicide prevention. They're not issues that just impact Aboriginal and Torres Strait Islander people; they impact all Australians, but what we were doing was enabling young Aboriginal voices on these issues'.
'We engaged all up … over 100,000 people on these particular topics.'
Benson said these teens and young adults had 'gone on to do amazing things'.
'The connection of like-minded individuals passionate about the idea of change and the belief that they, themselves, can actually effect positive change – at its heart, that was what the leadership academy was about,' he said.
'That an individual has the ability to effect change, but we're stronger together.'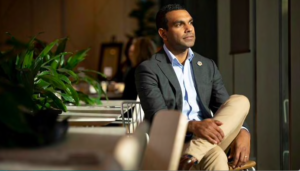 Benson also co-founded Mind Garden Projects in 2014, an organisation that provides literacy support for schools in Papua New Guinea.
'The organisation supports four schools across New Ireland Province on my grandmother and grandfather's land' he said.
'There's no shortage of passionate, good teachers, but the resources that enabled them to deliver the education was what was lacking.'
Benson says his wife, Kate and their six-month-old daughter are excited about going to Houston.
'Her name is Anaïs Ramo Saulo. The name Ramo is from my grandmother's side on the West Coast of New Ireland. It is an old name that hasn't been used for a few generations. My wife and I felt strongly that our daughter would carry the name of my father's land. My middle name Igua is from Neikonomon on New Hanover, which is my grandfather's land.
Australia's new Consul-General, Benson Saulo says he's keen to share Australia's Indigenous culture and connecting with First Nations businesses and leaders in the US as part of his trade and investment promotion duties.
'It's really looking at Australia's diplomatic relationships … as well as trade and also investment,' Mr Saulo said.
'The role that I hope to play and the role I've always played … in life, professionally and personally, has always been the ability to bring people together.
'To be able to convene a respectful and informed dialogue and if I can play a small role in my time over in Houston, but also here in Australia, it's something that I'd hope to do.'
Benson Saulo, Consul-General, will take up his post at the end of the year.