ART & BOOKS

Steve Capelin
Paradiso
This novel is set in New Ireland and is based on the bizarre but true story of the Marquis de Rays, who had ambitions of starting a great French colony in the Pacific, and who persuaded hundreds of people to invest and settle there—despite never having been there himself.
In 1880 three hundred Italian peasants joined an expedition to establish a utopian colony in the islands of the Pacific. Wealth, independence and liberty awaited them.
The venture was a disaster. The expedition leaders abandoned them, the dream disintegrated. Struggling to survive in the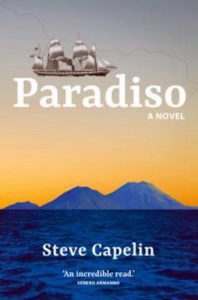 jungles of New Guinea, the Italians were desperate to escape. Australia beckoned but unseen events threatened to frustrate their quest for liberty.
Brisbane writer, Steve Capelin, has spent the better part of ten years researching the story behind his novel, Paradiso, the story of his Italian ancestors who arrived in Australia, via New Guinea, as refugees in 1881.
There is pain in this true story but there is also hope and redemption and, while the utopian dream did not eventuate in New Guinea, a life in Australia offered an opportunity to create an Italian community in a place they had never expected.
This site survives today as New Italy on the Pacific Highway, near Woodburn, in northern New South Wales.
ISBN 9780648905110/Paperback
Published by AndAlso Books,
30 April 2021—RRP $30.00
Also available from AVID Reader Bookshop, Brisbane: HERE
Dr Malcolm Dunjey
Stethoscopes, Kiaps and the Law of the Jungle
The author of this book was the District Medical Officer in the Western District in 1966 and 1967. Based in Daru he accompanied patrols into recently controlled parts of that district. These were to the Nomad and the Olsohip areas.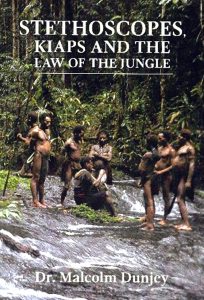 The book, uniquely, repro-duces copies of the contemporary patrol reports accessed from the digitised copies held in the library of the University of California, San Diego. Clearly typed copies of each report ensure readability. Added to each of the reports is the author's medical and social commentary on the patrol written some fifty years later.
Altogether it represents another fine tribute to the kiaps who made it possible for others to provide professional services to the people of PNG.
ISBN: 978-0—6451031-6-8 (pbk)
Published by Ark House Press, 2021
162 pages, softback
Cost: $22.00
Available from: Here
NEIL MURRAY
Hutjena High School Buka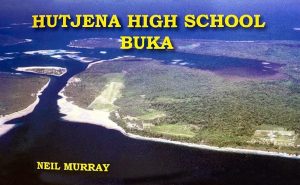 This book is about Neil Murray's seven years (1967–73) as headmaster of Hutjena High School in Buka. It is not a study of the province or people, it is a story told through photographs. It could be called a social history of the place and the people of that time, fifty years ago. The author is aware that Buka and Bougainville have changed greatly in that time and hopes that people today can visualise the great changes since he lived there.
Neil Murray's photographic story of six years in Bougainville is hugely revealing. When he arrived at Hutjena there were no primary grades but, eventually, a high school was established with student dormitories.
The school was located on what had been a large Japanese camp in WWII. War debris was everywhere, and students often found items in the surrounding bush or whenever holes were dug—including vials of morphine and a machine gun.
Students enjoyed bread-making, gardening and fishing in addition to lessons. Sports, festivals and music and singing were always enjoyed along with necessary jobs such as digging holes for pit latrines, chopping logs, cutting grass and general maintenance of the buildings. About twenty staff, contract officers and volunteers, were at the school.
The book has a wonderful series of photos from Buka and also from the Mortlock Islands. Photos are accompanied by a description on each page and interspersed with small sections of further information about life in this self-sufficient community.
With its generous photos, this book is an outstanding glimpse at how Hutjena High School was over fifty years ago and testament to the lives of both teachers and students.
Andrea Williams
ISBN: 978-1-64921-072-2 Published by Neil Murray, 2020
46 pages, softback
Available from Neil Murray
Email: n.murray@westnet.com.au
Cost: $30 (includes postage in Aust.)

Guy Warren
100 not out
Guy Warren, whose exhibitions at the National Art School, Darlinghurst and at the King Street Gallery, Sydney, were reviewed by John McDonald (SMH Spectrum, 10–11 April 2021), turned 100 this year.
He left school aged fourteen years to work at The Bulletin. Stimulated by the illustrators and cartoonists working for that, now defunct, weekly he began art classes at JS Watkin's private art school before the outbreak of World War II. He continues to work as an artist.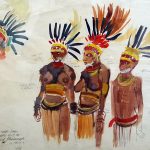 Warren spent five years in the army during the war and much of that time was spent in PNG. During his free time he filled sketch books with drawings of people and places many of which he used later in his long and productive artistic career. Of special interest was his collaboration with David Attenborough, whose photographs he used to depict people as an integral part of the land.
Warren won the Archibald Prize in 1985, with his portrait of the artist Bert Flugelman and, coincidently in his centenary year, he was the subject of Peter Wegner's portrait, winner the 2021 Archibald Prize—celebrating its own centenary this year.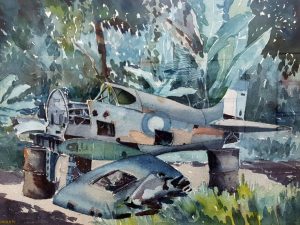 BILL GAMMAGE
The Sky Travellers: Journeys in New Guinea 1938–1939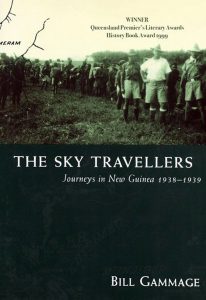 The author, Bill Gammage, a PNGAA member, describes the world's last major exploration by foot—a 1938–39 Australian expedition—and the participants' experience of first-contact with the people of the mountainous western highlands of Papua New Guinea. The pale skin of the strangers suggested that they were spirits-sky people. Local people repeatedly asked 'Why have you come?'
Jim Taylor, with John Black and Pat Walsh, led a patrol of over 350 people. Most were carriers from Highlands areas; about forty were New Guinea police from the coast.
In preparing this book Bill Gammage, a professional historian, talked to many of the people who were there—both the visitors and those visited. He uses his skill as a storyteller to trace a complex journey of minds as well as bodies. Every participant in this adventure was changed irrevocably. Readers, too, can still expect exhilaration from this adventure story.
ISBN: 978-0-5228482-7-4
Originally published by Miegunyah Press; reprinted by Melbourne University Press; 348 pages
Available from: Click Here
Cost: $49.99 (incl postage within Australia where appropriate)
Editor's Note: The Middle Kingdom: A Colonial History of the Highlands of Papua New Guinea by James Sinclair was reviewed by Bill Gammage in Una Voce, 17 May 2018.
ROBIN BARCLAY
Cannibals, Conflict & First Contact: 21 Years a New Guinea Patrol Officer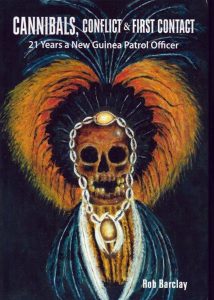 In the tradition of CAW Monckton: a politically incorrect version of the kiap experience …
It's a curious thing that Aust-ralia has never celebrated or mythologised its pioneers in the same way that the Americans have done. There are no rousing tales of iconic Daniel Boones or Chief Sitting Bulls in our founding narratives. The closest we get is a second-rate bushranger in clumsy iron armour.
Instead we fall back on our military history as a way of defining themselves, including a perverse celebration of a World War I campaign against the Ottoman Empire that was essentially a defeat.
This does not mean that there are no great stories in our history worth telling. On the contrary, our history abounds with fascinating events and personalities well on par with anything the Americans or any other nation has to offer. It just requires a little digging to unearth them.
One particular story that has been almost totally ignored is our history in Papua New Guinea. Mention that place to the average Australian and they will tell you about the Kokoda Track campaign of World War II. Beyond that they know virtually nothing about our history there.
During the seventy-odd years of our stewardship of that diverse and rugged land, there were many exciting episodes of enduring historical significance that often involved larger-than-life personalities.
The story of the exploration, pacification and development of Papua New Guinea by Australian patrol officers (called 'kiaps' in Tok Pisin) and others is a prime example. It is a frontier story like no other.
As the last of these men pass into old age their exploits are emerging in a steady stream of memoirs, mostly in self-published form because of the lack of interest among publishers and the general public.
It is often assumed that it was a sense of adventure that sent many young men to Papua New Guinea to work as patrol officers. That may be so but the underlying motive was more often a fear of the confines and banalities of a working-class life.
This is borne out by the fact that so many of them had great difficulty adjusting to life in Australia when they had to eventually leave.
In 1957, at the age of nineteen, Robin Barclay was looking at a future in the furniture department of Melbourne's largest retail store, the Myer Emporium. When he saw an advertisement calling for Cadet Patrol Officers in Papua New Guinea he jumped at the chance.
Barclay was a successful athlete in his youth and he believed that his athleticism was a determining factor in his selection as a kiap. That competitive spirit largely went on to inform the way he approached his job in Papua New Guinea.
In that vein he describes a hierarchy of ambition based on the various regional postings and the methods of administration required that a kiap could expect in his career.
At one end were the 'long-settled and sophisticated' coastal areas and at the other the remaining remote areas that were 'the holy grail of all aspiring officers: contacting new and often strangely different people in previously unexplored areas'.
It was always Barclay's aim to find this holy grail and this is reflected in the title he has chosen for his book. Nomad River on the edge of the Great Papuan Plateau was where he eventually fulfilled that quest.
The golden age of European world exploration occurred roughly from the 15th century to the early 18th century and coincided with the development of colonialism by many of the countries involved.
While all of the major explor-ation had been completed by the mid-1800s there were still little pockets here and there where intrepid explorers could still venture.
In Papua New Guinea the major exploration phase lasted well into the 1950s and in isolated areas into the early 1970s.
Exploration in Papua New Guinea in the 1970s was basically a mopping up exercise where little pockets of uncontacted people were being tracked down and introduced to the modern world.
In his seminal book, Kiap: Australia's Patrol Officers in Papua New Guinea, Jim Sinclair devotes a couple of pages to some of this work being carried out by kiaps at Nomad River in what is now Western Province.
Of that work he says:
Australians were surprised to read in their newspapers of cannibal raids, tribal killings and the discovery of tiny bands of bushmen in the wilds of PNG: surely such things were not still happening?
Of Barclay, Sinclair says:
A thick-set, powerful man with immense shoulders, Robin Barclay did not initially impress me—he was surly in manner and he never would submit reports on time—but his field ability was so unusual that I soon changed my mind. The work that Barclay was to do in the field at Nomad was in the finest traditions of Australia's kiaps in PNG.
It could be said that the diminishing continuum of what has been called the Age of Exploration only really came to an end in places like Nomad River in the 1970s.
Barclay's narrative is disarm-ingly frank with a deprecating humour. He has no problem with saying the unthinkable. It is stuff that would have made the Colonel Blimps in headquarters in Port Moresby decidedly uncomfortable.
His quest for the holy grail had to wait while he saw out service in several of the 'long settled and sophisticated' parts of Papua New Guinea, beginning with the idyllic Milne Bay District with its then district headquarters located on picturesque Samarai Island, where pliant islander girls like the delectable Dolores provided him with interesting distractions.
In 1965 he was posted to Ambunti in the East Sepik District and managed to cajole his superiors into letting him carry out an eighty-day contact patrol in the remote headwaters of the Leonard Schultz and April Rivers where he accounted for 1,200 odd doleful souls.
Three years later he was transferred to Nomad River in the Western District as Assistant District Commissioner. Nomad River had been established as a patrol post by Patrol Officer Mal Lang in 1961 but later gained Sub-District status.
When he arrived at the district headquarters in Daru he says the District Commissioner told him:
I want you up there in forty-eight hours to take over. Your job will be to stamp out cannibalism and bring the Biami to heel.
Barclay had found his element. As he describes them, the Biami were ruthless hunters of human protein who savagely raided their neighbours 'clubbing and axing' them and carrying off bits of their dismembered bodies 'stuffed into string bags'.
To look at the arrogant, implacable expression of a powerfully built young Biami, was to almost feel the intensity of the feral power emanating from the region's top predator. There was no mercy to be seen in the dark adamantine depths of his eyes: not for anyone; not now or ever.
Added to that, as he observed, many of the Biami groups remained uncontacted and were not fussed about attacking intrusive administration patrols.
Anthropologists have disputed this characterisation of the Biami (or Bedamuni) but the western world still maintains an ongoing fascination not only with remote peoples but also with cannibalism.
After a final long contact patrol into the upper Strickland, Barclay finally brings his quest to a conclusion:
The carriers began to chant as we marched triumphantly down to the station. As deep male voices reached a powerful crescendo, the massed station people began to cheer. I felt great pride that the final page of New Guinea's discovery and consolidation had at last turned.
It is a bold claim that is consistent with the general tone of his narrative. Together with the suppression of cannibalism, it is a trope to which many pages of his book are dedicated.
Barclay married while he was at Nomad River and after four years there he was transferred to the Chimbu District with his wife, Sandra. There he grappled with the increasing breakdown of law and order and the perils of tribal warfare. In 1976 they moved on to the Madang District, which Sandra enjoyed. By then they had two daughters. In 1979 Barclay left Papua New Guinea never to return.
The book is lavishly produced, replete with many photographs coloured sketches of the situations he encountered, paintings and maps. His portraits are particularly good, including one of the delectable Dolores. He is now offering many of these as framed artworks for sale.
There is much in the book that is controversial and disputable, adherents of politically correctness will have a field day, but that in itself is not a bad thing. What Barclay says reflects a lot of what other old kiaps feel but are disinclined to say. The debate about their role in Papua New Guinea still rolls on and Barclay has made a very useful contribution.
Philip Fitzpatrick
ISBN: 978-0-6468396-0-8
Independently published, 2021
282 pages; contains copies of original artworks
Available from the author:
ambunti1965@gmail.com for copies of both the book and the artworks.
Cost: $75.00 (soft cover), hard cover due out in September 2021. Contact author for price and postage.
Caroline Evari
When I Grow Up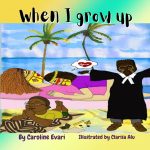 A new children's book has been published in PNG. The author has collaborated with the artist Clarisa Alu and poet Bradley Gewa in preparing a book inspired by traditional art and representing the different provinces of PNG. Suitable for readers in Grade 4, it talks about the dreams and aspirations of eight children and tells readers that it is great to have career aspirations.
This new book is one of a series of books for children published by the same author. All these books are part of the Library for All's Together for Education project of UNICEF in PNG.
ISBN 979-87407683-7-3
Independently published, May 2021
Paperback copies are available from Amazon Australia, and hard copies will be available.
Contact the author by email at caroline.evari@gmail.com