ART & BOOK REVIEWS – Sept 2020 Kundu
This section features new books about Papua New Guinea and reviews, art and craft exhibitions, interviews of interest to members and information for authors, artists and craftspeople—please send your articles and photos to editor@pngaa.net
Roars from the Mountain: Colonial Management of the 1951 Volcanic Disaster at Mt Lamington

Author: R Wally Johnson
Around 10.40 am on Sunday, 21 January 1951, Mt Lamington, in the Australian Territory of Papua, erupted explosively. This catastrophic event left thirty-five Europeans and over 3.000 Papuans dead. These fatalities were caused either by the concussion of the explosion, the scalding heat within its pyroclastic flow, or suffocation by the ash and toxic gasses contained in the 'ash hurricane'. There were many more casualties, mostly terrible burns. This remains the worst natural disaster ever recorded on Australian territory.
Until just six days before the catastrophic eruption, when minor tremors were first felt and steam appeared, Mt Lamington was not even known to be an active volcano. There had never been any indication of activity recorded in the one hundred and fifty or more years since European explorers first sighted the mountain, nor was its reputation as a 'fire mountain' contained in the oral traditions and myths of the Orokaiva people that occupy the area.
As a consequence of this rapid onset and uncertainty as to its likely behaviour there were no orders to evacuate the government station at Higaturu and the nearby Anglican mission at Sangara; nor the Orokaiva villages and hamlets that were spread across the northern foothills of the mountain. These were all wiped out.
The Mt Lamington disaster has been an abiding personal and professional interest of Dr Wally Johnson for many years. Over several decades he has compiled a massive collection of official reports and communications, photos, mission and plantation records, as well as letters and other first person accounts of the event itself, its aftermath and its impact on the Orokaiva people.
Over those years he also interviewed some of the key personnel involved or their surviving relatives, as well as anthropologists and geoscientists that conducted research in the surrounding area into the 1960s and beyond.
This meticulous and forensic research has now been distilled into this work, which is both strong on detail and broad in scope. That it addresses the volcanology of the hazard is no surprise given that Johnson is internationally regarded as one of Australia's most eminent volcanologists.
It also provides a detailed examination of the people, both native and expatriate, and the places that were exposed to the eruption and the degree to which they were susceptible or resilient to its impact and aftermath. It is this more comprehensive treatment that makes this study special.
It examines the response by both the colonial administration, the Anglican mission, the local European planters and the Orokaiva people to the disaster. A key feature of the response was the effort to provide refuge and sustenance for over 4,000 displaced Orokaiva until it was deemed safe enough for them to be resettled.
It also looks at the policy issues and jurisdictional conflicts that existed at the time as well as the parochial nature of the colonial relationship with the Papuan people generally. The differences between traditional Orokaiva, colonial European and scientific perspectives of causation of the disaster have parallels in the current debates of causation of modern weather elated disasters such as the 2019-20 bushfire season. It is a case study in the analysis of risk in a genuinely unprecedented disaster.
Roars from the Mountain is a 'must-read' for anyone with an interest in PNG. It is a great story that is very well told.
Ken Granger
ISBN (print): 9781760463557
ISBN (online): 9781760463564
382pp, maps, photos (colour and b&w), references, appendices
Published by ANU Press, 2020
Online version available to download free HERE
or print version can be purchased for $65 through ANU Press.
Better than Rich and Famous – My Papua New Guinea Days

Author: Nicholas C Brown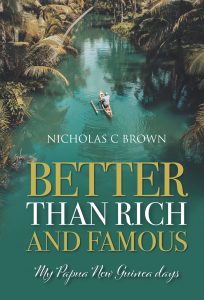 After three years selling gaskets under the grey skies of England, Nick Brown decided he'd had enough. But how to escape? He knew he would never be rich and famous and his dream of seeing the world seemed out of reach. Eventually, he found a way, travelling to the South Pacific to 'captain' a cargo boat running cocoa and copra between the islands.
Any notion of a tropical paradise soon evaporated when Nick found himself living without electricity, washing in the river and sailing treacherous seas.
But life got better and soon he found himself flying around the country in light aircraft, travelling by dugout canoe to meet the locals in remote villages, climbing the tallest mountain in Oceania and even sailing the Coral Sea, just for the fun of it. This is his entertaining story of those years.
ISBN: 978-1-86151-964-1
Published by Mereo Books, 2020; Softback, 338pp, includes map of Sepik River, photos (colour or b/w), Foreword, Introduction, Bibliography, Acknowledgements, Postscripts and endnotes.
Available from Dymocks, Amazon (Australia and overseas), Goodreads, Booktopia, Barnes and Noble, Google Books.
Cost: $36.99 plus postage of $6.99 from Dymocks, Australia. Prices on Amazon vary depending on country of purchase.
Men of ANGAU—History of the Australian New Guinea Administrative Unit
Author: Lt Colonel Neil Smith, AM, Retd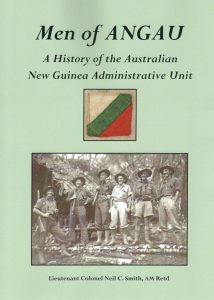 A new book from a renowned Australian Military author, Lt Col Neil Smith, AM, Retd. A WWII unit history of the ANGAU. Detailed narrative supported by photographs, map and veteran stories.
Published 2020, soft cover, 134pp
Appendices, index, detailed nominal roll of 3,300 AIF/AMF men
Available HERE
Cost: $40.00 plus $7 postage

The Chronicle of a Young Lawyer: A Legal Journey into the Territory of Papua and New Guinea
Author: Kerry Dillon
'The volcanic political atmosphere in the bubbling cauldron of the caldera that was the Gazelle Peninsula came to a head in December 1969.'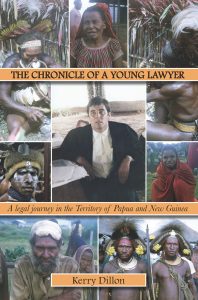 This unique and enjoyable book tells the story of the day-to-day life of a criminal circuit lawyer, Kerry Dillon, some fifty years ago in a country where many people lived as generations before had lived. As a young criminal lawyer employed in the Office of the Public Solicitor, WA Lalor, in the Territory of Papua and New Guinea, Kerry travelled the country on Supreme Court criminal circuits from 1969 to 1971, appearing as counsel for indigenous people accused of serious criminal offences.
Written as a chronicle, this account features descriptions of criminal cases in major centres and in remote places only accessible by small planes. It depicts the clash of cultures as Australian criminal law was introduced and there is valuable material on the application of the rule of law in the emerging nation.
The content is entertaining and well researched, sources are clearly identified, and much of the information has not been revealed before.
This first-hand account provides valuable new insights into the period shortly before independence. It is not a traditional legal book, as the legal insight it provides is set against the backdrop of everyday life. There is writing about travel and adventure as well as history and culture, all providing the context for the cases. As you read you will not only journey with Kerry and the Supreme Court to distant parts of the country, you will journey back in time.
'The differing ways of life between Papua New Guinean communities, and the wide variation in the character of their interactions with Europeans and the Administration, was a significant part of the complex environment in which Kerry's experiences in the country took place and which his account illustrates.'
Michael Adams, QC
ISBN: 9781925736410 (p)
ISBN: 9781925736427 (e)
Published by Hybrid Publishers, Ormond, Victoria 3204, 2020
Tel: 03 9504 3462—384pp
E: hybridpublishers@optusnet.com.au/www.hybridpublishers.com.au
Available from (02) 8986 4700 or orders@newholland.com.au and can order through all good book stores. Cost: $35.00
The Destiny and Passion of Philip Nigel Warrington Strong
Author: Jonathan Holland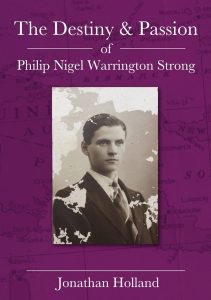 Philip Strong was Anglican Bishop of New Guinea from 1936–62. He built the cathedral at Dogura; urged missionaries to stay at their posts when the Japanese invaded in 1942 (as a result of which twelve were caught and executed).
He witnessed the Mt Lamington eruption; consecrated George Ambo as the first Papuan bishop; and was a member of the PNG Legislative Council till 1963, when he was made Archbishop of Brisbane.
His mid-20th century contribution to PNG was considerable, and his integrity unquestionable, even if distance and time allow now a reappraisal of some of his decisions and values.
ISBN: 978-0-244-18236-6
Published by Lakeside Publishing, November 2019
Soft back, 533pp, includes 4 maps,
30pp b/w photos; index, bibliography, acknowledgements.
Available from: Jonathan Holland jholland@anglicanchurchsq.org.au or Amazon books.
Cost: $40 plus $10 postage
Frank Pryke Prospector
Author: Hank Nelson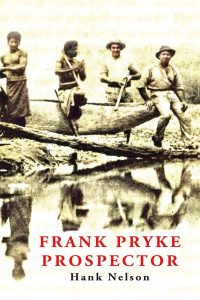 Hyland Neil 'Hank' Nelson, AM, was a prominent Australian historian and a Fellow at the ANU's Research School of Pacific and Asian Studies until his death from cancer in February 2012. In 1966 he joined the staff of the Administrative College in Moresby and then transferred to the History Department of the Uni of PNG, spending a total of six years in PNG.
In 1976 he published Black, White & Gold: Goldmining in PNG 1878–1930. For the first time Nelson tried to tell the story of the involvement of the local people in the gold rushes. The government side of the story could be obtained from the government archives. Newspapers of the day published articles on the doings of the miners.
Of all the prospectors and miners on the Papuan fields and later on the Morobe Goldfields, it was only Frank Pryke who kept a sporadic series of diaries, and who kept letters and newspaper cuttings. The bulk of Pryke's papers are held in the National Library in Canberra, with others in the Mitchell Library in Sydney, and others are held by the Pryke family.
Thus it was that Nelson had to rely almost solely on Pryke's papers to give the miners', and where possible the local peoples', side of the story. From this Nelson seems to have assembled a biography of Pryke. A shortened form of this biography was published in Papua New Guinea Portraits, edited by James Griffin and published by ANU Press in 1978.
Failing to find work as a tanner in Goulburn or New Zealand, Pryke joined his older brother Dan in prospecting in Western Australia, thus beginning a lifetime of prospecting and mining. The brothers joined the 'rush' to the Musa River in 1896, however, that was a disaster and they eventually returned to north Queensland.
Pryke was back in Papua in 1900 and mined on the Gira, crossing in and out of German New Guinea. Over several years he worked on the Keveri inland from Cloudy Bay. With gold production declining the Papuan Administration financed a prospecting expedition which comprised Matt Crowe, and Frank and Dan Pryke and this expedition opened up the Lakekamu field.
In 1911 Pryke led another expedition. While on the Vailala he was shot in the chest by an arrow while attempting to make peaceful contact. Sir Hubert Murray, a great admirer of Pryke, wrote: 'Pryke is a man of iron nerve. An arrow went nearly through his body, and would have probably killed anyone else; Mr Pryke, however, simply pulled it out and went on prospecting.' In fact, Pryke had been seriously wounded and after two days rest in camp had to be carried on a stretcher back to the coast.
After the Vailala, Pryke retired to Moree but returned to Papua in 1914 and, with his brother Dan, led a prospecting party financed by Sir Rupert Clark to test the headwaters of the Fly River. Again, he suffered an arrow wound in a sudden attack.
After a brief return to the Lakekamu, Pryke returned to Australia in 1915. He was back on the Lakekamu in 1919, by which time there were only six miners on the field. The days of the small individual miner in Papua were over.
In 1925 Pryke married Ina Cruickshank at Coogee, but left the next year to join the rush to Edie Creek. He went in to partnership with Les Joubert on a highly profitable claim on the Koranga. His wife joined him on the Koranga and, according to Idriess, worked her own claim above her husband's and Joubert's. I have read elsewhere that she managed 'Shark Eye' Park's claim for him.
They retired to Coogee in comfortable circumstances where Pryke died in 1937. His ashes were buried in Samarai where he spent many pleasant days recovering from prospecting trips. A 1903 diary entry for Samarai consists of one word: 'Imbibing'.
In his diaries Pryke made brief notes on the local people about their houses, weapons, gardens and physical appearance, and collected vocabularies. He had been in situations where he had had to shoot to survive but claimed to have never killed wantonly, but then again he had been in situations where he had endangered himself by showing extraordinary restraint.
Murray, not one to lavish praise on anyone, even on his own 'outside men', said of Pryke: 'He was known throughout the territory for his kind and tactful treatment of natives, and was of a humane disposition.'
His diaries contain his views on local affairs, such as Little's appointment to the Legislative Council as the miners' rep, and the miner O'Brien's virtual outlawing for murder, but they are silent on his relationships with Papuan women.
He could be highly critical of the government's handling of the local people, and of the missionaries' stand that in all situations the local people were blameless. In his editing of Pryke's diaries and papers, Nelson has given us a unique insight into life on the early Papuan goldfields as recorded by a unique man.
Ion Idriess's two short articles on Mrs Frank Pryke, included at the end of the book, are interesting as articles of their time. The attempts at Pidgin are excruciating. Idriess had an office in the booksellers Angus & Robertson in Elizabeth Street, Sydney. Just down the road was Usher's Hotel which was the 'New Guinea Hotel' where those down on leave from Papua and the Mandated Territory of New Guinea would congregate, and it is there that he would have run into Pryke.
The (apocryphal?) story is that Idriess wrote Gold Dust and Ashes from tales told to him by the Morobe Goldfields miners in Usher's Hotel.
It would have assisted the reader to have a map showing the various areas that Pryke worked in and referenced in the text, however, the book is an interesting read and highly recommended.
Fred Prat
ISBN: 978-1-922384-18-8
Published by ETT Imprint, May 2020, 75pp, paperback, available from your local book retailer or contact ETT Imprint on ettimprint@hotmail.com or 0422 967 432
Cost: $24.95
Gold-Dust and Ashes
Author: Ion Idriess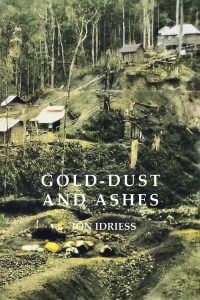 Originally published in 1933, and out of print for over fifty years, this is Idriess at his best, in offering the romantic story of the New Guinea Goldfields, through his interviews with the great prospectors—Shark Eye Park, Matt Crowe, Les Joubert and Frank Pryke.
The cover photograph is by Frank Pryke of the junction of Merri and Edie Creeks in 1928
ISBN: 978-1-922384-78-2
27th edition. 207 pages with B/W photographs (paperback), ebook in colour, original acknowledgements and glossary. Published in 2020 by ETT Imprint and available from your local book retailer or contact ETT Imprint on ettimprint@hotmail.com or 0422 967 432—Cost $29.99