ART & BOOK REVIEWS – PNG Kundu March 2021

Featuring new books about Papua New Guinea and reviews, art and craft exhibitions, interviews of interest to members and information for authors, artists and craftspeople—please send your articles and photos to editor@pngaa.net
Archibald Prize 2020—Another PNG Connection
Lesley Wengembo's entry in the Archibald Prize of 2020 was mentioned in the December 2020 edition of PNG Kundu. Another entry in that prize was Nick Stathopolus' portrait of Ngaiire, the professional name of singer and songwriter, Ngaire Laun Joseph, who was born in Lae. After primary school in Rabaul and Lae she migrated to Australia when sixteen and completed her education in NSW.
After singing with other artists she began a successful solo career in 2008. She has won awards as a soloist. These include winning the National Live Music Awards for Live R&B or Soul Act of the Year in both 2016 and 2017 and Australian Women in Music award for artistic excellence in 2018.
ANTHONY RADFORD – Singsings, Sutures and Sorcery
REPRINTED VERSION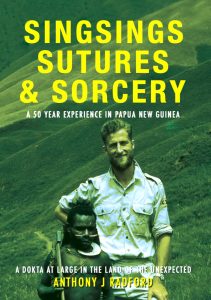 This is the story of fifty years of experiences in Papua New Guinea by a dokta at large in the land of the unexpected.
In the late 1950s, as a medical student, the author is dropped into an isolated enclave of Europeans in the central Highlands of New Guinea, the most populous district in the country surrounded by clouds and mountains. The sights and sounds are all new. He soon finds himself responsible for a subdistrict hospital and the care of 15,000 people. Three years later, as a newly qualified doctor, he returns to PNG with his family and spends a decade establishing comprehensive training programmes in rural medicine, while serving as the only doctor for up to 50,000 people. After a decade, he 'goes finish', but returns on numerous occasions over the next forty years as a consultant for WHO, UNICEF and the PNG gavman.
The book starts in the pre-self-government age of missionaries, miners and administrators. Port Moresby grows from a small harbour town of 15,000 people to a vibrant if unstable capital of more than half a million. He made national and expatriate relationships, from villagers whose grandparents sometimes included cannibals, and who happily shared their lives with him and his family, to politicians, pilots and professionals.
The country evolved from a fascinating world of beauty and relative peace to being now regarded as one of the most corrupt, violent and least comfortable places in the world in which to live, one still struggling to forge an identity and assert itself as an independent nation.
A series of magnificent photographs, a glossary and an index complement the book.
ISBN 9781743240601
371 pages with photos. Paperback. Reprinted by Open Book Howden Press, Adelaide. Cost $29.95 plus $10.00 p&p. Please pay by EFT to Anthony J Radford BSB: 085 458, Ac/No: 79291 6788, Ref: 'Radford Singings'. Please send a confirmation email with your name and address for receipt of payment to: anthony@radford.id.au. Alternatively, order from yourbooksonline.com.au
Michael Claringbould & Peter Ingman – South Pacific Air War
Vol 4: Buna and Milne Bay June-September 1942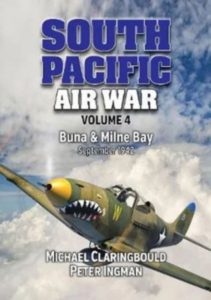 Volume Four of this series chronicles, in full colour, aerial warfare in the South Pacific in the critical period between 19 June and 8 September 1942. It can be read alone or as a continuation of the first three volumes that spanned the first six months of the Pacific War, culminating in the Battle of the Coral Sea.
(Vol. 1 in the series was reviewed in Una Voce: see https://pngaa.org/article/books-and-reviews-2/)
Unlike the previous three volumes, no aircraft carriers appeared in New Guinea waters. Instead, the air war was fought solely by land-based air units. This was in the face of an increasingly complex strategic situation that saw the Japanese land at both Buna and Milne Bay. For the first time, airpower in the theatre was tasked to support the land forces of both sides which became engaged in a bloody struggle in the mountains of Papua and then the muddy quagmire of Milne Bay.
Never before has this campaign been chronicled in such detail, with Allied accounts matched against Japanese records for a truly factual account of the conflict.
ISBN 978-0-6486659-7-7
Published: Avonmore Books, Melbourne 2020, RRP $44.95
Beehler Bruce M & Tom Laman – New Guinea Culture. Nature and Culture of Earth's Grandest Island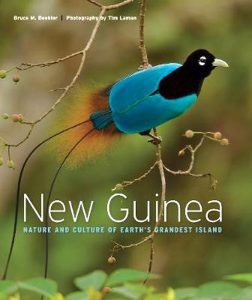 Bruce Beehler has previously written about the birds of New Guinea and the ecology of Papua. In this new book he has joined with National Geographic photographer, Tim Laman, to produce a book of 376 pages describing the nature and culture of the whole island of New Guinea. The result is a comprehensive account of the island's people, environment, fauna and flora. The book has 200 illustrations and a detailed map of what the authors conclude is Earth's Grandest Island.
A reviewer from the California Academy of Sciences, John Dumbacher, has described the book as a great introduction to the natural history of New Guinea and praised the quality of the photography.
In this beautiful book, Bruce Beehler, a renowned author and expert on New Guinea, and award-winning National Geographic photographer, Tim Laman, take the reader through the natural and cultural wonders of the world's grandest island. Skilfully combining a wealth of information, a descriptive and story-filled narrative, and stunning colour photographs, the book unlocks New Guinea's remarkable secrets like never before.
Lying between the Equator and Australia's north coast, and surrounded by the richest coral reefs on Earth, New Guinea is the world's largest, highest, and most environmentally complex tropical island-home to rainforests with showy rhododendrons, strange and colourful orchids, tree-kangaroos, spiny anteaters, ingenious bowerbirds and spectacular birds of paradise. New Guinea is also home to more than a thousand traditional human societies, each with its own language and lifestyle, and many of these tribes still live in isolated villages and serve as stewards of the rainforests they inhabit.
Accessible and author-itative, New Guinea provides a comprehensive introduction to the island's environment, animals, plants, and traditional rainforest cultures. Individual chapters cover the island's history of exploration; geology; climate and weather; biogeography; plantlife; insects, spiders, and other invertebrates; freshwater fishes; snakes, lizards, and frogs; birdlife; mammals; paleontology; paleoanthropology; cultural and linguistic diversity; surrounding islands and reefs; the pristine forest of the Foja Mountains; village life; and future sustainability.
Complete with informative illustrations and a large, detailed map, New Guinea offers an enchanting account of the island's unequalled natural and cultural treasures.
ISBN: 9780691180304
Published: 19 May 2020, Princeton University Press. RRP $47.25
Fred Pratt – 50th Anniversary Commemorative Volume of the Discovery of the Mt Fubilan Copper – Gold Porphyry, Ok Tedi, Papua New Guinea.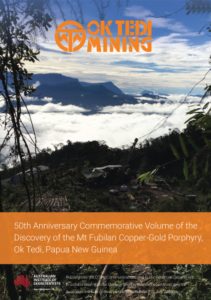 To commemorate the discovery in July 1968, of the Mt Fubilan Copper-Gold Porphyry deposit, in 2018, the Ok Tedi Mining Limited (OTML) Chief Geologist, Mike Erceg, arranged for a Fiftieth Anniversary commemoration of this event. Part of the commemoration was to be a collection of papers, initially to be written by geologists on the role that geologists had played in the discovery, development and operation of the Mt Fubilan Mine. This was soon extended to include papers by non-geologists who had played a part in the Mt Fubilan story, especially those who had had involvement over the years 1968–80. A site visit was also arranged for October 2018 which nine of us attended, three from the period 1968–72.
There are thirty-three papers. Six are from the period 1968–75, and include two on the actual discovery of the Mt Fubilan deposit, and one on the history of prospecting on the Ok Tedi before the Kennecott discovery. There are thirteen papers covering the period 1975–80. The nineteen papers are written by geologists, a field assistant, a surveyor, an engineer, a hydrographer, hydrologists and a paper by one of the PNG Government's 1975 negotiating team with Kennecott. The fourteen remaining papers are by geologists who worked at the mine from the 1980s on.
The book is beautifully presented, and there are many photos from the early days. Mike Erceg and his team are to be congratulated on an excellent publication. Though many of the papers are technically geological and will be of interest to geologists only, the volume gives a very good account of the discovery and early days of exploration and development at the Mt Fubilan mine, by people who were involved on the ground. To my knowledge this is the only post–WWII publication that gives an account of life in PNG mineral exploration camps, despite mining having played such a prominent part in PNG development post-1945. As such I can strongly recommend it to general readership.
Disclaimer: Fred Pratt was a member of the Editorial Committee for this publication
Published by the OTML Public Relations Department, in collaboration with the OTML GeoExploration Department; and the Australian Institute of Geoscientists, July 2020.
Available from the Australian Institute of Geoscientists, AIG, PO Box 576, Crows Nest, NSW, 1585 or shop@aig.com.au
Cost, including post and packing, hard cover, $138, Soft Cover, $106.
R Wally Johnson – Roars from the Mountain: Colonial Management of the 1951 Volcanic Disaster at Mt Lamington
This book was reviewed by Ken Granger in PNG Kundu, September 2020—a 'must-read' for anyone with an interest in PNG. It is a great story that is very well told.
ISBN (print): 9781760463557
ISBN (online): 9781760463564
382pp, maps, photos (colour and b&w), references, appendices
Published by ANU Press, 2020
Online version available to download free at https://press.anu.edu.au/publications/series/pacific/roars-mountain; or print version can be purchased for $65 through ANU Press and online link provided.
Paradise Palette Haus Piksa 2020 – PNG Film Festival & Contemporary Art Exhibition
The Royal Queensland Art Society (Brisbane Branch Inc.) has, for the past four years, hosted exhibitions of contemporary art by PNG street artists. The exhibitions, curated by Don Wotton who has thirty years of association with the PNG arts community, have grown exponentially in participation and community interest and now feature as an annual event on the RQAS calendar proudly supported by Brisbane City Council.
The most recent exhibition, held in November 2020, included a complementary screening of films produced by PNG film makers or set within PNG and included videos kindly donated by Jaydon Calvert, Verena Thomas, Phillip Ainsworth, John Schindler and Andrew Pike (Ronin Film Distributors). Proceeds from screenings of the videos benefitted the Tumbuna Visual Arts Association, Port Moresby.
Curating an exhibition under the shadow of Covid-19 certainly proved very challenging with just two weeks to organise stretching, cataloguing and hanging of artworks and the preparation and distribution of promotional material upon receipt of artworks; and the recovery of videos that went astray in the mail.
However, with the valued assistance of Clement Koys (TVAA), Caitlin Wilson (Deputy High Comissioner, Australian High Commission, Port Moresby PNG), Simon Kaldy (PNG & Pacific Awards Coffey International Development), Lani Auvita Scott (Programs Art Society PNG), Stephanie Bowia (Air Niugini PNG); and Peter Hubbard (RQAS), Andrea Williams & Belinda Macartney (PNGAA), Glen Gillou (E&E Designs), Sofie Ham and Steve Waters (Rockket Room), Brisbane art enthusiasts and movie-goers were able to cap an otherwise sombre year with an explosion of colour and inspirational viewing of PNG films across a broad spectrum of genres.
Despite restrictions placed on gallery visitations by Covid-19, the exhibition catered to a maximum permissible attendance on opening night. Over forty artists displayed their works and both the number of visitors and art sales were a record high for all events held at the gallery during 2020.
A new Paradise Palette exhibition is scheduled for November 2021.
Don Wotton