Art & Book Reviews

Featuring books about Papua New Guinea and reviews, art and craft exhibitions, interviews of interest to members and information for authors, artists and craftspeople.
Michael Veitch
The Battle of the Bismarck Sea
During the first week of March 1943, Japan made a final, desperate attempt at controlling the South West Pacific. In the Battle of the Bismarck Sea, a force of land-based Australian and American planes attacked a massive convoy of Japanese warships. They were successful and Japan's hopes of regaining the initiative in New Guinea ended.
More importantly for Australians, their victory removed any possibility that Australia might be invaded by Japanese forces. It was a significant time in our history—a week when our future was in the balance.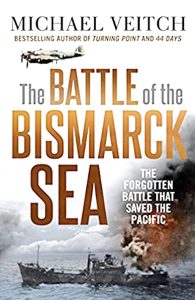 Michael Veitch tells the riveting story of this crucial moment in history—how the bravery of young men and experienced fighters, renegades and rule-followers, overcame some of the darkest days of World War II.
ISBN-10: 0733645895
ISBN-13 978-073364589
Published by Hachette Australia, 2021
352 pages; soft or hardback: soft cover; eBook also available.
Available from all major bookshops
Cost: $32.99 RRP; eBook $16.99
Jaivet Ealom
Escape from Manus
This articulate, detailed, gripping autobiography is a powerful account of one man's journey from persecution and genocide.
Jaivet Ealom is the only person to escape from Australia's and PNG's offshore detention centre on Manus Island.
In 2013 Ealom fled Myanmar where his ethnic minority, the Rohingya, were considered stateless and being persecuted by the military dictatorship.
He made his way to a refugee camp in Jakarta, but quickly realised that he was likely to languish there for years. So, he paid to board a boat of asylum seekers bound for Australia, surprised to find that the boat had no compass or safety features.
During the chaos of the vessel's sinking, a small baby fell into the ocean. 'It never resurfaced,' remembers Ealom. '[The mother] just screamed from the bottom of her lungs. It was traumatising.'
When Ealom was at sea, the then prime minister, Kevin Rudd, declared that asylum seekers arriving by boat without a visa would never be settled in Australia. After six months on Christmas Island where his plea for asylum was denied, he was transferred to the Manus Island Processing Centre. This turned into three and a half years of 'systematically designed torture'.
Asylum seekers were humiliated from the moment they arrived in Manus. Ealom lived in a modified shipping container, without a window, sweltering in the heat and without adequate water, medical services, basic sanitation or personal space. His rancid food was filled with debris. They lacked basic necessities like clothing, soap and shelter from the extreme heat. The inhuman conditions and stress of indefinite detention contributed to depression, anxiety and trauma. Some suicided.
Ealom was beaten up during riots that broke out between Papua New Guinean locals who thought the asylum seekers were terrorists; they shot at his accommodation, leaving bullet holes in the walls, forcing inmates to shelter behind their mattresses. They were terrified and, in their weakened state, this was magnified.
In 2017, Ealom decided, again, that he must flee. Ealom is clearly intelligent, intuitive, resourceful, compassionate, with an analytical mind. He had studied industrial chemistry in Myanmar and was grateful to his mother for insisting he speak English
His escape, in May 2017, was the culmination of a year of meticulous planning and preparation. He scraped together enough money for a plane ticket to Port Moresby by exchanging rationed cigarettes for local currency. He carefully studied the movements of staff members flying in and out of the island, using these patterns to help determine the safest time to leave.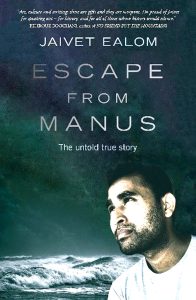 From Port Moresby, Ealom made his way to the Solomon Islands. He altered his appearance and mastered global visa rules. There followed a complicated journey to Fiji, Hong Kong and then to Canada. He experienced continuing kindness from locals along the way.
On arrival in Toronto in the middle of winter, with no passport or winter clothes, he told the Canadian authorities he was fleeing the genocide of the Rohingans and needed asylum. They listened to his story and their response was immediate. They acknowledged his refugee status.
With his keen attention for detail, an aptitude for language —and to adapt, pulling hope from the deepest corners, his story is one of tremendous courage and resilience. It is also another chilling account of the inhumanity and expense of the system adopted by successive Australian governments for dealing with refugees seeking asylum in this country,
ISBN: 9781761040214
Published by Penguin Books, 2021
352 pages; soft or hardback
Available from bookshops
Cost: $34.99 RRP