ART & BOOK REVIEWS
Congratulations to Julianne Ross Allcorn
The Papua New Guinea Association of Australia congratulates Julianne Ross Allcorn for being awarded the Trustees' Watercolour Prize in the Wynne Prize 2020, held at the Art Gallery NSW. Juli's entry, a triptych in watercolour, is on twenty-one birch wood panels and titled 'Molitium 2'.
Juli's description says:
Molitium means 'resilience' in Latin. Resilience is the Australian bush; she embraces and forgives.
My work travels from right to left—from the threat of fire, to escape and regrowth. I've drawn wattle, banksia, grevillea, waratah, gumnuts, gum blossoms, seeds and leaves from different native plants, the Gymea lily and the wildlife of the bush.
Last summer's fires were stopped twenty minutes from our family getaway at Burralong Valley, near Laguna in the lower Hunter Valley, NSW. I spend much of my time there, drawing from all that surrounds me. When I walk through the valley, the scents, sounds, textures and colours envelop me and I lose myself. When you're in nature, I encourage you to stop, stand still, close your eyes and listen, then open your eyes and try to find what you saw, smelt and heard.
Julianne Ross Allcorn, 2020
The Wynne Prize is awarded annually for 'the best landscape painting of Australian scenery in oils or watercolours or for the best example of figure sculpture by Australian artists'.
Juli, born in Rabaul to Barbara and Ross Jennings, was our former PNGAA Management Committee Events Co-ordinator from 2009–15, and anyone who came to lunches enjoyed her spectacular art on the menus. Who remembers the stunning 2015 PNGAA Art Exhibition Juli curated in Glebe, Sydney?
A talented and creative practising artist with works in many collections, Juli has displayed in group and solo exhibitions, and teaches at local and international residencies and art workshops, including holding her own Art & Imagination classes.
In 2020 Juli has also been a finalist in the Kangaroo Valley Arts Prize, the Gosford Art Prize, the Mosman Art Prize and the Gallipoli Art Prize.
The Wynne Prize, together with the Archibald and Sir John Sulman Prizes is open from 26 September 2020 to 10 January 2021. Because of Covid-19 capacity restrictions, you will need to book your tickets. Go and enjoy Juli's intricate and beautiful art!
Graham Hardy – Over the Hills and Far Away: Memoirs of a Kiap in Papua and New Guinea from 1952 to 1975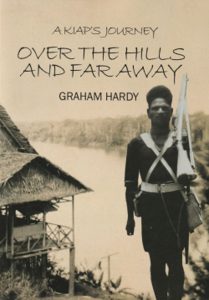 If I could live my life over I think I would prefer to have been born twenty years earlier.
That would have made me too young to take part in World War II, but just the right age to go to Papua New Guinea as a kiap in the immediate postwar period. That period, especially in the highlands, probably represented the halcyon days of the Australian Administration.
The Papua New Guinean people still lived a largely traditional lifestyle, there remained large areas unexplored, and development after the war was still in its infancy. There was a lot happening and life was exciting.
In that sense, I'm envious of Graham Hardy, who went to Papua New Guinea in 1952 and remained there until 1975.
His memoir, written mainly for his family, is one of the best I have read. In kiap terms, there is nothing particularly spectacular about his time in PNG, but the story is honestly told with a wry sense of humour and describes in fascinating detail his day-to-day experiences.
Graham began his kiap career at Kikori in the Gulf District but, as usual, the practical exigencies of administrative life saw him soon sent to Beara Patrol Post as officer-in-charge.
He was still a cadet patrol officer when he carried out his first patrol. It was a rule that cadets had to be accompanied by a senior officer on their first patrol, but that never happened then or anytime later. I had a similar experience and, just like Graham, put my trust in the senior policeman and made up the rest as I went along.
Graham attended the 'long course' at ASOPA in 1956 and was then posted to the Western Highlands, first to Wabag. His time there makes for interesting reading.
Graham married Patricia in 1958. Their favourite posting was Tambul, and while they were there they built a large round house for visitors. Ten years later I was living in the same roundhouse while based there with officer-in-charge, Ken Wallace.
Graham's description of the general practice of kiaps as creative bookkeepers is interesting. Each station received funds to buy sweet potato to feed staff and prisoners:
'As the amounts allocated by Treasury were always far in excess of the amount actually needed to feed station people, fictitious sales were created and the money thus generated, known universally as 'funny money', was put in a safe place for use in building houses or buying equipment that was not available through official channels.'
While in charge of Wabag, Graham was nearly caught out when a treasury auditor arrived unexpectedly. He had over £700 of 'funny money' locked in a stationery cabinet, 'so a spending spree resulted with all stations in the sub-district getting lawn mowers and other exotic items available from the Lutheran Mission store at Wapenamanda—a very useful outlet for laundering funny money.'
Not to labour the point too much, another funny incident occurred when Graham was allocated £2,000 to improve the Wabag airstrip and did exactly that. This horrified Bob Bell, who was the Assistant District Officer at Wabag, but was in Mount Hagen filling in as District Officer while Mick Foley was on leave. Bell told Graham, 'You don't use airstrip maintenance money on airstrips!' He obviously had other plans for the money and Graham had upset them.
Several of Graham and Patricia's eight children were born in Papua New Guinea and Graham describes how his wife, while looking after the children, often had to deputise as the station's unofficial officer-in-charge while he was away on patrol. This included taking the police parade in the morning and allocating the day's work for the station staff, attending to the radio schedules and carrying out Graham's other normal duties. Not a lot of credit goes to kiaps' wives but in many places they were integral to the running of remote stations.
Graham was posted back to the coast in 1964, to Kaiapit in Morobe District. In 1974 he was based in Port Moresby. About that time negotiations were underway to design separation packages for permanent Australian administration staff and Graham and Patricia decided to take a 'golden handshake'.
Their time in Port Moresby, where cyclone wire barriers on residential windows was becoming necessary, was a deciding factor and a portent of Papua New Guinea's coming problems.
Graham wryly and modestly notes that he never quite made it to District Commissioner level, although he acted in that post several times.
As noted above, the book was written mainly for Graham and Patricia's family and only a limited number of copies are available and I was lucky to obtain one. Given the quality of the writing and the wide-ranging content it is nevertheless a valuable historical document, especially for Papua New Guineans anxious to know about those fascinating times.
Philip Fitzpatrick
Privately published, 2020, 207 pages with numerous photographs, $42 plus $9.95 postage, available from the author at gandphardy@gmail.com
Paul Oates – Phascogales and Other Tales: A Queensland Tree Change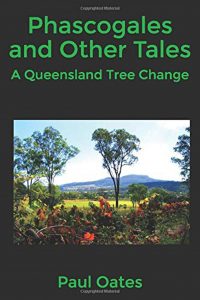 The term 'tree change' often has hippy-like connotations, but Paul and Sue Oates could hardly be called hippies. Their 'tree change' was much more than a simple lifestyle change. They had serious intentions of becoming self-supporting farmers and perhaps pass that legacy on to their children.
This book is about how two professional people decided to get back to their roots by creating a small tree and stud cattle farm in South Eastern Queensland. It chronicles the planning and execution of their change and all the high and low points they encountered in the process.
ISBN: 9798651038121
Published 2020, 237 pages with 296 colour photographs, paperback.
Paul Oates – Life on a Coral Atoll: Australia's Cocos (Keeling) Islands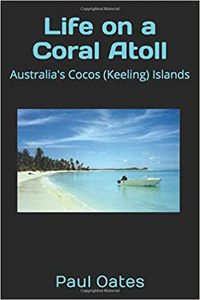 After serving for many years as a kiap (patrol officer) in pre-independent Papua New Guinea, Paul Oates returned to Australia. Like many of his fellow kiaps his experience in Papua New Guinea was life-changing and made settling down in Australia challenging. After five years of submitting applications to serve in the Cocos Islands Paul was finally accepted and with his wife began a two-year term there. Those two years in those idiosyncratic and peculiar islands were to prove as memorable as his years in Papua New Guinea.
ISBN-13: 979-8602004854
Published 2020, Paperback, 174 pages
Both of Paul's books are available from book stores or Amazon.
Lesley Wengembo
Lesley Wengembo is a twenty-three-year-old artist originally from Papua New Guinea, currently in his second year studying a Bachelor of Fine Art at the National Art School in Sydney.
Lesley is a finalist in the Brisbane Portrait Prize, an exhibition run at the Brisbane Powerhouse, 119 Lamington Street, New Farm, from 30 September to 1 November. Whilst the exhibition is free, tickets are needed to ensure everyone is Covid safe.
Lesley's entry is a portrait, in oils, of Timothy V Fairfax, AC, titled 'A Man for All Seasons' (pictured below).
Lesley has tried to capture his down-to-earth nature depicted in his checked shirt, his wry smile and his knowledgeable and compassionate eyes. A devotee of the photorealist style, Lesley's other works often transform images he has seen into magnificent painted portraits of Papua New Guinea tribal leaders, in traditional dress.
His attention to the minute details of the subject are his trademark from the smallest skin blemish through to the delicate individual feathers that are used in traditional head dresses.