Anzac Day – Lest We Forget by Robert Parer
The first person killed by the Japanese Imperial Force in New Guinea was Pilot Kevin Parer at Salamaua on 21 Jan 1942. He had done dozens of flights across the Owen Stanley Ranges from Wau/Salamaua to Port Moresby taking wives and children to catch the Mine Sweeper MV Katoomba to be evacuated to Australia. Included in the 22 Parer kids were his own children Warwick, Kevin & Mary-Pat. All sleeping on the decks. The children had to wear life jackets in case the ship hit a mine. I (Rob Parer) remember we had Christmas on the ship and we all got a bottle of soft drink. I had never seen one before. We left Moresby on 17th Dec and took a long time getting to Brisbane as being a mine sweeper it was looking for mines floating in the sea.
Anzac Day: Lest we forget.
The first Australian to be killed by the Japanese Imperial Force on the New Guinea mainland was Damien's cousin, Kevin Parer. Kevin and his plane was shot up and he was killed on the 21st January 1942 on the runway in his DH84 VH-AEA plane during take-off by a Zero fighter as part of force of 30 "Betty" bombers and 60 Zero fighters that took off from a Japanese carrier fleet and attacked Kavieng on New Ireland and Lae, Salamaua, Bulolo, and Madang on the New Guinea.
Ernie Clarke was to fly the Fox Moth VH-AAX with Kevin at the time had the plane started and ticking over. Ernie said, " My plane was ticking over and Kevin was having difficulty getting his to start. He was in the plane and sang out to me to give him a kick over. I came over to his plane and got hold of the propeller. On looking up saw the Japanese plane about 50 ft overhead. A burst of machine-gun fire from another sprayed around us. I dropped under the shelter of the engine. Another burst ripped right along the plane. I got up and saw Kevin get out of his seat and dash to the back of the cabin where he fell. The Japs were still coming. I covered Kevin with a blanket and made for a shelter. When the Japs were clear I ran out to the plane, which was now on fire. I tried to get Kevin out, but couldn't manage it. A couple of bullets ripped across my legs above the knees, but they were nothing, only flesh wounds."
After Pearl Harbour on the 7th December 1941, Kevin with his three plane fleet of Parer's Air Transport and other pilots began air lifting the women and children to Port Moresby as part of the evacuation to Australia. This included Kevin's pregnant wife Nance and children Warwick (5), Keven(4) and Mary-Pat (1). They were evacuated on the HMAS Katoomba on 17 December 1941. An emotional, public embrace between Kevin and Nance and they were away. They arrived in Brisbane on Boxing day. Kevin remained, with sustained efforts in trying flying conditions, evacuating the remote men of New Guinea and flying in the military and supplies.
Nance received notice of Kevin's death from a letter from Father John Glover written the day after, but not received until the 30 January. Fr Glover said, "Your husband was regarded as one of the finest and most lovable characters ever to live in the Territory. There are those who would gladly have died so that he might live. He had the sympathies of a little child." Father Glover further said that he hoped to get down to Salamaua the following day to bless the grave. Australian Fr John Glover a pilot like many joined ANGAU until the end of the War. A book about his War effort was published by SIL Mission – Angel of Mercy -Tragically he died when his plane crashed near Kaintantu in 1949. He was only 40 years of age.
Damien's parents John Arthur and Theresa Parer, his siblings Phonse, Doreen, Ben, Cyril and Fr (Ferdy OFM) Adrian and cousins Ray, Bob, Mary, Bernard, Josephine and Kevin were all or had recently been in the New Guinea Mandated territories on the northern shores. Damien was an experienced veteran of the war having worked through the Palestinian, Syrian, Libyan and Greek campaigns. When Australia's troops were recalled to defend Australia, he knew exactly what was at stake for the nation. His cousin Kevin's death made the war all the more personal and on his return to Sydney Australia and on his way to Townsville with Alan Anderson he made a point of stopping into to see Nance at Warwick on the 8th of March. Nance was at the Hospital having just given birth to Helen. A sister placed the baby in Damien's arms and said, "here is your daughter Mr Parer". He replied, "I wish it was, but I am afraid it is not".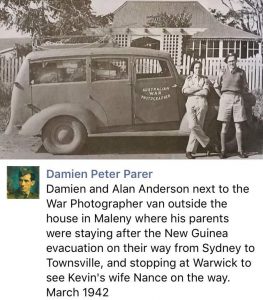 Damien made his impassioned talk at the start of Kokoda Front Line and said, "There seems to be an air of unreality as though the war was a million miles away. It's not. It's just outside our door now. I've seen the war and I know what your husbands, sweethearts and brothers are going through. If only everybody in Australia could realise this country is in peril."
When he said that he knew both sides of the war, the front line and the impact on the family back home.
Kevin Parer – Lest we forget.