A Port Moresby Museum? PNGK June 2021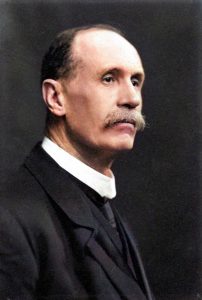 Sir Hubert Murray, Lieutenant Governor of the Territory of Papua from 1907 to 1940, trained as a lawyer but had a continuing interest in anthropology. He believed that a better understanding of the customs and habits of Papuans would foster a more enlightened administration of the people for whom he was responsible to the Australian Government.
He issued instructions to his field officers, resident magistrates, assistant resident magistrates and patrol officers to collect material that represented the lives and beliefs of the people they encountered during their patrolling. They were allowed a budget of about $10 annually to support this aspect of their duties. Murray was also a collector as were the government anthropologists who later joined the service. Even so, the great majority of material, some 3,000 items, was acquired by field officers.
Prominent among the field collectors were officers in the then Western District of Papua. SD Burrows, for example, used the five months he was marooned on the MV Elevala in the Moorehead River to collect artefacts from the surrounding area. Burrows contributed 100 items to the Port Moresby collection but on retirement took 300 other items with him. His family later gave those to a museum in Oxford UK.
AP Lyons and Leo Austin, who patrolled in the area in the upper reaches of the Fly River in the period just before and after the First World War, were also enthusiastic collectors.
RL Bellamy was both medical officer and resident magistrate in the south east district. He seems to have specialised in the collection of bowls. Others were interested in tapa cloth, flutes, mortar and pestles, weapons and body armour. Some, but not all, were carefully annotated with place and time of collection.
It was Murray's intention to establish a museum in Port Moresby to house and exhibit this material. Although it was all housed there for many years a museum was never established. Murray was persuaded by an English anthropologist that the collection would be better located where other anthropologists could access it.
For this reason, between 1915 and 1930, all the material was transferred to the National Museum of NSW. That institution, in response to pressure on its space, transferred the collection to the Institute of Anatomy in Canberra in 1933. Here it was exhibited for the first time. In 1980 it moved to the National Museum of Australia where it still resides as the Official Papuan Collection.
Sir William McGregor, who preceded Murray in Papua, was also an avid collector of natural history and ethnographic material. That collection found its way to the Queensland Museum and Art Gallery. More recently part of the McGregor collection has been repatriated to the Port Moresby Museum. Perhaps the time has come to realise Murray's original plan and concentrate both his collection and McGregor's together in a well-funded institution, dedicated to the ethnography and culture of the people of Papua New Guinea.
The content of this article is based on a paper, 'Australia's Official Papuan Collection', published by Sylvia Schaffarczyk in reCollections: Journal of the National Museum of Australia. That paper came from the author's PhD study, at Australian National University, on the Murray collection. u
The paper may be accessed at: https://www.academia.edu/299986/Australias_Official_Papuan_Collection?email_work_card=view-paper