A Memorable Experience by Bill (JW) Gornall, Didiman – Part Two (PNG Kundu March 2021)
Kandrian Station, a small outpost on the south-west coast of West New Britain.
On a Gimi/Rauto patrol, returning to Kandrian, a monsoonal storm hit. The excerpt from my Field Officer's Journal (FOJ), 30 March 1968, says:
Talked with committee man, then dep'd 8.00 am for Sara, further along coast. All equip. etc on one big canoe. About 1½ miles away, and storm hit. Beached on reef and sheltered for a while, but wind had changed in opp. direction, so boarded canoe again and headed back for Murien instead. Big seas – 6′ troughs. Sail broke, then outrigger snapped off, most 'crew' dived into water to salvage things swept off. Eventually swimmers regained outrigger and righted canoe. Put into closest opening in reef and carriers transported gear back to Murien. Nothing lost during these events! Continued raining rest of day.
In July 1968 I was returning from a Cape Gloucester patrol, a 130-mile (210 km) walkabout of the Kilengi/Lollo Census Divisions (CDs) and hoping to make it home to meet my parents on their impending visit. An extract from a letter I posted home to Australia on 1 August 1968 describes an experience between Aisega and Aumo villages on the south-west coast:
… waded through rivers, up to our belly buttons sometimes, so just as well it was low tide. At one point had just waded across one such river when one of the carriers found a fresh track made by a crocodile. It had pulled a pig into the water, which had apparently come to the water's edge to drink and footprints of both animals indicated a brief struggle before the pig met its cruel fate.
September 1968 was also exciting. Firstly an earthquake of strength 6.8 struck at midnight one night. I woke, thinking some mates were trying to tip me out of bed (took one back to Ag College pranks!) My house was high-set on steel posts, and rocked and swayed so much I had to hold onto the sides of my single bed to stay in it. Fortunately, no major damage occurred. It was scary though, being my first experience of a fairly strong 'quake. The associated noise due to tank water turbulence, and an abundance of coconuts falling to earth from tall palms in the surrounding coconut grove, was unnerving. Thirty-four station house tanks sprang leaks, a couple dropping concertina-like to half their original height. Cracks appeared in the station's gravel road.
Later in the month, Jim, Scott and I hired an Aztec 172 to attend the Talasea Coconut Ball. Huge storm clouds had formed over the Whiteman Ranges. The pilot tried going further west to avoid them, but couldn't, and we had to go through. We bounced around like a cork—had a tremendous buffeting but the single engine did its finest. One couldn't see very far through the blackness, and driving rain and lightning made for some green faces in the rear. It was probably the scariest event in my life.
Eventually the pilot and I looked down through a tunnel to sun shining on kunai grass far below. We dived down while the opportunity existed. Levelling out, we saw the mountain we'd been aware of a few miles to the east. Buzzing the township of Cape Hoskins to announce our arrival elicited more groans from the back.
The Talasea Coconut Ball was a great affair. Perhaps ninety people turned up, many making it an all-nighter. Then a brief sleep, followed by afternoon tennis at Volupai Plantation (Manager Harry Humphries) and an early morning flight (with clear skies) back to Kandrian.
On the station, most socialising happened at the Kandrian Kantri Klab, with darts, drinks, occasional dinners and dances, or just listening to records (James Last, Rolling Stones, Creedence, Tom Jones, Everly Brothers, The Ventures, to name a few). The natural spring, freshwater pool beside the clubhouse, some 17 feet (or 5 metres) deep, was quite popular.
Great fishing was to be had. Occasionally we'd venture out in the government work boat, to trawl around the Aveleng Islands about a half hour out from the station. Sometimes we'd picnic on a beach there. Fish caught included yellowfin tuna, trevally, kingfish, barracuda, coral trout and cod. Individual catches weighed up to, say, 80 pounds (36 kg) for a tuna. Sharks were sometimes plentiful, patrolling the perimeter of schools. Lines up to 500 lbs (230 kg) BS (Breaking Strength) would be broken. Michael Chan, local tradestore manager, had caught two marlin—about 10- and 12-footers. I hooked up to one once, but it threw the lure as it skipped across the waves on its tail—an awesome sight.
On two such trips, we knocked off fishing to whale watch a mile or so further out. Once a pod of eight watched us watching them, the longest about 45 feet (13.7 m). Snorkelling and fishing around some of the Arawe islands were also very rewarding. Coastal reefs were pristine with spectacular clarity, fabulous.
Experiences on a five-week patrol of the Arawe CD were described in a letter home dated December 1969:
Am just over half way on this patrol now and not doing too badly. Have had shark to eat, plus turtle, lobsters, crabs, mangoes, custard apples, leg of goat and a few others. We go out along the reef sometimes at night and spearfish from canoes, so no shortage of protein this patrol.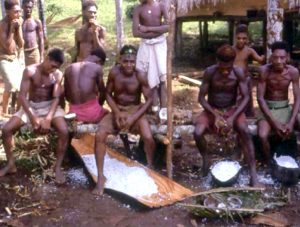 Shell-collecting was a small-time hobby of mine. In the Arawe, on occasions, I would walk the reefs at night usually accompanied by young folk with spears, intent on filling woven baskets with small fish and edible molluscs. One night I was concentrating on a shell, luckily not carrying the hurricane lamp, and a young girl pinched me on the Achilles tendon, yelling maleo (eel)! Well I fairly leapt in the air! Shrieks of delight rent the air. Yes—a great sense of humour these children had! So when I later popped a small crab down the back of the instigator's blouse, another resounding sound of raucous laughter filled the air.
But one had to be consistently alert, for reef-walking had its dangers. Cone shells had to be handled carefully and sea snakes given wide berth. Another time in the Arawe, I was about to step into a shallow pool with sandy bottom, one foot almost breaking the water, when I perceived the outline of a large stonefish directly beneath my advancing foot. Wow, did I quickly change direction!
The following information gleaned from my FOJ on 23 April 1970:
During extension work, travelled via canoe, with one RDA and paddlers, from Avio village east of 'Ablingi' Plantation (owned by John Allan) in the Gasmata CD for two hours up the Avio River, 2½ hours walk to the Gilwo River. Rested, crossed over and walked another 3 hours to Luonglil village.
Village consists of 9 houses, 1 haus boi, 1 ples matmat (cemetery), (old haus boi where remains of ex-tultul Gillme recently laid to rest, and 7 skulls with other bones adorn the ceiling).
Well, that threw me … most unexpected. Overnighted, didn't sleep really soundly. Kiap Wilhelm Speldewinde visited here in May 1969, but otherwise this bush village was rarely visited by outsiders.
I was on patrol for 100 days during each of my three years stationed at Kandrian—a period of life never to be forgotten and so much appreciated. u
Postscript
By the end of my term at Kandrian, I was very happy to know that coconut production had doubled, small cocoa trials had been established, coffee was being purchased by DASF for export much more efficiently than previously, the new extension station was firmly established, a training syllabus for Farmer Trainees and Rural Development Assistants had been produced, and an overall plan for agricultural extension in the sub-district had been formulated, including sites for extension outposts.