A Four-Day Visit to Madang for the Launch of Diwai: A History of Divine Word University
James Sinclair OBE, CSM (Commander of the Star of Melanesia), D Litt. (ANU), Fellow of The Explorers' Club of New York was a well-known PNGAA member, a famed post-WWII Kiap, explorer, photographer and prolific author of forty-one books on Papua New Guinea history.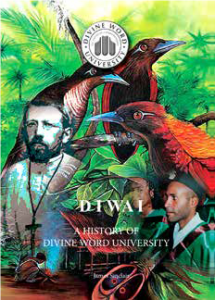 In about 2010 Fr Jan Czuba, the President of Divine Word University (DWU), Madang, asked the late James Sinclair to write a history of the university going back to the time that it was a high school, then an institute and finally a university run by the Divine Word Missionaries, but with a council made up of clergy and private citizens. Under the presidency of Fr Jan, it has become one of the most respected universities in PNG which is open to all and supported by funding from the Australian Government, the Catholic Church, along with various business arms involving travel, supermarket, pharmaceuticals and construction. Students also pay fees, some of whom are supported by the National Government.
After completing the manuscript, it lay idle for several years and, finally, the book was funded by the Melanesian Foundation under the Chairmanship of Sir Peter Barter who for twenty-one years was the longest-serving council member and former Governor and State Minister in the National Government.
Sir Peter invited Jan Sinclair to launch the book at the university in February 2020 in the presence of Professor Fr Philip Gibbs Vice-Chairman of the Council, Archbishop Anton Bal, Archbishop of Madang, and other clergy, lecturers and students in the Noser Library of DWU. Jan Sinclair's story starts here:
Last November Sir Peter Barter started a search to ask me to attend the official launch of Jim's last book to be published—DIWAI: A History of Divine Word University. The search was unsuccessful until February. It ended when someone suggested that Andrea Williams might know. She just happened to be in New York. The time was Monday late on 3 February 2020. She suggested contacting Pat Johnson in Sydney. Pat phoned me and said to get my running shoes on as I was required to be at the launch on 7 February. Wonderful!
So to my passport which, to my horror, had expired on the day Jim died, i.e. two years out of date. The PNG visa did not bother me as I thought I could get that on arrival. On Tuesday I phoned the Passport Office to try to arrange a new passport. Dire warnings were made about having to have a good reason and, of course, paying a large fee on top. The punch line was 'You might not get it anyway.'
I was told to be in Brisbane at 9.20 am next day. By Tuesday afternoon I learned that visas were no longer issued on arrival in PNG. After cancelling my appointment for the Wednesday morning, Sir Peter provided me with an email confirming I could travel, as the visas rules were still the same.
I called the Passport Office to ask for another appointment that day. It was at 1.30 pm. Armed with paper I spelled out my case. Same thing. They would take the money and nothing could be guaranteed. I was told to go away and be back before 4.00 pm because the doors would be shut by then.
Meanwhile, I went to Flight Centre to arrange flights. Tickets could not be issued without a passport. It was chicken and egg stuff. I arranged for all the tickets on a temporary basis until I had my passport. Back to the Passport Office to sit in the air-conditioning and hope. After a while the lady on duty asked if she could help. She said a few passports had just come in. Mine was one!
So off for the tickets. The problem was I had to be at the airport at 6.30 am, the next morning. Peak hour in Brisbane CBD is not the best time to head back to the Sunshine Coast! But back I went through heavy rain to pack my bag and drive back to Brisbane as soon as possible.
With the new passport and my ticket, I thought I was on my way. Fronting up at the airport to check in I was officiously told I could not go because I did not have a visa—company policy. My letter did not matter. Another Qantas gentleman saw my distress and advised me to go to Flight Centre, which was close by, and get an E-Visa as there was enough time. This happened painlessly but, of course, with another fee. Gratefully I went through the gates and was told to make sure I collected my bag at the carousel in Port Moresby because, otherwise, I might never see it again.
Arrived Port Moresby most thankfully. Not having been to PNG for over ten years I wondered what I would find. The International Terminal is lovely—and cold! Leaving there I headed down to the Domestic Terminal. It is a good hike. Knowing I had hours to wait I ambled along. I was asked by a number of Papua New Guineans if I needed help—maybe my age showed.
On arrival at the Domestic Terminal I had not a clue where to check in. More help was given and I was then shown where to enter to wait for my ongoing flight to Madang. There were hundreds of people there with, of course, mobile phones. It was interesting to note there were many passengers waiting outside, as the area could not accommodate all travellers. As planes were moved off more passengers came in. I had several hours wait and, during that time, was approached by a number of Papua New Guineans asking whether I had been in the country before, could they help in any way, where was I going, was I on holiday or a resident, etc. Just charming people. Lastly, a young female mining engineer sat beside me. In conversation she found that I had worked in Mendi in 1958. She came from there. I was duly taken to the gate by a happy group of her wantoks.
I felt great nostalgia as I flew to Madang. The airport there was efficient. Busy Bee, a genial employee of the Madang Resort guided me through. Sir Peter met me and off we went to the resort, sampling quite a few potholes and local traffic.
My son had been horrified that I was going to PNG. Having listened to and read various media reports he was afraid I might be harmed. On the first night I arrived he emailed Sir Peter to see if I was still alive. Sir Peter's lovely response was 'that she is not on the menu'.
At dinner Sir Peter asked me to make a speech at the launch next day. I had a pen but the only paper I had was a block of pad for shopping lists—as it turned out, ideal as palm cards. I chose the topic of 'Jim the Man', as most knew about his books.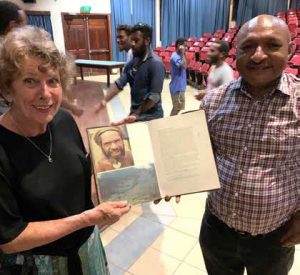 Friday, 7 February 2020: The launch was in the University Library, which also contains the wonderful Noser Research Centre. I felt honoured indeed to see Jim's last published book, recognised and made possible by Sir Peter Barter's generosity. Lunch followed at the Staff Club.
That night I was asked to make that same 'speech' the next night to the First Year students. My palm cards had to be rescued from the rubbish bin! Students on Saturday nights at 8.00 pm can take or leave an unknown speaker. It can be one or one hundred attending. In fact, many more came.
Dr Kevin Pambe, PhD, graduate of DWU and lecturer, was MC, and during the launch he found a photo of his grandfather in Jim's book, The Highlanders, and he was so excited. He had not seen a photo of his grandfather before (pictured above).
I asked the audience if anybody knew what a kiap was. Not a hand went up. I tried to weave a thread through my speech. At the end out came so many mobile phone cameras. It was such a rewarding experience to meet those young interested people.
On Saturday Busy Bee and I visited Bilbil Village which specialises in making pottery, but not before he bought a delicacy from the market—hot pork sausages (red-skinned frankfurts). The potholes were shallower and the villagers most welcoming. We travelled on to another village where a young woman was enticing eels of all sizes to the side of a stream and feeding sausages to them by hand. I asked why she was feeding the eels and was told 'When they are big enough, they will be eaten'. The fat telapea knew to stay away. Children were playing in the surf just as they do anywhere in the world. Throughout the journey Busy Bee philosophised about all sorts of things. He was a Highlander, but quite at home in Madang. Mobile phones and village television sets have resulted in great interest in current events.
On Sunday Sir Peter took me to Alexishafen where we visited a mission. The dedication of these people has to be admired. We travelled through well-kept villages, then on to a copra plantation where disadvantaged young men are being taught useful skills.
Dinner that night was on the vessel, Kalibobo Spirit, with some interesting town folk. I was taken aback to find I was Guest of Honour. It was just beautiful. Kalibobo Spirit is an unsung gem, moored and based on Madang Harbour, at the marina of the Madang Resort. I was delighted to hear that this magnificent motor yacht, 30 m long, takes small groups, all found, to various PNG destinations for about six to eight days. What a wonderful way to cruise PNG!
The Madang Resort and Kalibobo Village, located on the waterfront, enjoy relaxing views across the harbour and, with 7.6 acres, ensures a wonderful spot to unwind and re-energise. The Haus Win is large and lovely with the most beautiful fish tanks I have ever seen. The grand piano beckons, too. The food is excellent with a New Guinea bent and many friendly staff who have been there for a long time. The units are spacious and on arrival a 'welcome' in flowers on the bed must be unique. Stroll through the cool gardens and see the koi under a bridge, or check the tennis courts and the infinity swimming pool. Just past that you may come face to face with an inquisitive kokomo. The most beautiful sight is that of fifty-eight goura (Queen Victoria Crown) pigeons going about the gardens, not worried about anybody.
Madang had felt safe and friendly and Monday arrived too quickly. Busy Bee was there to take me to the airport. There was a long transit in Port Moresby and I thought I would get a local newspaper, but none were available in the terminal. I went outside having been told there were shops across the road. Again, helping hands were there and one young girl took me to the shop, made sure I got a paper, and pointed me in the right direction.
At the entrance to the International Terminal I saw two Huli wigmen looking for customers for photographs. They spoke to me for quite some time in English. Jim was well known in their area.
It was a welcome relief to return to the cool terminal again and I felt so pleased I had come back to PNG. So much so that I will go back again.
Jim Sinclair conducted extensive exploratory and pacification patrols in Morobe and the Southern Highlands, opening the Koroba station in 1955, the Lake Kopiago base camp in 1956 and exploring then uncontrolled areas as far as the Strickland River. In 1959, he was appointed as officer in charge of the Wau Sub-district, later serving in similar roles in Finschhafen and Lae before moving to the Eastern Highlands in 1968, where he remained until 1974 as the last Australian District Commissioner. Sinclair retired in 1975 around the time of Papua New Guinea's independence and embarked on his second career, becoming a full-time author and a prolific recorder of PNG history. His first book, Behind the Ranges, had been published in 1966 and told of his exploratory patrols in Morobe and the Southern Highlands. Ultimately, he became the author of forty-one books on Papua New Guinea.