A Daughter's Tribute by Andrea Williams
Margaret McCausland COOTE, nee Hamilton
(14 March 1925 – 7 January 2018, aged 92 years)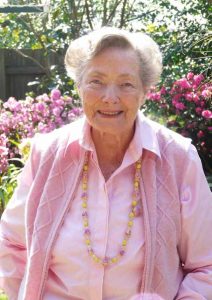 Margaret was born in the family home at Mascot to Edna and Robert (Bob) Hamilton, spending her early years there and also at Haberfield. By the time Margaret was 11 years old, the family moved to what remains the family home in Taylors Bay, Mosman. After completing the Intermediate, Margaret left school and went to secretarial college, eventually joining Burns Philp & Co. where she met Peter Coote.
Margaret also joined the Women's Volunteer Naval Reserve where she learned seamanship, and this became useful throughout her life. In May 1942 three Japanese midget submarines entered Sydney Harbour and one of these, M-22, was later found in Taylors Bay. The depth charging of the midget submarine was something Margaret recalled vividly all her life, after watching this action from the verandah at home, approximately 300m away.
In May 1947 and again in February 1948 Margaret featured on the cover of the Australian Women's Weekly with her portrait painted by a
neighbour, the British WWI artist, Arthur Boothroyd, who titled the first painting 'The Girl Next Door'. Boothroyd went on to win multiple Walkley Illustration Awards for his work with the Australian Women's Weekly.
In 1948, aged 23, Margaret travelled to the UK and Europe where she travelled for 18 months and became proficient in French and Norwegian. After returning to Sydney Margaret bumped into Peter Coote who was on leave from Langu Plantation, in the remote Witu Islands, PNG – about 320 kilometres from Rabaul. They married in 1954 and Margaret went to live on Langu Plantation, a copra and cocoa plantation.
A generator eventually ran some electricity and food was sourced locally rather than depending on the shipping schedule, which could be months apart. They took 200 Saanen goats out with them to assist the meat supply. A pinnace, the MV Langu, was purchased enabling visits to nearby plantations in between its work recruiting labour and carrying trade copra.
Peter, with assistance from Margaret, had the responsibility of the welfare of 140 plantation labour as well as local villagers. Margaret's father, an architect, assisted with the building of new homes at both Langu and, later, overlooking Simpson Harbour, Rabaul.
The home in Rabaul was one of the few that survived the 1994 volcanic eruption there. Daughters Andrea and Victoria were born during the Langu years and Robert was born after moving to Rabaul. The Rabaul years provided the family with a wonderful life – an extended family with many good friends and competent and respected PNG house staff, particularly Jerry (Robe) and Yama, ensured stability and happy memories.
Peter founded Elvee Trading Company Pty Ltd, an agricultural supply store, whilst overseeing Langu from Rabaul. Margaret's interest in sewing and fashion contributed to Elvee Trading Pty Ltd becoming the PNG representative of the beautiful Swiss Bernina sewing machines.
Margaret enjoyed tennis with friends in the early years and both Margaret and Peter's interest in their garden ensured it was filled with many colourful varieties of hibiscus, ixora, bougainvillea, frangipani, crotons, cannas and orchids, along with a row of candle trees and a green- house filled with violets. A day sailer was purchased from England and named Muntreste, and many weekends were spent sailing on Simpson Harbour.
Margaret and Peter eventually 'went finish' from Rabaul in 1985. They moved between Mosman and a small farm at Rosebank in northern NSW which grew limes, avocadoes, custard apples, macadamias and coffee. Margaret always had a great sense of adventure. She retained a sharp memory and was astute in many areas. She was genteel, courteous, faced challenges confidently and rose to any occasion. Margaret had a positive, happy outlook and loved her family.
Margaret is survived by Andrea, Victoria and Robert and her grandchildren – Katie, Leilani, Chris, Narelle (stepgranddaughter) and Rebekah.