40th Anniversary of Independence – PNG Flag Jump by Chris Warrillow
Soon after returning home from completing Year 12 at High School in Brisbane my daughter Melanie accepted a position, in 1995, as the first Supervisor of the Gold Club of the Lamana Hotel in Port Moresby.
After deciding to move to Australia Melanie remained friends with the General Manager of the Lamana Hotel, Yiannis Nicolaou. They both always caught up for a coffee on Melanie's several visits 'home' to Moresby. On one such visit in September, 2014 when taking a weekend break from her job as Manager of a Cairns tandem sky dive operation, Yiannis told Melanie that the Minister for Sports had asked him to organise the 40th Anniversary celebrations the following year.
Yiannis proposed the idea of the "flag jump" into the Sir John Guise Stadium as a spectacular highlight to the opening ceremonies and sought Melanie's assistance..
Upon returning to Cairns Melanie contacted an associate who assisted in securing one of Australia's top "skydivers" – Cameron Cooper ("Coops") a veteran of 16 years of jumping. Coops had won a number of state and national awards. He was one of a handful of expert parachutists in Australia who could manage the proposed jump with a large flag.
Melanie also contacted former Chief Instructor Glenn Bolton, one of only two accredited (for jump purposes) flag makers in Australia. With specifications worked out he commenced creating the 14.4 meters x 10.8 meters (155.5 square meters, or 1675 square feet) PNG flag weighing 20 kilograms.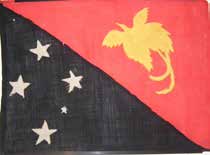 Two smoke-bearers were also recruited for the event – Jeremy Roberts and Karl Eitrich. Meanwhile in Moresby Yiannis was liaising with the Defence Force to make available one of their few aircraft for the jump. He secured the services of a PNGDF Arava transport aircraft.
As usual, during September along the Papuan coast, the south-east trade winds were generally blowing a gale most afternoons. The Ground Crew Assistant, Pepe Scoffel, had his work cut out assessing the winds to ensure compliance with safety standards. These required that winds not exceed 25 knots for a jump with such a large, cumbersome banner. Several practise/rehearsal jumps were aborted due to the strong winds before one was finally achieved. A further complication was that the official programme had the jump scheduled for late afternoon. This put the timing close to official 'last-light', before which both the aircraft and the parachutists had to be back on the ground.
As the aircraft circled in position from where the jump would commence winds were still above 25 knots and gusting above 30 knots. Dusk was rapidly approaching with Coops and his team anxious not to disappoint the crowds that had made them feel so welcome and appreciative of their first exposure to PNG. The pilot announced one more circuit before the last-light equation forced his return to Jackson's and cautioned that winds were still above the limit but less than 30 knots.
The trio jumped!
The result and the reception as captured in the following video tell it all.
https://www.youtube.com/watch?v=YW_qtRXbxaA&feature=youtu.be
With thanks to Coops' company – National Skydive Displays – which took the video and kindly gave permission for the PNGAA to put on its website.)