Gideon Kakabin donations via PNGAA here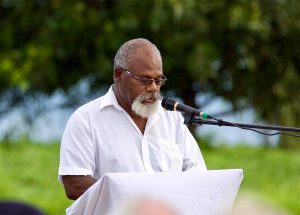 Gideon Kakabin was an important, highly respected and much loved leader in East New Britain and Papua New Guinea.
After completing a four week residency at the Australian War Memorial, and about to begin his journey home, Gideon suffered a heart attack and was admitted to a hospital in Canberra where he suffered another massive heart attack on 20 August 2018, and tragically, passed away. His loss to Papua New Guinea and Australia is enormous.
The Papua New Guinea Association of Australia (PNGAA) would like to assist the community in accepting donations to help with medical and repatriation costs.
Gideon was more than special – he loved his family, he loved his people, he loved Papua New Guinea, he loved history, he loved all the stories … he just soaked it all in. He, and his family, also generously gave all of us a rare gift – extraordinary knowledge about Papua New Guinea. We will always remember him.
Gideon was passionate and fascinated with his homeland. He listened, he researched and he shared his extensive knowledge. He inspired anyone who would take an interest.
Gideon knew that history brings us to where we are today and provides a foundation for the future. He knew it was important to retain cultural understanding – remember the fish trap, the kinavais and the way he would patiently explain to us all what something meant.
Gideon was exceptionally talented – his knowledge of computers was ahead of his time, his interest in culture, in nature…and then there was his photography and his art. His recent four week residency in Canberra with the Australian War Memorial was a real highlight. So many diverse interests.
He was thoughtful too.
In 2017 on the occasion of the 75th anniversary of the Montevideo Maru departing Rabaul, we asked Gideon to speak at the service in Rabaul. His speech hit the target and then some. He spoke about the effect on his people of their much loved Minister being taken away after the Japanese invasion in 1942, and the effect on the local PNG people of the Japanese occupation. It was a fitting tribute for the people of East New Britain and for the Australians who were visiting Rabaul.
Gideon was always interested, appreciative, kind, thoughtful, and generous. How can one person touch so many?
We will miss him enormously. Our thoughts go to Judy and his family.
Please assist the PNGAA in supporting his family and community by sending your donation via the form below. Please use the reference Gideon Kakabin.
If you would like acknowledgement, please email president@pngaa.net.
Your assistance with a donation is greatly appreciated.
With many thanks.
Andrea Williams and Steven Gagau