Vale Mary Louise Uechtritz
Rabaul the frangipani town has lost a flower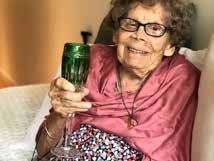 Mary Louise Uechtritz passed away on Holy Thursday at Brigidine House, Randwick in Sydney on 29 April 2018. She was surrounded by children and grandchildren, her room festooned with PNG memorabilia, flag and flowers. Frangipani flowers.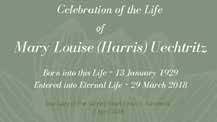 It was at the Frangipani Ball in 1951 that the romance between Mary Lou Harris and her future husband Alfred Max Parkinson Uechtritz blossomed. The frangipani had been introduced to PNG by Alf's anthropologist/botanist grandfather Richard Parkinson in the 1880s. It became a symbol of resilience for the town after poking stubbornly through the volcanic ash and re-flowering after the historic double eruption devastation of 1937.
The other great symbols of Rabaul are The Beehives or Dawapia Rocks, two rocky volcanic outcrops in one of the world's most spectacular harbours. Mum (Mary Lou) and Dad (Alf) occasionally picnicked and plotted their life together on the Beehives and one such visit produced the accompanying photo of the bride-to-be – an emblematic image of their romance and 56 years of wedded bliss.
They were married in Rabaul's St Francis Xavier cathedral in April 1952.
After the reception the couple was taken by great family friend Jack Thurston on his boat to Sum Sum plantation on the south coast of New Britain. Sum Sum was gifted by Alf's grandmother Phebe Parkinson to his mother Dolly Parkinson Uechtritz. It holds a special place in the collective family soul to this day.
The first six of their 10 children were born in the shadow of the volcano at Namanula hospital and – after a suitable time in Rabaul known once as the "Pearl of the Pacific" – were taken back to idyllic Sum Sum.
English-born Mary Lou – with a blend of Swedish/Irish/Scottish – had come to New Guinea aged only 10 months in 1929. Her parents Gordon and Ursula Harris owned Biwa plantation on Djaul Island in New Ireland. She went off to boarding schools in Wales and England then graduated from City University, London. Her first job was teaching English to Czech blue bloods at the British Council in Prague but in 1951 she returned to Rabaul with her mother.
She was a teacher at the Chinese school in Rabaul – one of the most rewarding roles in her career – and was head of the local girl guides. To her delight, the guides formed a guard of honour at her wedding.
The guides movement would become a vocation for Mary Lou. On return to PNG in 1968 – after eight years farming in Queensland – the family moved to DASF Erap in the Markham Valley outside Lae. Mary Lou re-joined the guides and became provincial commissioner then the PNG Girl Guides Association Deputy Commissioner. As the association's International Commissioner, Mary Lou travelled to Kenya to represent PNG at the World Conference in 1987.
At Government House in Port Moresby in 1988, Mary Lou was awarded the Bird of Paradise, the highest award for national and international service to the GGA.
In the Markham Valley, Mary Lou also continued her teaching. She was the principal at Zifasing and then later at Adzera near Leron Plains. As in New Britain, she and Alf became immersed in the Markham Valley and Lae communities. They also had house at Salamaua. Moving to Australia in 1990, they started a rare fruits orchard and cattle property near Innisfail – named Kuradui in memory of the Parkinson plantation near Kokopo. Mary Lou continued her community service with Innisfail's St Vincent's de Paul Society.
The pair continued their relationship with their beloved PNG, returning many times to Rabaul and Kokopo in particular. The Phebe Parkinson Study Centre at Kuradui (run by Darusila Watangia) is special to the family and the adjacent Parkinson family matmat (cemetery) is sacred soil.
It was there in 2004 that Alf and Mary Lou presided over the reburial of granny Phebe Parkinson whose remains were finally discovered in a jungle grave on New Ireland 60 years after her death in a WW2 Japanese prison camp.
Mary Lou is survived by 10 children, 32 grandchildren and 22 great grandchildren She also received the Independence Medal along with the Bird of Paradise medal.
Mary Lou and Alf (1929-2008) requested that when they both went to the afterlife their ashes would be taken by their children back to New Britain. At the funeral service for Mary Louise Harris at Our Lady of the Sacred Heart Church at Randwick, the Tolai and ENB communities of Sydney, Brisbane and Canberra generously provided a church choir for the service.
Max Uechtritz