Una Voce's 'Correspondent from the Northern Territory': Jim Toner, BEM
James Bernard Toner was born on 7 January 1930 at North Wembley, Middlesex, England and passed away on 6 November 2019, just two months shy of his ninetieth birthday.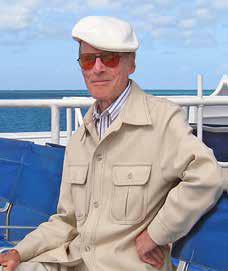 After completing secondary school, he served two years in the British Army—one year of which he spent at a posting in the Swiss Alps. After his discharge from the army he obtained a teaching qualification from Strawberry Hill Teachers College and then taught the fifth grade for a year or so.
Concluding that teaching was not for him, and against his parents' will, in 1956 he decided to head for Australia. After he attended some events at the Melbourne Olympics, he secured a job as a tram conductor in that city.
In 1957 he responded to an advertisement for work in what was then the Territory of Papua and New Guinea (TP & NG) and, after an orientation course at the Australian School of Pacific Administration (ASOPA), found himself in Mendi as the District Clerk of the fledgling Southern Highlands District. Jim excelled in this role, providing extensive administrative support to Des Clancy, Ron Neville and other kiaps in all the then Southern Highland Province sub-districts. This role included many roles—stores manager, postmaster, treasury officer and bank manager. His widow, Mary, reflected he had to cope with testy tribesmen who could not withdraw cash from their account because they had forgotten their 'hide name' (password for illiterate people). After several years at Mendi, Jim was transferred to Rabaul where he worked with Jack Emanuel and the New Britain team.
In 1965 he transferred to Port Moresby to take up a position with the Australian National University (ANU). It was at the ANU Research Unit in Port Moresby, where Jim was the 'Field Manager', that he met PhD student, Mary Rogers, from North Carolina. Mary was undertaking an anthropology project to complete her doctorate for the University of North Carolina at Bundi in the Madang District. Mary sought a meeting with Jim at the ANU Research Unit in Waigani for advice on living in the PNG bush, including the building of a latrine. Jim was amused but phoned her the next day for a date to watch the film, Alice Doesn't Live Here Anymore. Years later he admitted to Mary that he had worked for hours to find the right venue that would appeal to her before ringing. If he had only known Mary would probably have been happy to watch any movie.
Mary and Jim were married in Port Moresby at a civil ceremony celebrated by District Commissioner Kingsley Jackson on 15 October 1971, at the Boroko Country Women's Association meeting house. Fearing the Devil would get his soul, Jim persuaded Mary to also participate in a church wedding at the Catholic Mission Chapel at Bundi five months later. It must have brought good luck, as they were happily married for nearly fifty years at the time of Jim's death.
In 1973 the ANU transferred Jim to Darwin to establish the North Australian Research Unit, where he remained until his retirement in 1993. In Darwin, Jim was awarded the British Empire Medal (BEM) for services to education.
Whilst Jim had been out of PNG for forty-six years he always had a fondness and love for PNG and its people. He always maintained contact with wantoks and attended almost every annual PNG Independence Celebration in Darwin. He certainly cherished the occasional SP when visitors from PNG turned up at his door with a six-pack of Greenies.
He was Una Voce's 'Correspondent from the NT', keeping all the readers up to date with Northern Territory matters from 1989 through to 2016. This clever, highly-intelligent, man will be missed by all.
Jim Toner: Chief Clerk, District Office, Mendi 1957–59; District Office, Rabaul 1960–64; Field Manager, New Guinea Research Unit (ANU), Port Moresby 1965–73
See also: