The Yonki Dam Project – Education on the Dangers of Deep Water
In Don Wotton's role as environmental planner for Elcom (PNG Power) during the construction phase of the Yonki Dam project from 1990–1996, he engaged local PNG artists to produce brochures to educate villagers as to the impact and dangers of deep water resulting from the flooding of the Arona Valley, murals to combat graffiti on Elcom's property, and posters to illustrate the safe and beneficial uses of electricity. Below he describes the project to educate locals about the dangers of deep water.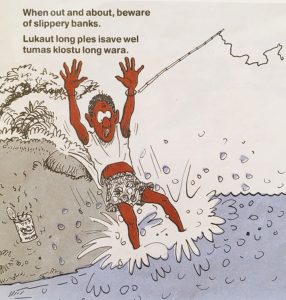 Working as the environmental planner employed by Elcom on the Yonki Dam project necessitated much field work among remote villages in the upper Arona Valley in the Eastern Highlands of Papua New Guinea. As I was not then conversant in Tok Pisin and the Agarabi and Gadsup peoples only spoke tok ples [their village language], the easiest way to communicate and educate was through drawings that graphically described the dangers of deep water. This program was one of many World Bank funding requirements for the project.
Prior to the Yonki Dam construction the villagers could wade across the river, but on completion of the dam they would be living adjacent to a massive lake of considerable breadth and depth.
I collected brochures from the NSW Surf Life Saving Society and then, on the recommendation of my national colleague, sought out Albert Ipu. Albert, at that time, had his own business Ace's View and was the political cartoonist for the PNG national paper, Post Courier.
Together we sat down and redrew all the illustrations (several reproduced here) using PNG characters and resources. The posters and brochures were distributed throughout the villages and schools in the Eastern Highlands Province.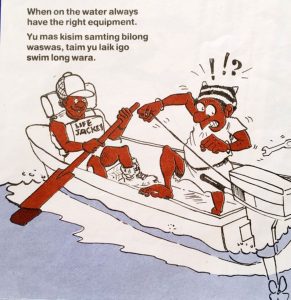 When this was completed, a team of national colleagues visited villages in proximity to the shoreline of the lake, which was forming behind the dam. They performed role plays with the villagers on aspects of water safety, based on illustrations in the brochures.
The brochures were well received and as a consequence Albert was given numerous commissions by Elcom in the production of further safety brochures and other illustrated material.