The Bougainville Referendum: Law, Administration and Politics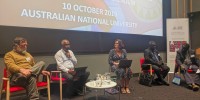 With the Bougainville referendum on independence due to take place on 23 November 2019, the Australian National University Department of Pacific Affairs has published a new book by Anthony J Regan entitled The Bougainville Referendum: Law, Administration and Politics, analysing the legal, administrative and political issues arising from these arrangements.
IN REVEALING THE COMPLEXITY of the referendum's origins and arrangements, the book makes clear how these factors have contributed to misunderstandings about the referendum, not least the idea widely held by many Bougainvilleans that, if the referendum delivers a result in favour of independence, then independence will automatically ensue. In fact, the outcome is not binding on either the PNG National Government or the Autonomous Bougainville Government.
The book has a number of purposes, the first being to promote a better understanding of the arrangements for the referendum, while a second purpose is to consider what may be needed to ensure that the referendum is considered free and fair. The final purpose is to examine how the deferred referendum, as part of the long-term peace process, impacts on peacebuilding.
The book should prove highly relevant to the numerous policy makers in PNG, Bougainville, Australia, the UN and elsewhere who will be involved in the referendum and what follows. Set against a wide-ranging international background on referendums, the book will be useful for political scientists interested in voting phenomena.
Link to article is here.
It is impossible to think of a single issue to do with the forthcoming Bougainville Referendum that is not dealt with exhaustively in this comprehensive guide and handbook. This is scholarship at the highest level, deeply informed not only by the extensive written record which has been comprehensively mined here, but also by the author's decades-long familiarity with Bougainville, the Bougainville War, the peace process, the peace agreement and the contemporary political situation there and in PNG more broadly.
Stewart Firth, Research Fellow
Department of Pacific Affairs
ANU College of Asia and the Pacific
(From the ANU website)