John HOLLAND (8 March 1939 – 10 April 2018)
John HOLLAND
(8 March 1939 – 10 April 2018)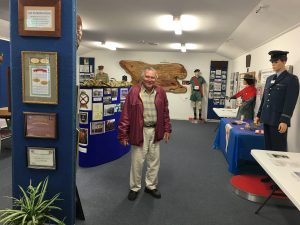 John was born in Atherton, Qld, to Frank and Mabel Holland who were living in New Guinea at the time so John went there shortly after his birth.
Frank had migrated to Australia in 1924 under the Empire Settlement Scheme. After working for a while at Wide Bay, Frank eventually became a timber getter at Pondo Plantation (owned by WR Carpenter) on the north coast of New Britain. At Pondo there was a large dessicated coconut factory with its own timber mill, workshops, shipbuilding facilities and electric generators and a freezer. Ice was delivered every day to the houses.
After an evacuation order in December 1941, John was evacuated from New Guinea with his mother and younger sister, Ann, who was born in Rabaul earlier that year. The MV Ambon, a coastal vessel, took them from Pondo Plantation to Rabaul on 24 December 1941. 72 other expatriate women and children were also evacuated. An Australian National Airways DC3 then flew them via Port Moresby to Cairns.
The family stayed at Mount Garnett, on the Atherton Tablelands, with Mabel's parents during the war, while John's father Frank, assisted in the evacuation of Australian soldiers and civilians from New Britain after the debacle of the Japanese invasion of Rabaul. He later wrote the book 'El Tigre' about his experiences. Frank then joined Z Special Force and served in Timor and Borneo. Life for the family in Mt Garnett (Atherton Tablelands) during the war years was tough. After living at Pondo with an abundant supply of fruit and vegetables they were issued with ration books and had coupons for basic supplies. The extended family lived in a tin shed with dirt floors, no running water, internal walls made from corn sacks, and with an outback toilet. John's job was to light the stove early every morning and make a cup of tea for his granny.
After the war the family returned to New Guinea on Christmas Day 1946 on a Qantas Empire Airways DC3. John would recall the war devastation everywhere – trucks, jeeps and piles of Japanese rifles. There were still about 10,000 Japanese troops in Rabaul and they were cleaning up the war mess supervised by Papua New Guinean police carrying Owen guns.
In 1947 John and Ann went to boarding school in Australia at Charters Towers, only coming home during the long school holiday. They travelled by flying boat from Rabaul to Townsville and then went by train to Charters Towers. It was a long way from home for the eight year old John and six year old Ann. In 1953 John went to Southport School on the Gold Coast to complete his education.
On leaving school John worked for JL Chipper and Co, a business in which his father was a Director. Jack Chipper had been in Z Special Unit during WWII with Frank Holland. John was hauling timber and constructing roads and bridges in the Warangoi Valley, an area unique to Kamarere trees. John eventually worked for Commonwealth Department of Works in the Gazelle Peninsula and his work in reconstructing Mango Avenue was always a source of pride. John was a plant operator and, on many occasions, unearthed unexploded bombs around the Gazelle Peninsula. Another highlight was being one of two soldiers, with Gerry McGrade, to first officially stand on the cenotaph at Rabaul. Gerry had built the cenotaph and John had completed the road works around it.
John joined PNGVR in 1959 in Rabaul and was issued with Regimental Number 8/59739. He attained the rank of Corporal.
In July 1959 John moved to an orchard at Howard, in Queensland. Each Tuesday and Thursday one thousand cases of Emperor Mandarins, Valencia and Joppa oranges were railed to the Roma Street Markets in Brisbane. At that time a bushel case (56lbs) of citrus was fetching two and a half pounds a case, which was very good money. Each case had to be made by hand from timber purchased from sawmills in the area. One night, at a dance, he met Avril Ross and they eventually married in 1965. John had decided to move to Brisbane and work as a plant operator again. After he married Avril, John became a sales representative with Sear and Gunn where he worked for 38 years before retirement. Avril passed away in March 2002.
As an early member of the PNGVR John became heavily involved in the NGVR/PNGVR Ex –Members Association when it was formed in Brisbane. The association was offered a building at the former army camp at Wacol to set up a museum. John had had experience with military displays for Anzac Days and as he held an extensive collection of WWII artefacts and PNG memorabilia, he became the Curator of the PNGVR Museum. By this stage John had met Jessica Harrington, who became his partner for 13 years and who greatly supported his passion for the Museum.
The Museum was opened on 12 Feb 2006 by Bruce Bilson MP, Minister for Veterans Affairs, and Paul Nerau LLB, then PNG Consul General for Queensland. Since then John worked tirelessly at the Museum and it is through his hard work, together with the assistance of Jessica, and other Association Members, that the Museum is the great success that it is today.
Along with visits by school, Probus and garden groups, a number of special events have been held at the Museum. One in particular was "Bitapaka Day' to commemorate the centenary of the landing of Australians on New Britain in 1914 to capture the German Radio Station. Another was the centenary of Rabaul which was attended by scores of ex Rabaul and PNG residents. John also commenced the regular barbeques at Bunnings which are now a vital part of Museum fundraising. The museum became so successful that a large extension was made in 2016.
John was cared for by Jessica during this last year. He is survived by his daughters, Amanda and Jodie, and four grandchildren.
With thanks to the NGVR/PNGVR Ex members Association's newsletter, Harim Tok Tok.
Note: John contributed his story 'Evacuation from Rabaul, December 1941' for the 75th Anniversary book published by the PNGAA 'When the War Came: New Guinea Islands 1942. Refer page 338-343